Every SaaS Marketing program will be different, because each company and set of products has its unique attributes and goals. However, there are fundamentals the every SaaS marketing department (and by extension sales and service) should know about. Whether you're brushing up on the latest techniques for yourself or your department, or learning more about how it all works so you can vet your next agency hire, this section provides all the basics. Let's start with the wide-lens view with the SaaS Marketing Flywheel, then move into your marketing foundation in the form of your brand, tech stack and website.
SaaS Marketing Flywheel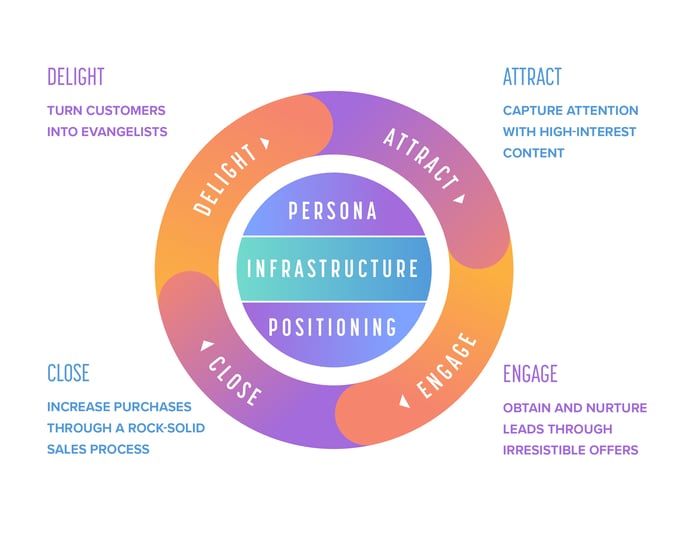 Attract
The first part of the SaaS marketing flywheel is Attract. In this piece, your goals will relate to getting brand new leads into your database. While each company will need its own specific strategy and KPIs, a few of the most important SaaS marketing metrics to track are:
Website Visits
Bounce Rate
Visitor to Lead Conversion Rate
Engage
Once you've attracted a potential customer and converted them on something small, like a content offer, your next step is to further engage that lead as a way to qualify, sort and segment them in your database, and prime them for a sale if they're a great fit.
Conversion Rates and Details on Your Content Offers
Landing Page Interactions
Email Engagement (like open rate and click-through rate)
Close
Your sales team typically oversees the Close phase of your holistic inbound program, and, along with marketing leadership, pays close attention to metrics like:
Customer Acquisition Cost (CAC)
Customer Lifetime Value (CLTV)
Of course, this particular resource is focused on SaaS Marketing, so we don't go in-depth on SaaS sales here, but everything marketing does is meant to support sales and company growth, so it's important to remember just how intertwined the process of inbound can be.
Delight
The last stage in the inbound flywheel is to make your customers feel so included and happy they can't help but share everything they love about your company and solution. Typically overseen by your Service team, this part of the flywheel helps you strive for improvements in:
Subscription Upgrades
Reviews
Survey Results
Net Promoter Score (NPS)
Further down in this guide we go into a ton of detail of every level of this flywheel concept, specifically related to SaaS marketing. But before we get there, let's continue our exploration of the basic foundations for great SaaS marketing. Up next is more about your brand, tech stack and website.
---
Your Brand: What Impression Are You Making?
We don't have to tell you how important branding is, but when's the last time you evaluated the impact of your brand on your business goals? Does your original brand still resonate with your target audience? Is it time to refresh your look, the tone of your writing, or bring in something new to stay relevant? Especially in the world of cloud-based technology and software solutions, your brand is crucial. It's what differentiates your company from everyone else, and allows for a foothold for your audience to get on board. Let's get real about your SaaS branding efforts.
Brand Messaging for SaaS
In the context of software, where there is not necessarily a physical product or place, your brand is even more crucial than in other businesses. Building a SaaS brand is a unique experience, where personality, design, and messaging come together to guide your customers into believing in your solution. Before your leads ever get into the sales process, your brand helps them to build confidence in your company's knowledge, honesty, and helpfulness.
Remember, you're not creating your SaaS brand in a vacuum. You're creating it for people. Smart marketers create buyer personas: generalized representations that humanize each key segment of your target audience. Though they exist only on paper, personas embody typical traits of each prospective customer group: age, gender, income, job function, chief pain points and desires. They serve as "advisors" as you create your marketing tactics and messaging so you can speak to prospects as if you are having an in-person conversation.
How to Use Storytelling to Connect with Real People
Building brand affinity starts with storytelling. Tell stories about how, exactly, your customers are using your SaaS product. Focus on the feeling it gives them, the accomplishments it helps them to achieve, or the bottom-line impact. Try sharing more about how your solution was created, and why. It's not just about the brand promise of what your solution can do. It's also about telling the human stories behind it to build trust and convey your core values.
Share the story of your founders, how they met, and what sparked the idea for your innovative solution. Tell your customer stories, sharing their unique applications of your products, interesting use cases, or API integration solutions. Making your technology and brand feel human is an important piece of your overall marketing goal, and storytelling provides footholds for your leads to grasp that connection.
Wistia, for example, prominently features stories of community, team experiences, and success on its blog. We like how it humanizes the company, and draws us further into its brand story.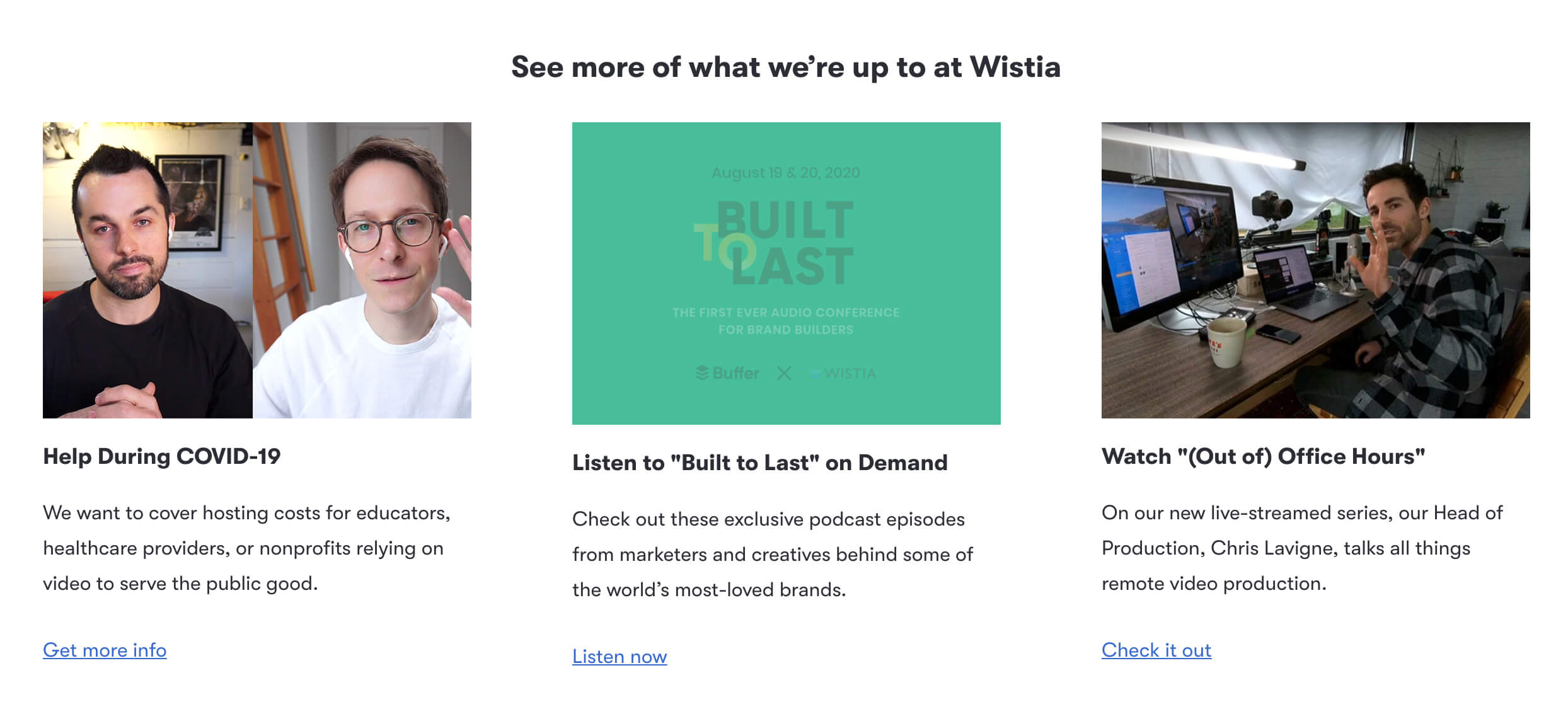 Keep these basic tips in mind for messaging that speaks well about your brand as well as your products:
Along with using conversational language, speak directly to prospects and customers using second person — you and we. Third-person (he/she/it) sounds stilted and creates a subconscious barrier between you and your prospect. You want them to engage with you, so be engaging.
Be positive, focusing on what your company and products can do to help customers. Negative remarks and disparaging comments about competitors can backfire because they make you seem petty.
Along that same line, misspelled words and poor grammar are sloppy and give the impression that your products may also be less-than-professional grade.
Try and come up with stories about the ways in which your product has helped your current users. Tell the story of the problems you're solving and the transformative results you provide.
Why Visual Branding is So Important for Software Businesses
Now let's talk about the visual side of your brand. Since your logo is the most obvious symbol of your brand, all your other marketing visuals should reflect the same general look in colors and tone. This is especially true for your website. Consistency helps broaden and reinforce brand awareness, whereas a lack of consistency confuses prospects, creates a sloppy impression, and eliminates your ability to differentiate yourself from competitors.
For digital products, visual branding is even more vital. You can't fill your marketing with beauty shots of physical merchandise, so the visuals that are available to you must instantly convey your brand message and personality. Colors and typefaces can have tremendous impact, negative as well as positive, so professional design is essential, both within your product as well as in your marketing assets. Don't forget beautiful, clean videos and photos of your software's features and functionalities. Even though you aren't taking photos of a widget in a light box, you are still showcasing your product, and the way you do so is all part of building your best brand.
We like the way Slack uses visual cues like color coding its benefits and using stacks to present options.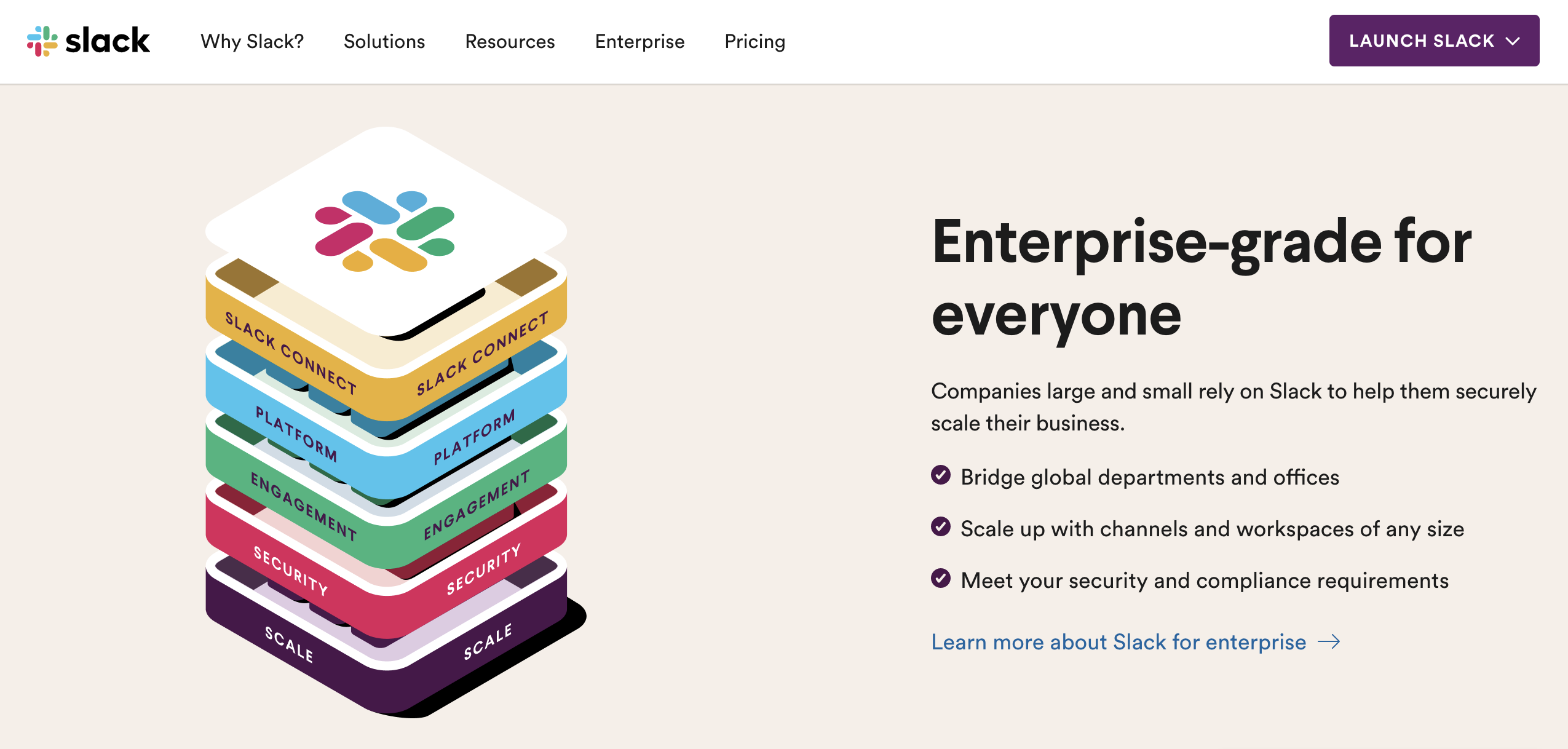 Your Tech Stack: Choosing the Right Platforms for Success
So, you've got a great brand. It's updated, beautiful, relatable, and you know how important it is. How do you ensure you've got the right structure to turn those good feelings about your brand into profit? Seamless integration between sales and marketing is a very basic necessity for any company, and that happens not only in your business processes but also in the software you choose to run them.
Your marketing tech stack must integrate your live sales process — your BDR world — with your automated marketing software and other tools to provide a seamless experience internally and externally.
What Marketing Software Works Best in the Tech Space?
Every SaaS company needs to select some kind of software or platform for:
CRM/Database
Emails
Sales
Website Content Management
E-Commerce
Subscriber/User Management
Customer Service
Advertising
Here at ClearPivot, we especially like HubSpot as the central platform, because it is a truly comprehensive solution for Sales, Marketing and Service, that is user-friendly. It serves well as a foundation for all your marketing and sales components, from CRM to chat to content creation and distribution to analytics, automatically ensuring integration wherever needed. That makes marketing and sales more efficient and far more effective. Some other common marketing platforms are Marketo, ActiveCampaign, Pardot, ConvertKit, or even MailChimp. Remember that marketing is a front-facing process that requires a different sort of technology toolkit than back-end business operations or product development. How things function for marketers determines the experience that prospects and customers will have with your brand, and that experience is supposed to turn into revenue, so careful selection of the right platform and consideration of how that flows into and integrates with the sales process is crucial.
Your Website: The Hub that Connects Your Marketing Spokes
Your website exists to clearly communicate two things:
Attract your most ideal prospects to it through high-interest content and smart advertising
Engage them with your company and start building a connection with them through irresistible offers
It's possible that your product is truly unique, but it's more likely that you have (or soon will have) competitors. And that's why the second point is so crucial. Website visitors want to know what your product will do for them that the competition's offering will not. Your software is more advanced, easier to use, cheaper, whatever. Your customer experience is second-to-none. Your company operates sustainably or gives back to the community in tangible ways. You get the idea. Your website is the hub for communicating that, and is the most important piece of the Attract and Engage stages of your business flywheel.
Your Website is Your Best Tool to Attract and Engage
When your website offers content that is useful and easy to find and understand, visitors come to view your company as a reliable resource and they trust other communications from you more. You can augment that with third-party verification — logos of well-known companies that use your product, or even your integrations. Call out awards or other honors you've received, links to media coverage of your company or products, or short testimonial quotes from happy customers.
In addition to detailed information about how your products work and the value they deliver to customers, websites that perform best include features that inspire visitors to convert into leads, including:
Landing pages that highlight specific products, enable visitors to sign up for your email newsletter or blog, or take advantage of your free trial
A blog with regularly published content designed to boost SEO, attract new prospects, and keep existing customers engaged
A live chat option that enables customers to message you in real-time, augmented by chatbots with targeted trigger messages. Live chat can be a good enhancement to your customer's experience, as long as it's executed correctly. HubSpot Conversations is a great example. Here's a conversation we started with the chat bot on HubSpot's home page.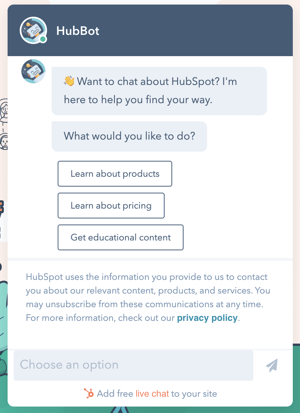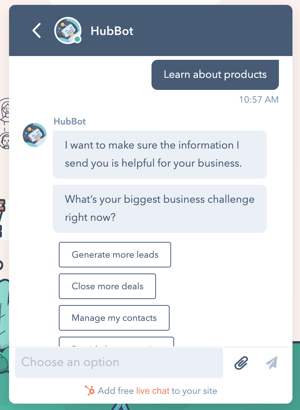 Calls to action on every page, because you never want to miss a chance to invite visitors to engage more deeply with you. MailChimp's home page is basically a well-designed series of CTAs. We like the way different benefits and features are highlighted in these bright, clear, CTA blocks.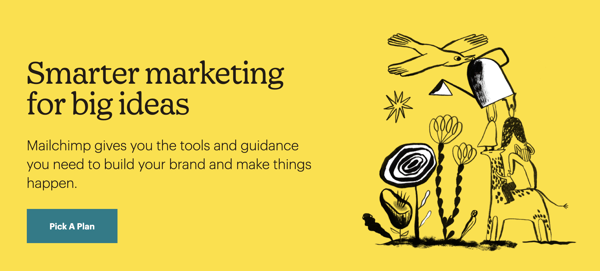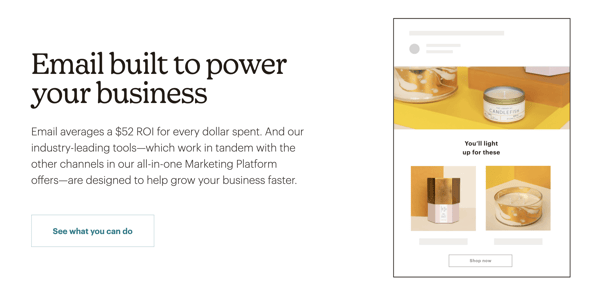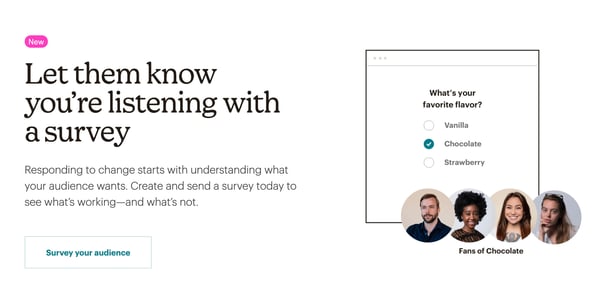 We'll talk more about creating and organizing content for chat in later sections.
Website Design: Visual and Functional Appeal
No one knows better than you how rapidly technology is changing. That applies to your website in a big way. If it's more than two or three years old, it's probably starting to show its age, missing the very latest design and features that visitors now expect, especially when it comes to the mobile experience. In some other industry, problems like slow load times, a poor CLS score, or amateur design might be merely irritating or amusing to visitors, but these types of UX issues will be deadly for your SaaS company. If your website is behind the times, what does that say about your app? (Hint: It ain't good.)
Responsive design is particularly important. Appealing visuals and on-point content won't matter if they don't appear quickly and sensibly on small device screens. Responsive design automatically displays website content in the proper way for each viewer.
Here's Mailchimp's home page on mobile. We like that it provides the same experience as their desktop site.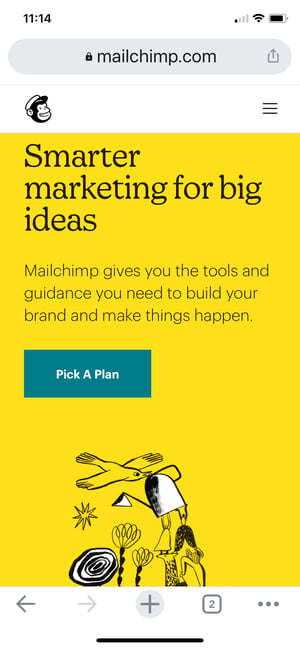 High-functioning websites need regular updates behind the scenes, too. You know this. Starting with the proper, robust back-end code facilitates updating as the marketing world changes, of course, but you'll also want to give your website the same ongoing technical attention as you give your own app. Your website is at just as much risk of accumulating technical debt as your app itself. And, by all means, don't forget the backup!
Warning: Your Marketing Website Needs Its Own Platform
SaaS companies often assume it's simplest to build their website on the same back-end platform where their app is running. Don't do it! As noted earlier, marketers need ready access to your website. If it is running independently from your bread-and-butter app, it will allow your marketing people to implement all their campaign activities without having to pull your internal developers away from your product roadmap in order to build out the marketing team's requests.