Developing a functioning SaaS solution that has actual buyers is no small feat! You've ideated, developed, tweaked, de-bugged, and all-around shined up your SaaS product, and it's ready to market. It's ready for the world to see. You are eager to roll it out and watch sales climb. To get there, you've got to assemble the best marketing team you can find. Whether you're hiring an independent firm or you're piecing together the team, it's good to know who your players should be. Cover all bases with each role and choose effective, cohesive, and teamwork-oriented people. You will rely heavily on their expertise, so choose wisely!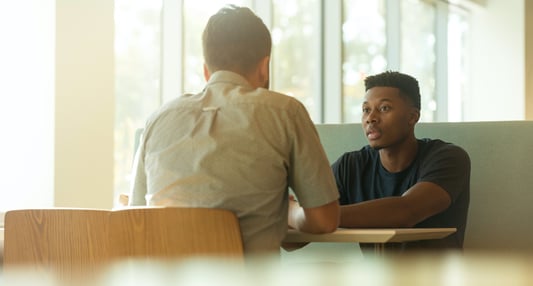 Always keep in mind that your focus is the business, and your marketing team's is...well, marketing. While it may seem like the quickest way to get something done is to do it yourself, this approach will ultimately create a group of people working too independently toward separate goals - and maybe even spread too thin. Executives, sales leaders, and key team members should collaborate with the SaaS marketing team regularly, but the most effective path to success is to allow each team their own expertise.
Let's have a look at who you should be looking for to create a stellar SaaS marketing team. We will look at two types of teams: a core marketing team for smaller and startup SaaS companies, and a full-stack marketing team for mid-to-enterprise-sized SaaS companies.
1: Core SaaS Marketing Team - For Smaller SaaS Companies / Startups
Strategist
Your strategist will "own" your SaaS company's marketing. Everyone else reports to them, and they report to you. A must-have team member, your marketing strategist will make sure the ship is pointed in the right direction, and all gauges are functioning for proper calibration. Always with the company's business goals in mind, this person will work closely with company stakeholders to create a plan for effective and successful marketing that can be properly measured and analyzed for best results. With the team, they will provide structure and direction to align marketing efforts with business goals.
At a smaller SaaS company, the strategist's official job title might be Marketing Director. At a larger company, their job title might be VP Marketing or CMO.
Writer
High-impact copywriting and content marketing is one of the very most essential pieces of an effective lead generation strategy for SaaS marketers. You will need a skilled writer to capture readers and give them compelling content to follow, while also understanding and writing toward a modern SEO strategy. In a post-Covid world, these skilled writers can be harder to come by but are well worth the time and money spent to find them.
The writer also needs to be able to write high-impact sales copy for landing pages, emails, and other touchpoints with your prospects. This person does not necessarily need expert knowledge of all the back-end systems of your software, but they will need to be connected with those back-end team members when and where needed so they can write intelligently. Look for someone who has mastered different writing styles; for example, a blog should have a much lighter tone than a webpage focused on the technical details of a particular feature of your product.
Don't forget about social media prowess. Your writer should have a solid grasp of each platform and be able to adjust posts to fit the nuances of each. From web copy to pillar pages to a Twitter post, a good writer can do it all.
Designer
Your designer will be responsible for creating your branding, and pulling it through every marketing asset you create. That's big. Choose someone who is not only great at design and UX principles but also someone who really understands your product and "gets" your brand. A big-picture thinker makes a great designer who can maintain a consistent brand across all platforms.
Developer
Ok, so you might already have this one locked down if your software is ready for launch, but make sure at least some of your existing development team has the skills and bandwidth to build public-facing marketing assets. You will absolutely need someone with front-end design chops (HTML, CSS, and Javascript), so your server-side and database teams probably aren't the best resources here. CMS knowledge is important as well. If you're working with a content management system like HubSpot, for instance, you will need someone familiar with HubL markup.
2: Full-Stack SaaS Marketing Team - Enterprise SaaS Companies
If you have a larger team, or more resources at your disposal, consider adding the following roles to your SaaS marketing team, for a more robust marketing machine. Many SaaS firms use contractors or agencies to fill in gaps as products or teams grow, but here are some of the roles to think about for your full-stack SaaS marketing team.
Project Manager
Project Managers are different from the Strategists we talked about above. The air traffic controller of the group, a project manager is responsible for understanding the strategy and then assigning and following up on tasks, pulling everything together. They will communicate with content writers, videographers, editors, graphic designers, and web developers. Proper coordination and organization is critical in this position. Timelines will be a big part of this person's responsibility and they will need to be proficient at motivating the team to meet deadlines. If you're working with an agency, it is important to ensure a proficient time tracking and project management system is in place, and you will be able to receive real-time updates on your marketing programs at any moment.
Oftentimes this person's job title is Project Manager, however, you will often also see job titles like Program Manager or Marketing Coordinator as well.
When you're first starting out, your Strategist might need to do double-duty as Project Manager as well. But as you grow, these should definitely become two separate roles.
Product Marketer
Working closely with the Product team, the Product Marketer is focused on marketing a particular product, not the company as a whole. While working alongside the digital marketing team who is concentrated on long-term, brand strategies, the product marketer sees things more short-term. What happens before the product launch and what happens after? What happens as versions iterate, or features are added? Product marketers work to enable inside and outside sales teams to sell the product, creating email and social media campaigns as well as content for prospective and current users. Product Marketers work closely with the rest of the marketing team, but they don't do much direct-to-customer marketing.
Data Analyst
On a larger team, there is a separate data analyst (or even a whole team) whose priority is looking at and improving your stats. So much data is available on who is interested in your solution, from their demographics and psychographics to behaviors across the digital landscape, interactions with your website, form submissions, app usage, and so much more. With a great statistician or data analyst on your side, you can look at your marketing quantitatively, taking out all guesswork and marketing mystery. The valuable data gleaned can then be used to adjust or amp up current marketing strategies, and predict trends.
SEO Strategist
You may want someone on your team specializing in Search Engine Optimization, to bring in a steady flow of organic traffic. Most people begin with a Google search for virtually anything they need - or don't need. Your team will need a dedicated SEO guru to push your SaaS brand straight to the top since that first result receives more than 30% of clicks, representing a very large portion of website traffic. And while ads are definitely important, key decision-makers tend to prefer information from a series of articles, meaning that your content should be highly searchable and available for them to read, and appear organically. Ideally, your brand appears as the top organic search result, and in the ads served as a result of the search as well.
Social Media Manager
A dedicated Social Media Manager is a great position to fill when you're ready for a robust social media program with daily posting, custom video, and an active community. The key to the longevity of your SaaS company will be a strategic, long-term marketing plan that increases trust and credibility. A great way to accomplish those things is to build an engaged community of followers on social media, showcasing not only your product but also your company's culture. Your social media manager should have a knack for humanizing your service and products by delivering a story about the people behind it all. Social media is also a great tool for retaining customers and attracting prospects with things like tips, tricks, and hacks to try.
PR Manager
PR is often handled by a specialized press agency, well-versed in gaining coverage online, in print, on radio, even television, with relationships that help to make that coverage happen. Often referred to as your "traditional PR," the PR Manager handles press coverage as well as podcast interview bookings, guest blog opportunities, and speaking engagements that help to reinforce your brand's thought leadership.
Paid Acquisition / Demand Generation Manager
When it comes to generating interest in your solution, you may want to consider adding a Paid Acquisition Manager to oversee your PPC (Pay Per Click) advertising and paid social advertising. Once your marketing program starts to expand, you will need someone skilled in both areas. A good leader for your paid search and advertising efforts will have certifications like the Paid Search Certification from Google, and experience working with the Facebook Ads Manager.
Marketing Operations Manager
A Marketing Operations Manager oversees things like internal team training, tradeshow participation, marketing budgets - especially anything spent for internal training or tools. They will also be in charge of managing your marketing automation system, your systems integration, and maybe your CRM as well. When you have a big team, you may need someone to manage the operation of the marketing department itself.
Video / Video Editor
This may seem like a pretty straightforward position to fill. And, good news, it is. Your videographer and/or video editor should have the capability to film and edit simple content like an on-screen software walk-through as well as more involved content such as a 3-minute recap of a humanitarian effort that you and your team were involved with. They should always be involved in strategic planning so their creative ideas can be heard, and so that what they execute aligns with the strategic vision of your marketing programs.
Key Stakeholders Are Part of the Team, Too
Whether your SaaS marketing team is an internal department or external service provider like a digital marketing agency, it is absolutely essential that stakeholders are involved in the conversation. Especially in the strategy phase, departments like product, sales, and service need to be at the table, because they understand nuances that marketing may not grasp on their own. In the HubSpot flywheel approach, Marketing, Sales, and Service all work together to provide an amazing customer experience. It's important to work together to achieve that goal because a stellar customer experience means better Customer Lifetime Value... and more profit.
While it's true that some of your team members will work more closely together than others, it should always be a priority for you to have everyone put their heads together on a regular basis. Creative and innovative ideas come from everywhere, and you should be careful not to assume that any one member of your team won't have anything to contribute to a strategic planning meeting, for example. The best way for your SaaS marketing team to create incredibly successful campaigns is to have talented and highly functional team members - or talented SaaS marketing agency like ClearPivot - in each of these roles.
This post was originally published July 2020 and has been updated for accuracy and completeness.