If you're in the SaaS business, you know how incredibly tough the competition is.
There are startups that seemingly never sleep. There are huge, legacy solutions that so many enterprises are locked into, we may wonder how to even begin to reach that echelon of success. Somewhere in the middle are most SaaS companies. You've got a great solution, have made some progress, are consistently adding users and delighting them, but you're always looking to improve.
Sometimes, a little inspiration goes a long way, so we've gathered some of our favorite marketing examples from top SaaS companies that are killing the game right now.
Feature Marketing
Focusing on the features, and showing them in gifs or videos, is an important part of SaaS marketing. Your potential customers want to see exactly what to expect when they log in and start using your solution. Help them imagine what your SaaS solution can do for them by showing your best features. Here are three examples of great feature marketing.
1: Slack
One example is Slack and its highlight of the shared channels feature right inside its homepage. The goal here is to entice potential subscribers as well as current customers by showing one of the most popular features for teams.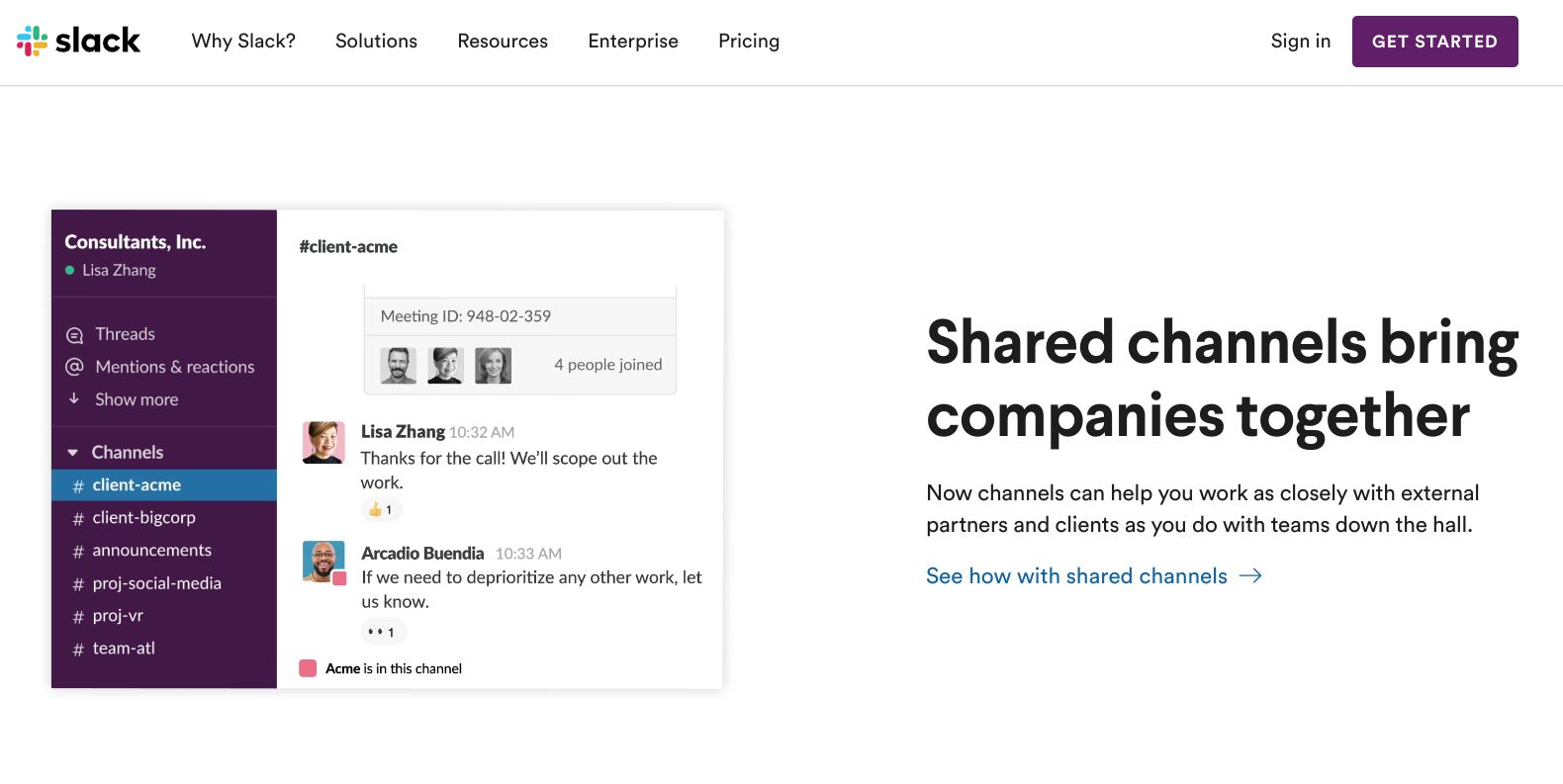 2: Tradovate
Another great way to show off your favorite features and functionalities is to create screenflow videos walking your leads and customers through the process directly. Online futures trading platform, Tradovate, does this well, peeling back the curtain to show how their solution actually works. Here's a great example of how to access market replay inside the platform:
3: Monday.com
Project management solution, Monday.com, makes great use of a short, looping video on its home page, showing an inside look into the functionality of its project boards.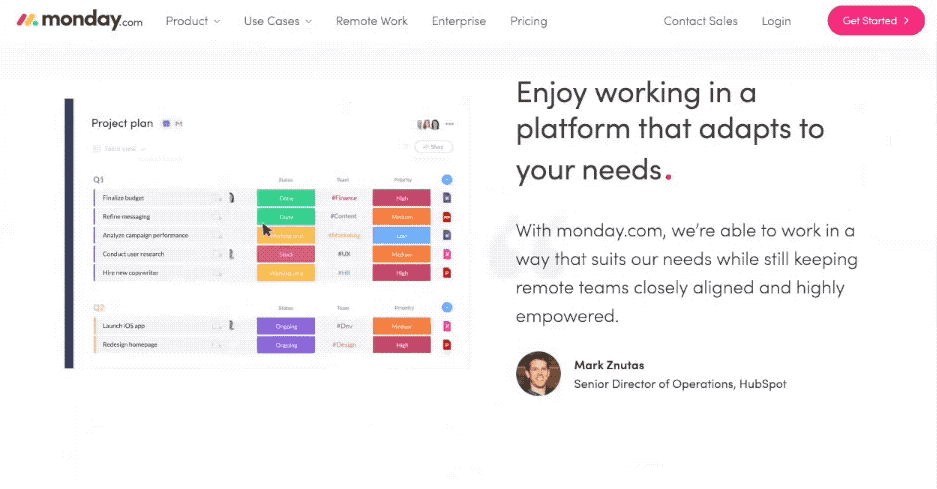 Video Marketing
Video marketing is the latest gold standard for anyone in the marketing space, but especially for tech-forward companies working in SaaS or software. Potential users need to see your solution and hear from others who it has helped. There are a lot of essential videos for SaaS marketers to consider, including product videos like the one we shared above from Tradovate, as well as a brand/company video, testimonials, and FAQs. Here are 3 examples of SaaS video marketing we love.
1: Square
Payment processing solution, Square, offers a simple customer testimonial focused on the results its payment processing solution brings. It's a quick, 30-second video that gets right to the point of the benefit for small business owners.
2: Adobe
Adobe Marketing Cloud goes more conceptual with its space launch commercial, which humorously touts their real-time data insights without actually showing the solution itself.
3: Vidyard
Beyond professionally-produced video advertising like the examples above, many sales and marketing teams are moving into informal, personalized video marketing to specific prospects. Here's one great inside look in the form of an example from Josh Kirkham over at Vidyard. It's part of a communication with our own Ryan Wright.
Content Marketing
1: Wistia
One of our all-time favorite campaigns is an original documentary series from Wistia. In the video hosting platform's brilliant, "One, Ten, One Hundred" campaign, a Los Angeles video agency takes on the challenge of creating a video ad at three budget levels. Sandwich Video created 3 ads for Wistia's Soapbox product, with a $1,000, $10,000 or $100,000 budget, respectively. The videos, and the documentary Wistia shot of the whole endeavor, constitute some of the best SaaS marketing out there today. Take a look at the series trailer:
2: Privy
Privy is an ecommerce marketing platform that integrates with Shopify, and reaches out to potential customers with its podcast, The Ecommerce Marketing Show. The show takes a solution-agnostic, educational approach and interviews with ecommerce professionals like Nik Sharma and Kunle Campbell about their latest endeavors.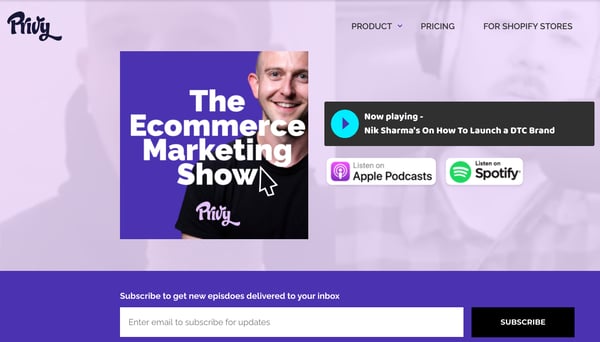 3: MailChimp
MailChimp Presents features entertaining content in the form of podcasts, video shorts and even an entire web series, that all teach "unlikely business lessons." If you're up for a laugh, check out the series Taking Stock about a team who shoots stock photos, and the cast of characters they work with to create their grimacingly cheesy images. MailChimp Presents is content marketing that isn't focused directly on products — in fact, none of the content pitches their email marketing solutions, or even mentions their products directly. Sometimes, content that is purely educational or entertaining is a welcome respite from all the selling out there.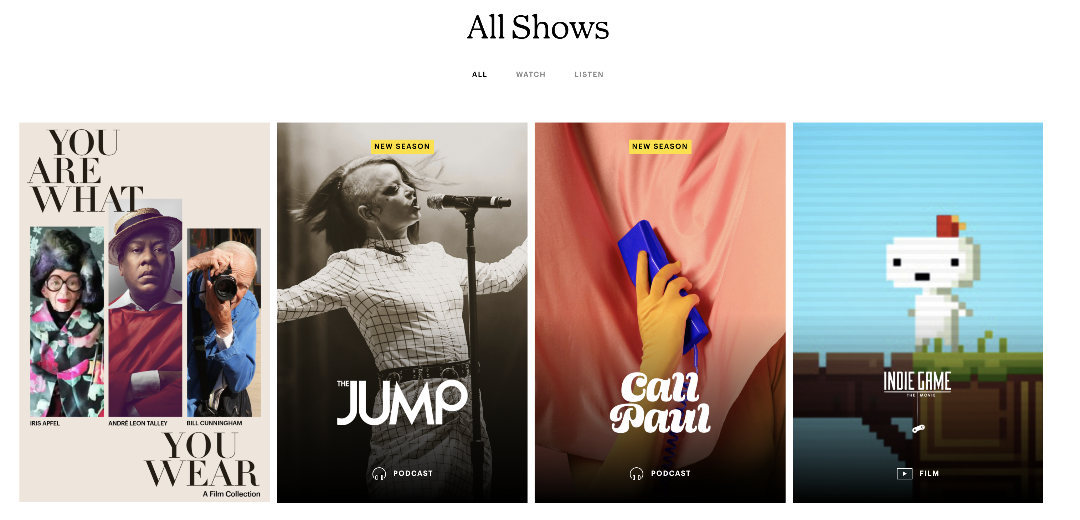 ---
Community-Building
1: Drift
Conversational marketing solution, Drift, offers on-demand access to exclusive content with its Drift Insider community. Members get intimate access to powerful leaders in business, through interviews with people like Wistia Founder Chris Savage and Spanx CEO Sara Blakely, as well as practical education on topics like MarTech and ABM.
2: Ahrefs
Ahrefs Insider is a private, carefully-moderated Facebook group where members can come together to discuss all things Ahrefs, SEO and marketing. With over 11,000 active members from all over the world, it's a great spot to go with specific queries or puzzles for the group. If there's a nuanced application of Ahrefs that will solve your previously unsolvable problem, you'll find it in this group.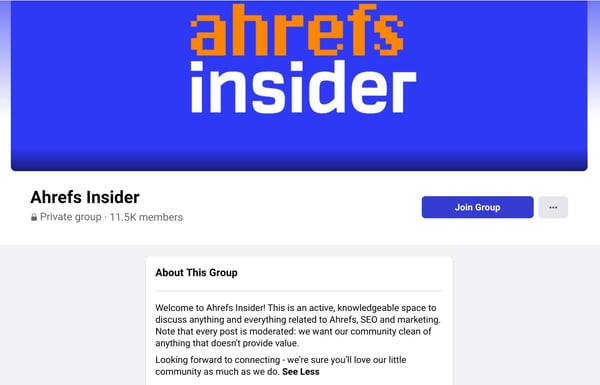 3: Salesforce
Trailblazer Community Groups allow Salesforce users to learn the platform with peers, build a network, and find mentors to expand the possibilities. What's special about this community is its focus on local groups and specific themes, like the Dubai Woman in Tech Group, or the Seattle B2B Marketers Group, and members of the Salesforce ecosystem all throughout the world interact through Trailblazer groups.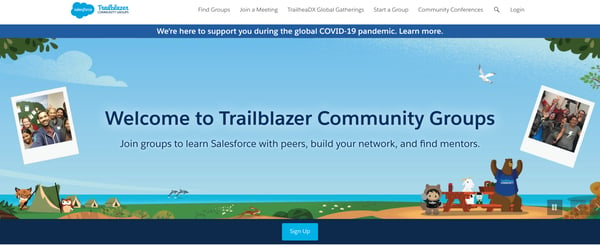 ---
Event Marketing
1: HubSpot
Marketing automation giant, HubSpot, hosts an annual conference called Inbound each year with hundreds of booths, big celebrity speakers and an entire program of education for its users. The even has become a right of passage for its users (HubSpotters), and draws nearly 25,000 people every year.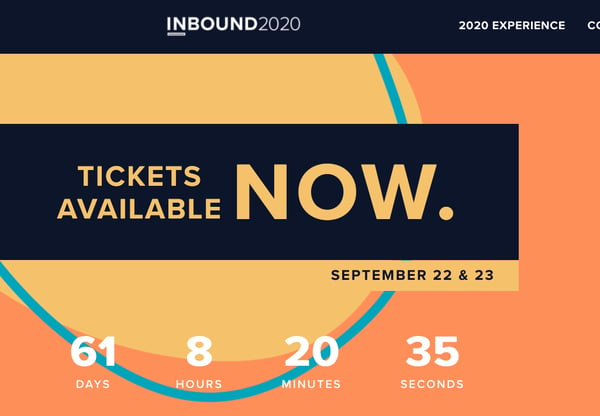 2: Moz
SEO platform and search marketing thought leadership hub, Moz, hosts MozCon to bring together its users and the entire SEO services industry. It's a 2-day event featuring speakers, booths and activities for SEOs, agencies, and other marketers.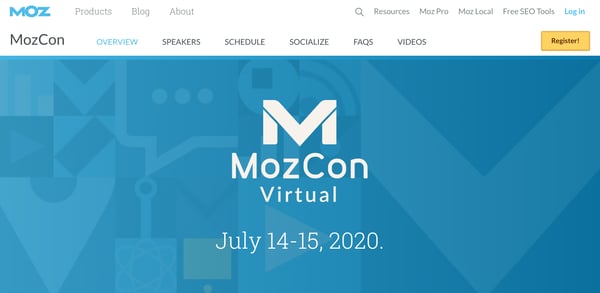 3: Webflow
The No Code Conference is a gathering for experts and fans of visual development. It's a space for visitors and speakers from companies like Salesforce, startups like Apps Without Code, and venture capital firms like First Round Capital to come together and nerd out about (not) code.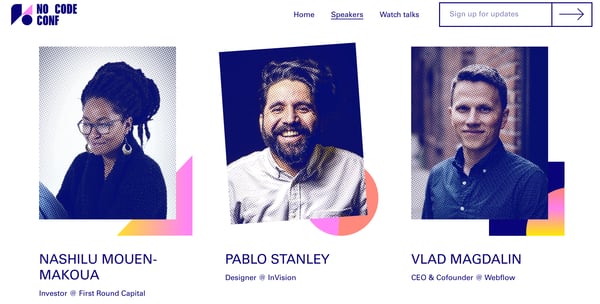 ---
Marketing by Association (Name-Dropping)
Another high-impact tactic that we've seen lately is the idea of creating a great reputation by association. What we mean by that is using recognizable brands to boost potential trust in your company. One way to do this is featuring your biggest and best customers on your website with logos and/or testimonials, like these examples here:
1: Slack
Use customer testimonials to boost trust and present a wow factor with well known names that have complimented your solution. The most straightforward way to accomplish a little name dropping is on your own website. Here's how Slack features Intuit on its home page, with a quick testimonial quote, and a call to action to read a full case study.
2: Zapier
Now, if you're thinking about software integrations in any capacity, you've probably heard of Zapier. The company's whole business model centers on integrations, and it's a multi-million dollar company simply bringing together relationships between different technologies. In addition to highlighting prominent customers on their website, they also name and feature all the different software platforms that you can connect through their service as well.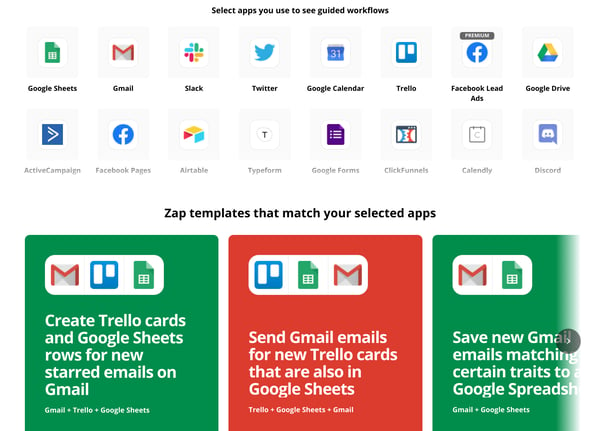 3: ReCharge
Subscription platform, ReCharge integrates with dozens of apps in and adjacent to the Shopify ecommerce ecosystem. It even provides documentation and support for 29 of them, dedicating a large section of its Knowledge Base to its apps and integrations.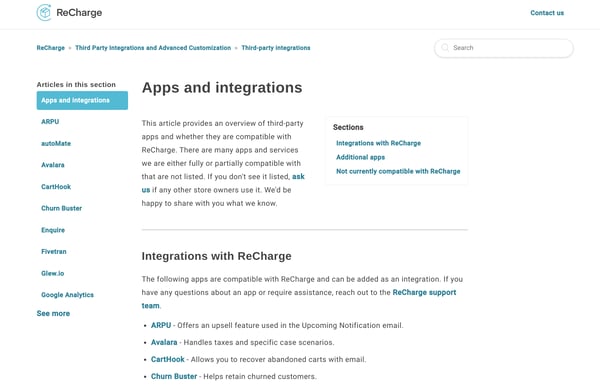 ---
Interactive Content
1: Coda
Coda's interactive Doc Gallery is a very helpful resource for its users, especially those who are looking for a quick way to get up and running with a doc built for their specific role and situation. It shows example docs from other users, and helps you find document templates based on your specific organizational needs. You can even copy the templates directly into your own Coda account to start using them right away.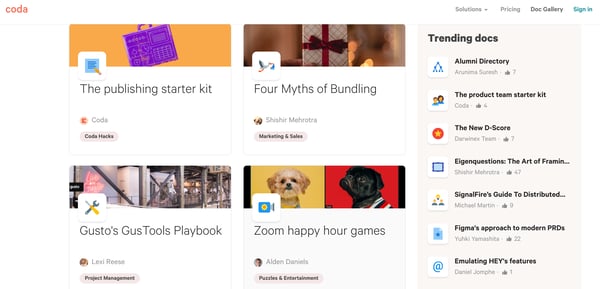 2: Buffer
Social media management app, Buffer, offers it's free Pablo image editor to anyone creating images for social media. It's a great tool for creating simple quote images, with free access to inspiring stock imagery. Pablo allows Buffer to delight prospects and customers with its little extra helpfulness as a free image builder for social.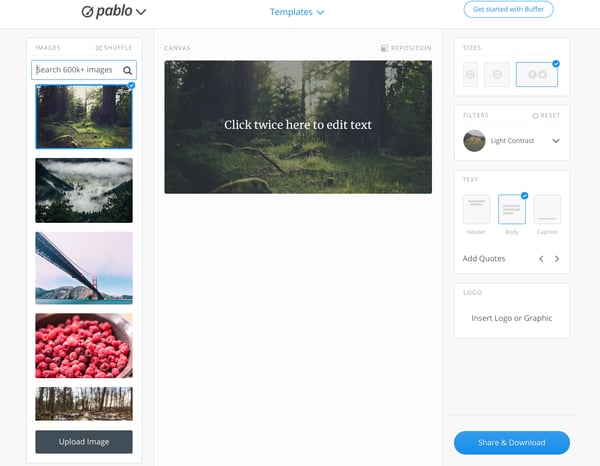 3: AccessiBe
Ace, by AccessiBe, is a website accessibility audit tool that allows users to double check compliance with regulations from bodies like the ADA, which ensure equal access to websites for the disabled. In the United States, any business-related website is considered public accommodation, and therefore must be accessible. This handy tool allows you to check your own site and plan improvements to keep it accessible for all.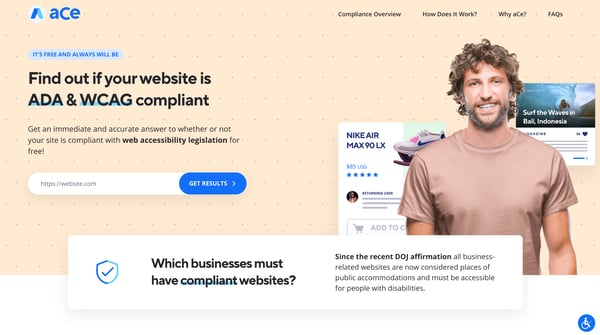 ---
Stay on Track with SaaS Marketing Best Practices
Looking to successful companies and emulating their best marketing examples is a great way to make sure your own marketing and content creation efforts are on track with what's happening in the marketplace around you. Your leads and customers are looking for cues as they interact with your website and other marketing assets — cues that tell them you are a modern, trustworthy company aware of your surroundings and cognizant of expectations. Serve your customer with what they expect to see by implementing something inspired by one of these SaaS marketing examples today.
Originally published Jan 2021, updated Oct 2021 for accuracy.