Choosing the right marketing channels for your SaaS product is not a spray and pray endeavor. In fact, putting out the same message across a bunch of different channels and hoping something sticks is one of the best ways to waste your investment in marketing and advertising. Choosing the right channels is an essential part of your SaaS marketing strategy, and one of the best ways to test different ways of reaching your target market. There are several common channels SaaS marketers typically use, but your particular solution's target user base will likely meet on several key channels. It's your job to find out what those channels are, build them up effectively, and use them to encourage, sustain, and grow MRR. The first step is to understand your buyer personas in detail, hit the channels you think are important to them long enough to gather data, and then use that data to allocate resources to the channels that work best.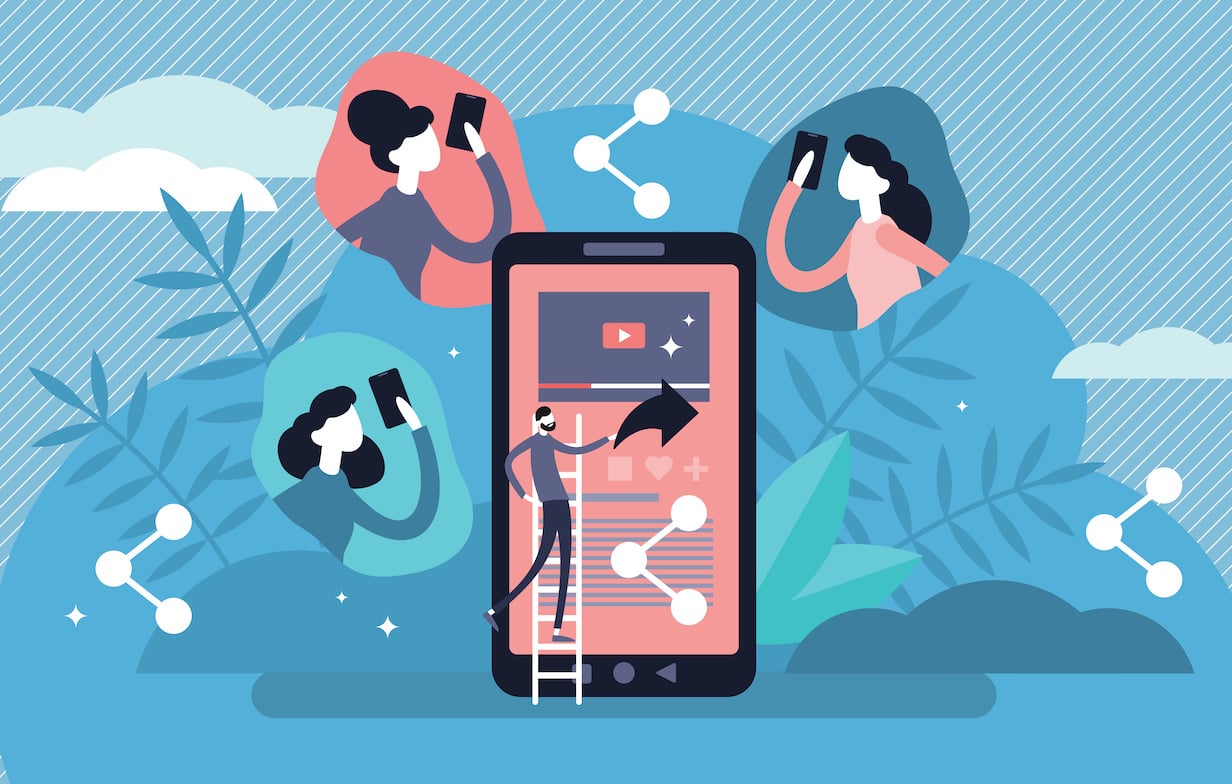 Common SaaS Marketing Channels
Most SaaS companies use some combination of the following channels to reach their leads and interact with their customers. If you haven't done much marketing for your solution yet, or are seeking out new ways to reach potential users, it's a good idea to try out a campaign on each of these main channels first. The idea is to get some data on how each channel works so you can further refine your mix of marketing channels. Let's explore each of these basic channels, along with explanations of common techniques and best practices within each.
Organic Search
Organic search is traffic from search engines that weren't part of the paid advertising sections of the search engine result pages (SERPs). People who find your solution via searching on Google or Bing can be your most valuable leads because they are actively seeking what you provide. When people use the term SEO, they are referring to the practice of trying to attract more website traffic from organic search. Building an effective SEO strategy starts with identifying pillar topics, and planning topic clusters around those pillars, which guide your content team as it creates a rich library of content. The more detailed and in-depth your content, the better your search engine results tend to become. As a marketing channel, organic search does require a significant upfront investment in content strategy and creation, but its benefits can be reaped for years. Some of the best-qualified leads come from organic search. Plan on a timeframe of 6-12 months of sustained effort to start seeing meaningful traction in traffic from organic search.
Organic Social
Just like organic search is traffic from search engines that weren't part of any paid advertising campaigns, organic social is traffic from social media platforms that are not supported by any paid advertising. The best use of organic social media marketing is for brand recognition and building goodwill by sharing valuable content. It's not as common to find bottom-of-the-funnel success with organic social media posting. This is because, unlike Google or Bing search traffic, most people who see your content won't have an immediate need for your product when they see any particular post from you. So instead, your purpose should be to gain followers and build connections with them over time, so that when they do have a need for a product like yours in the future, they will remember you and will come sign up for your product at that time.
Many of the top SaaS companies use social media platforms like Facebook for user communities, post video walkthroughs on LinkedIn, and show their brand personalities through Instagram feeds. The key to engaging on social media is to come from a place of authenticity and to be clear about the intention and personality you are trying to convey.
Paid Search
Many SaaS companies supplement organic SEO efforts with paid search, meaning running text-based ads on the Google or Bing ad networks. Take advantage of Google's advanced machine learning by using features like Smart Bidding, where you can select from a number of automated bidding strategies based on indicators like target ROAS and target search page location. With paid search, logic and strategy are paramount. Engage in concerted keyword research; know when you're intentionally using exact match, broad match, or other keyword settings; be smart about geographic targeting; set negative keywords. Since paid search is usually running on a pay-per-click model, you're better off running a smaller, more high-intent target keyword list than a broad, sprawling target keyword list.
There's a lot to know about paid search. It's no wonder many SaaS marketing leaders hire agencies to handle this marketing channel on their behalf.
Paid Social Media
You may already be aware, it's hard for a business to make a big impact with organic social media, especially for bottom-of-the-funnel goals like trial sign-ups or app installations. Many SaaS marketers use paid social as an option for promoting content, making offers and advertising specific features and benefits. We often use the Facebook Business Manager to serve ads on Facebook and Instagram and have found one of the best ways to approach it is to be diligent about audience segmentation and try different demographic targeting, interest-based targeting, and geographic targeting in order to uncover the sweet spot that brings the best results. In addition to Facebook Business Manager, LinkedIn ads can be a great fit for B2B SaaS companies (but be aware that LinkedIn ads can be very expensive). Other more niche paid social media channels include Twitter, Pinterest, Snapchat, and Tiktok.
Display Ads
Display ads (sometimes called banner ads) are the traditional ad panels that show up alongside page content on media sites like CNN, Mashable, and newspaper sites. Especially if you have a complicated solution or a SaaS product with gorgeous visuals that beg to be shared, display ads can be an important channel to try. The Google display ad network is one of the main avenues for display ads, but there are other networks to try out, including options like Adroll and Taboola. One of the most important things to remember with display ads is to keep the visual impactful and simple, with a clear CTA. Many SaaS companies use display advertising as a channel to bring leads into their free trial.
App Marketplaces
Many SaaS companies do well with app marketplaces like the Chrome Webstore, Salesforce AppExchange, or HubSpot App Marketplace. As a marketing channel, app directory sites provide a built-in audience for solutions that make their experience of certain ecosystems better. The key is to solve a unique issue, or solve a common issue in a unique way, and to stand out among competing SaaS providers with great brand personalities. Also focus on cultivating positive user reviews on these platforms, as star ratings and review counts are usually prominently displayed on each app's listing in these marketplaces.
Partner Programs and Value-Added Resellers (VARs)
Co-marketing traffic from VAR and services partner programs are also great channels to tap as you build your SaaS marketing and sales efforts, especially in a B2B context. Examples like the Databox Partner Program or the Oracle PartnerNetwork show us that inspiring people to share and sell your solution to others is a great way to get the word out, and gain customers. Even with profit shares, or affiliate fees, this can be a profitable option for SaaS companies looking to widen their reach. But be aware that there's more to VAR programs than just "signing up people to sell for you." Be prepared to invest quite a bit of time over many years building co-marketing campaigns together, equipping your VARs with sales enablement material, and collaborating hand-in-hand with your VARs on bringing in sales deals together.
Review Sites
Review sites are a great channel for bringing in late-stage leads ready to purchase a solution immediately. Sites like G2, Capterra, TrustRadius, PCworld, and other review sites provide the opportunity for your leads to find you in the moment they are comparing solutions, or to vet your product against others they are considering. Many of our SaaS clients run carefully-planned customer campaigns to encourage reviews on such sites. An organic, five-star review can provide more value than a costly ad, so don't forget about review sites as an important SaaS marketing channel.
Virality and Referrals
One of the best SaaS marketing channels is a formalized approach to word of mouth referrals. Many companies encourage users to invite colleagues or friends by offering an incentive like a free month on their subscription. The key to this marketing channel is to make it extremely easy to share and track with automations, one click sharing, or specific promo codes. Nothing will kill this idea faster than extra steps that get in the way of the intended actions and rewards.
In addition, one source of virality and referrals that is often overlooked is to use "powered by" links. You've probably seen this type of link on various websites, email messages, or even in-app on solutions like chat bots. Examples are "Powered by Drift | HubSpot | Calendly | Loom | Vidyard." The idea is a potential customer might see "Powered by Calendly," for example on a calendar invite, and then click to check out the solution. This type of referral works best in a B2B setting.
Determining the ROI of Your SaaS Marketing Channels
The most important piece of this entire discussion is ROI. How do you determine the return you're getting for all of the time, effort and capital spent on SaaS marketing channels? In this section, we explore how to figure out the effectiveness of your marketing across different channels, and in the next section, we discuss how this knowledge should translate into decisions about which marketing channels to continue pursuing.
Quite simply, the idea here is to understand how much you're spending in relation to what you are gaining from each channel. To do this, you must have reasonable expectations for the different channels, and a specific handle on the resources you are putting into each channel, as well as the contacts, leads and customers you're gaining per channel. Software like HubSpot or reporting platform like Databox helps immensely with tracking all of this data, but if you have to run a massive spreadsheet to track, start with that. The best advice we can give to really get a handle on understanding your channel-by-channel data is to ensure your marketing and sales data is combined into a single place. With a single source of truth, your company can more easily determine which channels are bringing in the most paying customers, and not just leads.
It helps to have a good understanding of which SaaS marketing metrics are important in general, and then to pay attention to specific metrics across your marketing channels, and relate them to their business benefit. Pay attention to metrics like:
CPC - Cost per click
CTR - Click-through rate
CPM - Cost per thousand impressions
ROAS - Return on ad spend
Make sure you're not only calculating your investment of advertising spend, but also your investment of time and resources like employee time and expertise, and contractor expenses for services like design or video editing.
If you know the source of each of your leads and customers, you can then relate their value (either immediate or lifetime) to the investment in that particular marketing channel.
Use Data to Refine SaaS Marketing Channel Choices
If you only hear one part of this entire article, hear this: you must review the results of your marketing channel explorations and make decisions about where to continue and how.
As with any analysis, it starts with your specific goals and expectations. It's important to be aware of expectations for each of the channels you've chosen. For example, if you know that organic social posting brings you some top-of-funnel traffic, but not leads that immediately convert into income, don't expect a huge monetary ROI on that channel. However, if you're investing heavily in Google Search advertising, having an idea of a reasonable cost per lead is essential. Knowing a baseline expectation per channel is the first step.
Next, review the data from each of your channel experiments, including inputs and outcomes. Determine where you are pulling in your best leads, and what characteristics and behaviors among those leads can be revealed as patterns that could help you predict future buying behavior. Your best customers provide the model, so having clean and detailed data about where they visited, what they looked at and who they talked to as they made the decision to subscribe is crucial. You want to find more people just like your existing best customers! Determine which channels are bringing in profitable customers, and which may not be faring so well, then reallocate your investments from the low-performing channels into the higher performing channels. The result is a more robust, profitable marketing program overall.
This post was originally published in November 2020 and has been updated for accuracy and completeness.