Attract, engage, close, and delight people to create demand and drive sales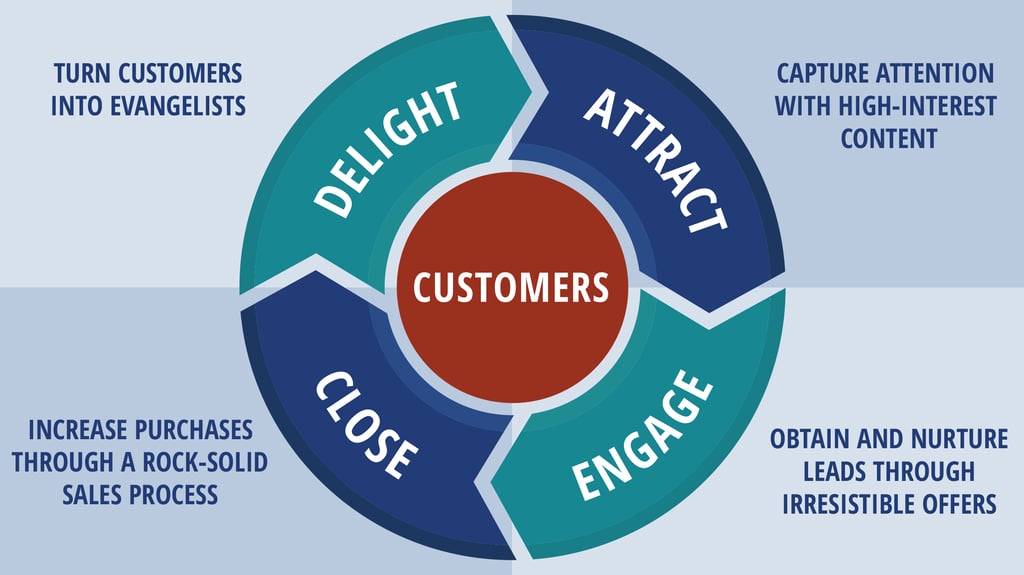 For many years, companies have used various types of online marketing to attract and cultivate customer connections. Although there are many methods available to marketers, few have proven as effective as inbound marketing.
ClearPivot's inbound process begins with exploring customer concerns, using them to guide the marketing strategy. During implementation, valuable content, that speaks directly to the needs of the customer, is produced and promoted in a way that attracts attention. As new connections are made, they are cultivated with high-interest, informative content and compelling calls-to-action. Before long, prospects become customers. After the sale is complete, the connection is sustained through ongoing communication that encourages referral and repeat business.
Let's explore each of these stages individually:
---
Stage 1: Attract
Capture the attention of prospective customers with high-interest content.
How do we attract visitors who are the most likely to become customers? We need to talk about the things that matter to our customers. What are their goals, challenges, obstacles, and objections? What is their typical station in life?
The more information we can gather to help us paint a picture of our ideal customers, the more effective our marketing will be. When combined, this information will enable us to create a target persona, like a character in a novel. Each persona represents one client type. The more we can tailor the content to the needs and desires of our personas, the more effectively we will attract customers.
After defining target personas, we build out the following assets to attract prospective customers:
Blog Posts - Directly addressing the concerns of your prospective customers with educational content lets them know that you understand what they need and invites them to learn more about your offerings.
Keyword Optimization - The words we type into a search engine determine which websites will be listed in our results. It is very important to include relevant keywords in your online content to increase the likelihood that your website will be listed in the search results of your prospective customers.
Website Content - Your website may be your visitor's first impression of your company. Design your website for a simple, informative experience that doesn't confuse them, and write in a way that tells them what they need to know, not what you want them to hear.
Social Media - With so much emphasis on social media platforms, every company needs to publish meaningful content that speaks to the needs and desires of their prospective customers in the social media channels they prefer.
Digital Advertising - Maximize your impact with a turbo boost. Take the momentum created by your website content, landing pages, blog posts, and social media and accelerate it to achieve even more prominent visibility on Google and the social media channels in which your prospects are spending their time.
---
Stage 2: Engage
Obtain essential contact information with irresistible content offers.
Nurture and build your relationship with them afterwards.
Once ClearPivot has helped you catch the attention of your prospective customers, how can we engage them? We will need to offer them something so valuable that they won't mind providing their contact information to access it. Because we understand the needs and desires of your prospective customers, we use target personas to develop content and marketing messages that are irresistible to them.
The gated content used to engage prospective customers may include:
Tip Sheets - Quick and easy. Tip sheets provide a concise, simplified guide to a process, instructions, or other helpful hints that are extremely useful and practical.
Infographics - Combining data with graphics is a very effective way to engage prospective customers. The key is to present the perfect balance of art and information for maximum impact.
eBooks - These brief publications, which are about the length of a standard book chapter, contain educational information that appeals to prospective customers. Some examples include best practice tips, industry trends, and "how to" instructions.
White Papers - Popular among technical audiences, these 5-20 page publications provide in-depth analysis of industry topics that are of great value to prospective customers. They may explain technological advancements, processes, histories, or other analytical perspectives.
Demos and Consultations - Before customers finalize their buying decision, they often request a live demo or in-depth consultation.
At this stage, ClearPivot's objective is to obtain information that can be used to evaluate the connection. Inbound marketing captures information through website forms or trackable phone calls. In most cases, high-value content is offered through a call-to-action, which is a prominent button that is placed in an email, at the end of a blog post, or on a website. Clicking the call-to-action button opens a landing page where details about the offering are presented next to a form that must be completed to access the offering. Information captured in the form enables you to continue the conversation.
---
Stage 3: Close
Use personalized and highly-targeted messaging to nurture relationships with your connections
until the point of purchase.
Since the moment your prospective customer first learned about your company, they have seen social media posts, read blogs, browsed your website, and sought to learn more. They provided their contact details to download an offering enabling you to begin cultivating a deeper connection with the help of target personas. Responses to each marketing effort are be closely monitored and adjusted to ensure optimal ROI.
ClearPivot utilizes the following tools when cultivating connections:
Customer Relationship Management - Every piece of information obtained about a connection, company, or industry has value. Customer Relationship Management (CRM) systems guide precisely-timed messaging tailored to the needs and desires of each connection.
Integrated Reporting - Providing reporting on marketing effectiveness. Regular review by sales and management teams ensure maximum effectiveness.
Marketing Automation - Giving a personalized touch to standard email messages that are automatically triggered when connections reach sales cycle milestones is a measure of effectiveness. By creating variations, based on individual preferences and interests, recipients are more likely to feel a personal connection and preference.
---
Stage 4: Delight
Encourage referral and repeat business with valuable, targeted content.
When your transaction is complete, your job is not over. The best source of new business is referrals. ClearPivot will help you continue to provide customers with valuable content reinforces the favorable experience and keeps contact details within reach for future opportunities.
Tools used to continue delighting your customers include:
---
Why Is This So Effective?
ClearPivot enables you to leverage the power of inbound marketing to attract, engage, nurture, and sustain customers through a standardized, holistic process, with personalized, highly-targeted messaging that appeals to connections at every stage of their buyer's journey. Let's review at the parts of this powerful machine:
High-Quality Content - Whether it's website content, email messaging, videos, graphics, or eBooks, all content used in an inbound marketing process is created for a specific audience and includes as much personalization as possible.
Smoother Sales Cycle - From the first contact to the customary handshake, inbound marketing enables marketers to ensure every message is relevant and action-worthy.
Increased Visibility - Inbound marketing delivers targeted messaging in the channels most frequented by your customers.
Seamless Integration - Using a single system, methodology, and reporting to create and deliver content, cultivate connections, and review results makes marketing easy for you to understand and extremely efficient.