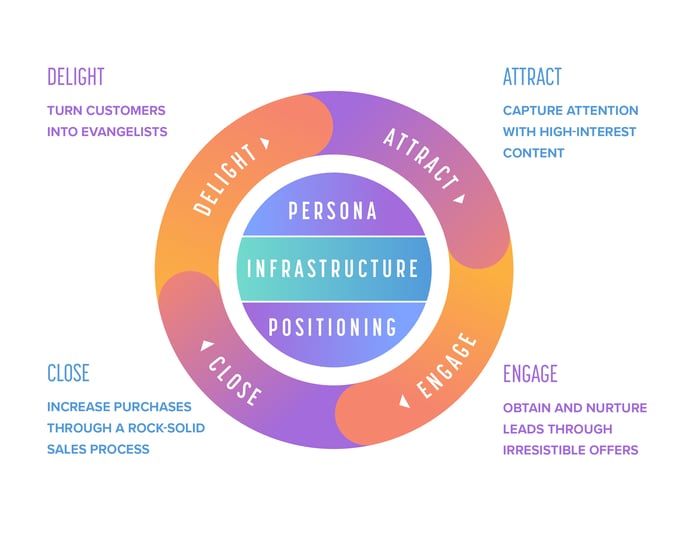 Although there are many methods available to digital marketers, few have proven as effective as the inbound process. We like to use the concept of a flywheel to understand the way this process works. It's a single conceptual framework for organizing marketing, sales and service in a way that starts to generate its own self-sustaining momentum and result in compounding growth.
The core of the flywheel consists of 3 layers: personas, positioning, and infrastructure. The outer part of the flywheel revolves around that core. This outer part illustrates how prospects and customers interact with your company as you attract, engage, close and delight them. We have guided many companies to substantial revenue impact by re-orienting them around this flywheel framework.
Let's explore the components of the inbound flywheel.
---
The Flywheel Core
At the core of the inbound flywheel is a 3-layered center, consisting of business infrastructure, customer personas, and market positioning. We'll explore each of these foundational layers with explanation of how they work together to form the core of the flywheel. Let's start with personas.
Personas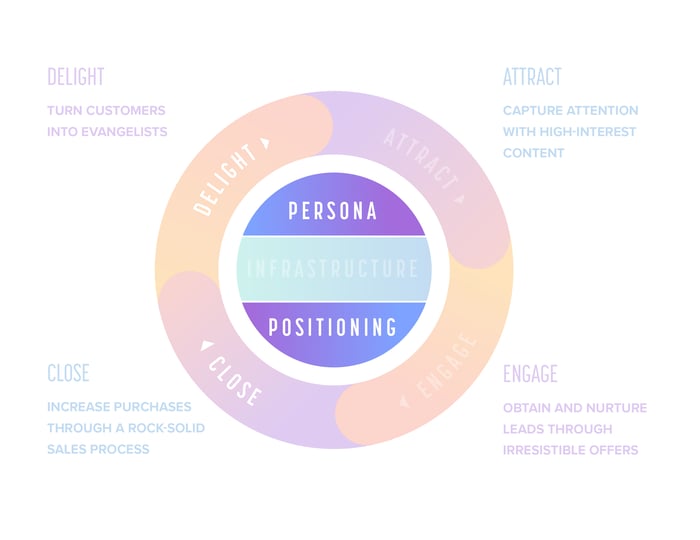 Once your basic business processes (including marketing, sales and service) are sketched out, and the tools you need to run everything are implemented, it's time to focus outward, starting with defining and documenting attributes of your ideal customers. Building buyer personas based on ideal customer attributes is absolutely crucial, because understanding your intended audience is the first step toward building marketing, sales and customer service programs that work.
Building buyer personas requires attention to demographics, lifestyle, career characteristics, goals, pain points, potential objections, and other details that help your organization understand the people you're focusing your attention toward.
Positioning
One you know your buyer personas, marry that information with keen investigation and understanding of your product or service and how specifically it helps them. This will be your positioning. You will need to investigate competing solutions, and try out different types of messaging, offer adjustments, and even make internal process modifications that most effectively meet the buyers you're trying to engage where they're at.
Establishing your positioning is a perfect step toward creating the brand, marketing, and communication strategies that help your company stand out. To establish proper positioning, think about what differentiates your offering along these points:
Features
Benefits
Pricing
Application or use
Competitors & alternatives
Your personas' cost of inaction
Infrastructure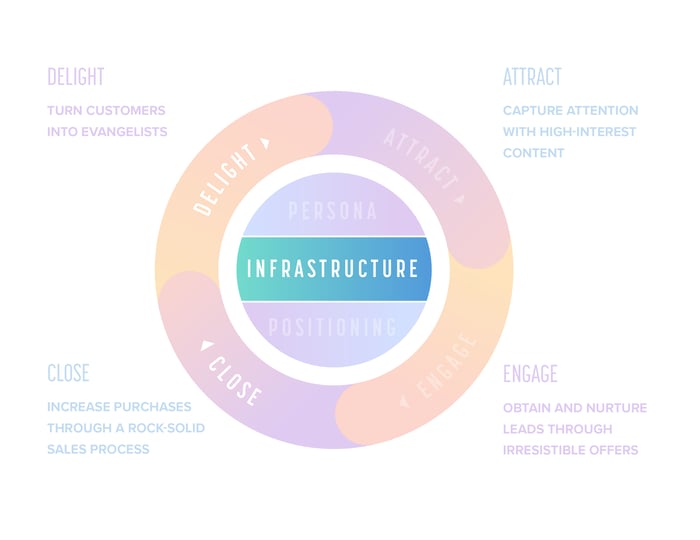 Before effective marketing and sales programs can even begin, every company must have a good grasp on its infrastructure. In the context of marketing, sales and service, many businesses focus on the tools and technologies that need to be set up to facilitate the creation, delivery and tracking of content, communication with customers and order processing, for example. However, focusing on the tech stack alone, without an eye on business processes, can be a mistake. In fact, your business goals and processes must drive the technology choices you make.
Most businesses end up struggling with business processes in one way or another, especially when scaling up. However well-intentioned, winging it is far too common, and tends to create systemic problems that negatively impact sales and customer satisfaction in the long run. Whether your business needs involves selling consumer products with an ecommerce website and outsourced fulfillment, working with longer sales cycles with business development personnel and sales reps, or providing in-person services that require complex regulatory compliance, businesses must start with the processes that work for their individual situation first.
Then, technologies can be chosen based on those basic processes and business needs. From a CRM to marketing automation, website, ecommerce tools, analytics and more, the next step is getting the proper tech stack implemented to support the flow of daily business.
Now let's move on to the outer part of the flywheel.
---
Stage 1: Attract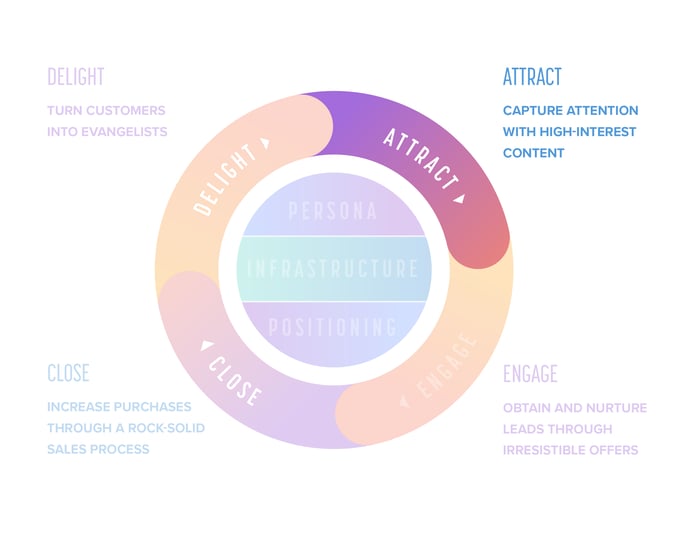 Capture the attention of prospective customers with high-interest content.
How do you attract visitors who are the most likely to become customers? First, you need to talk about the things that matter most to your customers. What are their goals, challenges, obstacles, and objections? What is their typical station in life?
The more information you can gather to help paint a picture of your ideal customers, the more effective your marketing will be. After defining target personas as discussed in the Core section above, the next step is to build out the following assets to attract prospective customers:
Blog Articles - Directly addressing the concerns of your prospective customers with educational content lets them know that you understand what they need and invites them to learn more about your offerings.
SEO Content Strategy - Organizing these blogs (and any other content format) according to modern SEO best practices means using a pillar and clusters approach, optimized around the best-fit keywords for your products and services.
Website Experience - Your website is likely to be your visitor's first impression of your company. Design your website for a simple, informative experience that doesn't confuse them, and write in a way that tells them what they need to know, not what you want them to hear.
Social Media - With so much emphasis on social media platforms, every company needs to publish meaningful content that speaks to the needs and desires of their prospective customers in the social media channels they prefer.
Google Ads - Advertising is an incredibly helpful tool for attracting new visitors. Use Google AdWords for search and display ads that are served when people search your most important keywords.
---
Stage 2: Engage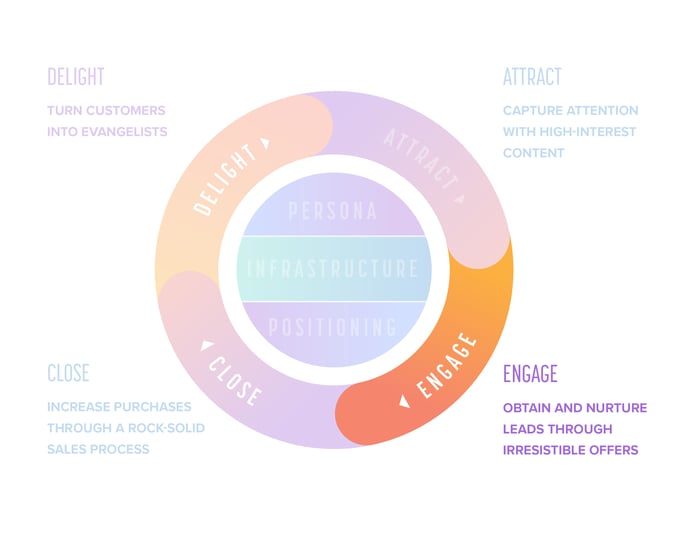 Obtain essential contact information with irresistible content offers. Nurture and build your relationship with them afterwards.
Once you catch the attention of your prospective customers, how can you engage them? You will need to offer them something so valuable that they won't mind providing their contact information to access it. In order to understand the needs and desires of your prospective customers, dive into target personas, and develop content and marketing messages that are irresistible to them.
Engage and Convert with Enticing Content
The gated content used to engage prospective customers may include:
Tip Sheets - Quick and easy. Tip sheets provide a concise, simplified guide to a process, instructions, or other helpful hints that are extremely useful and practical.
Infographics - Combining data with graphics is a very effective way to engage prospective customers. The key is to present the perfect balance of art and information for maximum impact.
eBooks - These brief publications, which are about the length of a standard book chapter, contain educational information that appeals to prospective customers. Some examples include best practice tips, industry trends, and "how to" instructions.
White Papers - Popular among technical audiences, these 5-20 page publications provide in-depth analysis of industry topics that are of great value to prospective customers. They may explain technological advancements, processes, histories, or other analytical perspectives.
Demos and Consultations - Before customers finalize their buying decision, they often request a live demo or in-depth consultation.
At this stage, the marketing objective is to obtain information that can be used to evaluate the connection. Inbound marketing captures information through website forms or trackable phone calls. In most cases, high-value content is offered through a call-to-action, which is a prominent button that is placed in an email, at the end of a blog post, or on a website. Clicking the call-to-action button opens a landing page where details about the offering are presented next to a form that must be completed to access the offering. Information captured in the form enables you to continue the conversation.
Lead Nurturing
Lead nurturing is all about continuing that conversation after the first conversion. It's a crucial piece of the puzzle, so don't forget about planning for sustained interaction that provides valuable education, highlights important features of your services or products, and leads the prospect subtly towards the sale.
Effective lead nurturing strategies may include:
Segmented Email Campaigns - Specific messaging to specific sub-sets of your email list
Marketing Automation - Workflows that send automated email messages and link to the right types of content at the right time, presenting opportunities to reconvert and share even more detailed personal and behavioral data
Creating Communities on Social Media - Use the platforms your prospects hang out in most to keep the conversation going and keep your brand top-of-mind
Personalized Direct Mail - Some companies even choose to link their CRM with a direct mail campaign to take lead nurturing impacts offline through real-time, 1-to-1 direct mail
The key is to determine the most important benefits, features, case studies and other information you can share about your business offerings, then deliver that value in a coherent flow, using the right tools at the right time. Understanding customer intent and buyer personas goes a long way towards identifying the right types of lead nurturing content to take you where you'd like to go... which is right into the closing process.
---
Stage 3: Close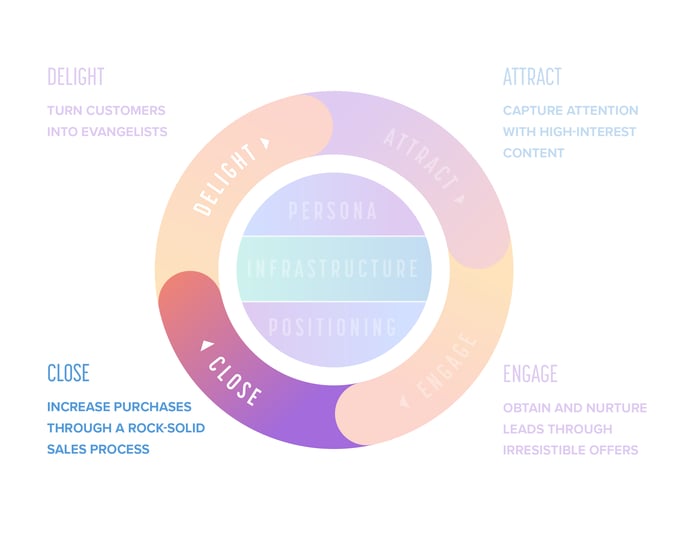 Use personalized and highly-targeted messaging to nurture relationships with your connections until the point of purchase.
Since the moment your prospective customer first learned about your company, they have seen social media posts, read blogs, browsed your website, and sought to learn more. They provided their contact details to receive an offering, enabling you to begin cultivating a deeper connection with the help of target personas. Responses to each marketing effort should be closely monitored and adjusted to ensure optimal ROI.
Cultivating Connections with the Right Sales Tools
Smart businesses use the following tools when cultivating connections:
Lead Scoring - Software platforms like HubSpot offer automated options for lead scoring, which helps you to understand the buying readiness of your leads based on their behaviors on your site and interactions with marketing materials like emails.
Message Templates - Common messages can be written and saved so that sales personnel can quickly and easily move a lead toward the close without so much manual communication.
Free Trials and Freemium Versions - Many companies, especially those in the SaaS vertical, offer limited free trials and freemiums to close potential customers without collecting money right away. This provides an opportunity to show off your solution or product, and pitch a sale once the lead is already hooked.
Case Studies and Testimonials - Provide inspiration to your leads with detailed case studies and positive testimonials from your satisfied customers. Be sure to include numbers, reports and as much hard proof as available. Showing the positive impacts of your work with believable examples is a huge help in the Close process.
Sales Processes
In order for such connections to make a real business impact, the right sales processes have to be put into place. As mentioned in the Core section above, without the right structure, other efforts can slump right over. It's not enough to just have a software solution like HubSpot or Salesforce. The people using the software - your sales team - have to interact with it, use it and integrate it with real-life repeatable and measurable processes to make the whole thing work.
The close is an important piece of the puzzle - the last piece that fits so satisfyingly into its place. Then, it's time to move into the delight stage.
---
Stage 4: Delight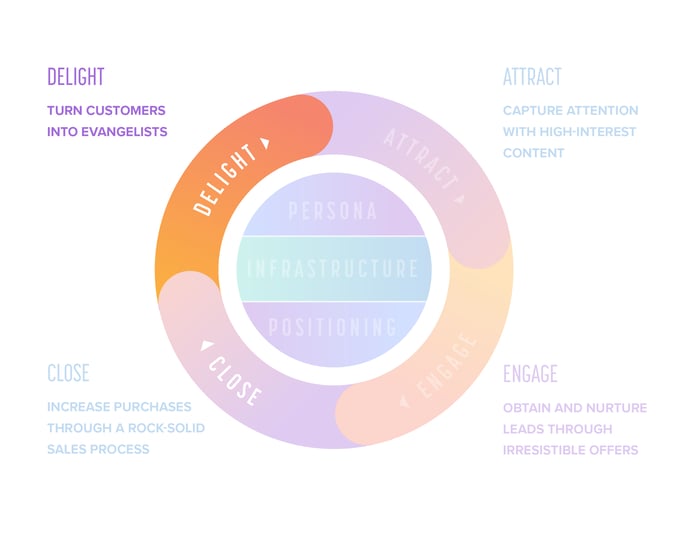 Encourage referral and repeat business with valuable, targeted content.
When your transaction is complete, your job is not over. The best source of new business is referrals, and the best way to ensure ongoing revenue is to reduce churn wherever possible and improve customer lifetime value. Thinking strategically about how to delight your customers helps you continue to provide customers with valuable content, reinforces their favorable experience, and keeps contact details updated and within reach for future opportunities.
Tools used to continue delighting your customers include:
Surveys - Post-transaction surveys often reveal the reasons customers prefer your company as well as opportunities for improvement and expansion.
Customer Reviews - Systematically encouraging and requesting customer reviews help improve your SEO and lead more new people to choose you over your competitors.
Referral Programs - Building out a repeatable referral incentive program leverages and maximizes the single best source of new business for you: personal referrals from your best customers.
Social Monitoring -

Listening carefully to sentiments posted on social media reveals trends and helps to recognize unmet needs, and predict future needs.

Knowledge Base - Providing a helpful, comprehensive source of information that helps your customers achieve success not only maintains their positive view of your company and its products, it also relieves pressure on customer service.
Ticketing System - When your customers can't find their own solution through your educational materials or Knowledge Base, it's imperative they can easily submit a request for support. Building an efficient Ticketing System that solves problems quickly keeps your customers happy.
---
Why Is This So Effective?
This flywheel concept enables you to leverage the power of inbound marketing to attract, engage, close, nurture, and sustain customers through a standardized, holistic process. With a robust CRM and clean database, you can build personalized, highly-targeted messaging that appeals to each persona at every stage of their buyer's journey.
The inbound flywheel methodology is so effective, because it meets your potential customer where they are with the content that helps them to make the decision to buy - and to buy from you. When you then delight them with unexpected education, features, offers or other enriching experiences, you encourage positive word-of-mouth, which in turn feeds the flywheel.
Let's review at the parts of this powerful machine:
Content That Converts - Whether it's website content, email messaging, videos, graphics, or eBooks, all content used in an inbound marketing process is created for a specific audience and includes as much personalization as possible. This type of segmentation helps your content convert.
Smoother Sales Cycle - From the first contact to the signed contract, inbound marketing enables marketers to ensure every message is relevant and action-worthy.
Increased Visibility - Inbound marketing delivers targeted messaging in the channels most frequented by your customers.
Seamless Integration - Using a single system, methodology, and reporting to create and deliver content, cultivate connections, and review results makes marketing easy for you to understand and extremely efficient.