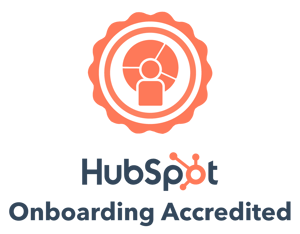 We've got some great news to share! After rigorous training, tests, and practical exams, we are excited to announce that ClearPivot has earned the HubSpot Onboarding Accreditation.
HubSpot has validated our skills for helping large companies move their operations onto HubSpot.
This new HubSpot Onboarding Accreditation is a program that recognizes agency partners who have demonstrated their ability to successfully onboard new clients to HubSpot. This accreditation is only awarded to agencies who have shown exceptional capabilities in managing the implementation process, improving client accounts, and helping clients achieve their marketing and sales goals. It demonstrates our 12-year track record of delivering HubSpot platform and process expertise to our clients. We have been implementing HubSpot since 2011!
By working with a HubSpot-accredited agency like ClearPivot, you can be confident that you are partnering with experts who have the knowledge and skills necessary to help you achieve your marketing and sales goals.
See our accreditation listing, along with our customer testimonials and our other certifications, on our HubSpot Solutions Partner Directory profile here.
If you would like to learn more about how we can help you succeed with HubSpot, please contact us. We'd love to talk.