Most B2B companies prefer SaaS over customized software and the reason is simple - the lower costs and increased functionality of SaaS products! Due to the differences between SaaS and physical or one-time-buy products, the marketing strategies of these products are very different as well. Since the path to successful SaaS marketing varies between companies and solutions, it is easy to feel lost.
To help SaaS marketers better understand how SaaS marketing works and get a little inspiration, we're going to take a look at 5 insanely actionable case studies from 5 high-growth SaaS businesses.
Let's delve deep into these case studies....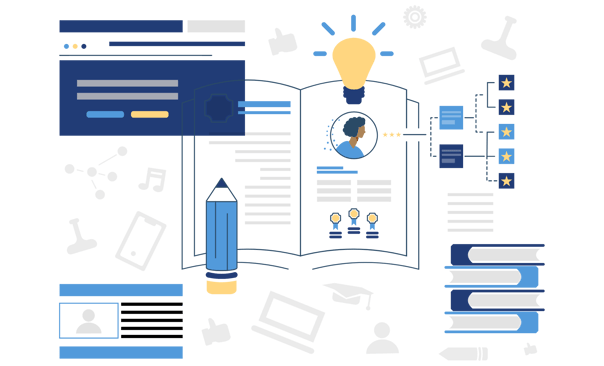 1: MeetEdgar: From Agency to INC5000
MeetEdgar, the brain child of Laura Roeder, offers automated social media marketing solutions to other businesses. In 2018, MeetEdgar was featured in the INC 5,000 list for making an MRR of $144k after 11 months of business. Sounds almost impossible, doesn't it?
Let's find out how they did it...
Agency To SaaS
Right after she graduated college in 2005, Laura started designing websites and helping clients reach more people on Facebook. Her next step in business was setting up an agency that sold online courses to teach her audience about social media strategies and marketing techniques. Laura launched her first online course in 2009.
Finally, in 2014, Laura decided to design a SaaS solution that would automate the social media marketing needs of her clients, and MeetEdgar began to take shape. By working in the business steadily for nearly a decade before MeetEdgar was launched, Laura had already created a loyal customer base and was well-acquainted with their needs. Most of her customers from her agency and online classes were bound to follow her into MeetEdgar.
But that's not all. Even with a customer base, Laura had to work to help MeetEdgar reach the position it holds today, with 5,000 paying customers and an estimated annual run rate of $3m.
How did MeetEdgar reach $3m?
By following creative and long-term policies, some of which are given below.
Simple CTAs: MeetEdgar's CTA is "Get your invitation." To sign up, customers simply fill in an email address. How's that for a beginning? Perfect. A lengthy startup form can intimidate, or even bore, the customers away. "One step at a time" is Laura's mantra.
The Right Target Audience: MeetEdgar initially used paid marketing to get traffic to the website, and targeted audiences who were already using another social media scheduling tool. Why? Because they knew MeetEdgar offered better services than any other competitor in the market. And people who were currently paid customers of other tools would likely buy their services once they knew about them.
A Great Work Environment: MeetEdgar provides a great work environment for its employees. Employees of MeetEdgar can work from home and are required to work only 40 hours a week. Moreover, MeetEdgar pays to clean their home/office. How does this help MeetEdgar? A happy employee produces better output, leading to the growth of the company.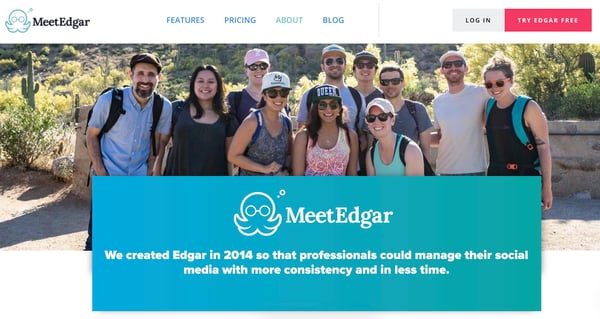 The secret ingredient of MeetEdgar's early success:
Learn about the persona and needs of your customers well, preferably through an agency, before you move on to market their solutions.
2: SEMRush: The $100m Black Sheep of SaaS
Founded in Russia by childhood friends, Oleg Shchegolev and Dmitri Melnikov, SEMRush offers an all-in-one SEO solution to its customers. SEMRush was launched in 2008. After its launch, SEMRush doubled its ARR every year for four years, and reached $1m. In 2012, Oleg and Dmitri decided to work on SEMRush full-time. Seven years later, SEMRush reached an ARR of $100m, with sixty thousand paid customers and six million free users.
Which strategies helped them to achieve $100m?
Horizontal Product Expansion
SEMRush follows the model of horizontal product expansion. The company doesn't make converting more customers the centre of its marketing strategy. Rather, their focus is on increasing MRR without adding new customers.
Horizontal expansion can take place in a SaaS business on three axes, and SEMRush utilises them all:
More Data
More Features
More Users
In this manner, SEMRush offers more value to its current users, and saves money spent on customer acquisition. And, the strategy works. SEMRush's average per-user revenue increased about 6-7 times up to 2016 and has more than doubled thereafter. They've even entered the content creation market, adding further to their services.
What are the other qualities that make SEMRush an ever-evolving business?
Going All In On Product
The first and foremost quality is Oleg and Dmitri's passion for the product. From 2007 up to 2012, all the two founders did was build their product. For them, other aspects of the business, such as building a brand and getting investors didn't matter. They aimed to create a product that would speak for itself, and that's what they ended up creating.
A Monster Affiliate Program
BeRush, the affiliate program of SEMRush has grown beyond the expectations of the company's founders. Being tech geniuses themselves, Oleg and Dmitri outsourced the marketing job to affiliates, a decision that has worked extremely well for them. On Twitter, BeRush has more followers than most SaaS businesses.
At a 40% commission rate, their affiliate program has generated $625K in gross and $375K in net revenue over time.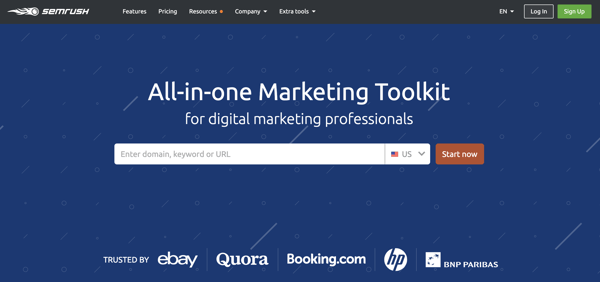 What can we learn from the growth of SEMRush?
Adopting horizontal product expansion can increase your MRR, add more value to the services you provide to your current users, and save money spent on higher costs of new customer acquisition.
3: Outreach, SEO and Partners: How Zapier Grew to $50m ARR
Founded by Bryan Helmig, Wade Foster, and Mike Knoop in 2011, Zapier is a global remote company that offers its end users the perfect tool to integrate the web applications they already use. In their nine years of business, they have achieved 2,000 integrations and an ARR of $50m.
Today, most SaaS solutions integrate with Zapier.
How did Zapier reach this position in less than a decade?
A single-sentence answer to this would be, by having a clear vision of the future of tech solutions.
Clear Vision
One of the co-founders, Wade Foster, predicted the explosive growth of web applications as early as 2011, and was confident that businesses would need to integrate them over time. Zapier owes everything to Foster's initial vision.
Fully Remote Work
Another outcome of having a clear vision that has greatly benefitted Zapier is its fully remote team from the very beginning. In order to get the best outcome, Zapier hires the best talent, keeping in mind that no geographical limitation should compromise it.
Instead of paying the highest salaries to attract the best employees, Zapier offers them flexibility, the flexibility to work from home without having to move to another city or even traveling to work every day. The flexibility Zapier offers its employees in the biggest advantage it has against its competition.
Apart from flexibility, working remotely has other advantages as well. It is an environment-friendly initiative that saves money at the end of both the employer as well as the employee, encourages personal productivity, and increases retention.
Apart from remote working, what makes Zapier great?
Everyone Does Customer Support
Zapier has no Customer Support, that is, no dedicated customer support department in their company. Wondering who takes care of the customers' queries and issues then? Well, literally everyone in the company!
The Engineering team of Zapier take over the technical support, while all the other employees tend to the non-technical support in rotations. How does this help Zapier?
Aside from saving money on hiring a whole department for customer service, this initiative benefits Zapier on many levels. Direct contact between a customer and an employee who can solve their problems enhances the customer's experience. Getting direct feedback from the customers brings them closer to the value creation process, and helps them to better understand their product.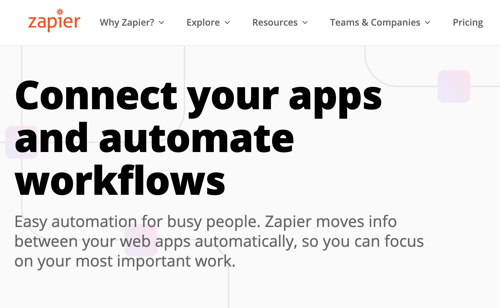 Which strategy can we adopt from Zapier? The tendency to plan ahead.
Also, while hiring employees, be creative and try to offer them something other than money, that adds more value to their lives. Remember, happy employees make a better company.
4: How Viddyoze Bootstrapped to £3m Per Month Without a Blog
Founded in 2012 by Joey Xoto, Jamie Garside and David Chamberlaine, Viddyoze is a fully automated video animation software. With almost no capital, Viddyoze bootstrapped to earning almost £3m per month while paying $80k in SaaS pay-per-click in just eight years.
How? Perhaps the most unusual aspect of their growth story is their innovative paid freemium model:
A Paid Freemium Model
What does a paid freemium mean? How is it free if you have to pay? The Paid Freemium model is the personal invention of Viddyoze that is in contrast with every marketing strategy we've learned so far, and has the most outrageous benefits.
Regular SaaS businesses offer their customers a free trial for the first month and then gradually increase the subscription charges every month. Viddyoze, on the other hand, offers its customers lifetime access only at $67. Isn't that insanely cheap? However, there's a twist in the offer. For $67, Viddyoze offers its customers a limited set of tools.
Once a customer has bought lifetime access for $67, Viddyoze then sells them a number of downsells and upsells before they get into the product.
Customers are offered an upsell of $37 to change their free access to a monthly subscription. If they're not interested, they're offered extra templates at a downsell of $47. By selling these downsells and upsells, Viddyoze leverages against the basic human tendency towards consistency; what you do once, you are likely to repeat.
Single Channel Focus
Every SaaS startup should focus on a single channel until it's running successfully, before moving on to the next. If you try to run too many channels together, you'll end up being a jack of all trades and master of none. It is even more essential for bootstrapped businesses like Viddyoze to focus their limited resources on a single channel, and that is the mantra they lived by in the first four years of business. Initially Viddyoze started with an affiliate program and only when it was up and running successfully, did they start to scale paid spend and explore other channels.
Not A Single Blog Post
Almost all SaaS businesses have a blog. For Viddyoze to be in business for eight years and never think of creating a blog is certainly strange. Why? It's simply because while other SaaS businesses are optimizing for SEO, Viddyoze is focused on optimising the extreme value delivery of their product.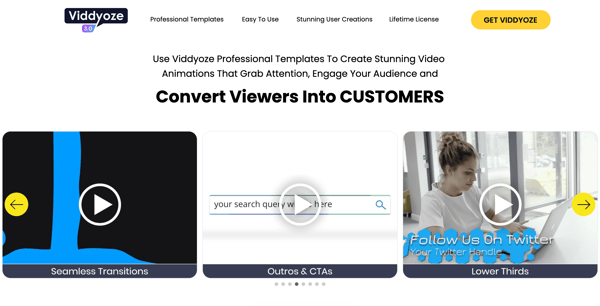 So what have we deduced from the growth of Viddyoze?
You don't have to abide by the conventional SaaS marketing strategies to be successful in the market. If you see a potential profit in a creative idea, don't hesitate to take it forward.
5: ConvertKit: Nathan Barry's Bumpy Road To $1.7m
Founded in 2013 by Nathan Barry, ConvertKit is an email marketing software that offers email marketing solutions for online creators. Currently, ConvertKit has an MRR of $1.7m, with about 20,000 customers. However, ConvertKit's path to success wasn't a smooth one. Barry has seen some serious ups and downs in the MRR of ConvertKit.
How did ConvertKit achieve success after experiencing setbacks?
Niche Narrowing
In September 2013, ConvertKit had a very broad target audience. They wanted to provide "Email marketing for everyone." Such a broad target was difficult to reach, and showed poor results. Barry decided that it was time to narrow down the target audience to people who could most benefit from email marketing. In October 2013, ConvertKit began providing "Email marketing for authors." Being an author himself, Barry understood the persona of the authors. This strategy, coupled with Barry's more focused attention to the business, led to a 23% growth in the MRR of October and 27% in November of that year.
Even though narrowing the niche was helping the business, Barry believed it needed further modification. He came up with a niche better suited for his services and changed the target audience to "Email marketing for professional bloggers." Soon after, the popular blogger Pat Flynn became a customer at ConvertKit, which added a great boost in ConvertKit's sales.
Once ConvertKit was established in the business, Barry broadened the target audience to the ideal audience for his services: "Email marketing for creators."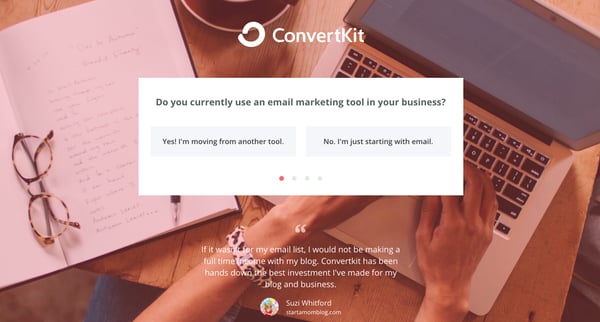 Partner Webinars
The concept of finding a business that uses the same target audience as you and paying them to send those customers to your website is not a fresh idea. However, creating live video content with them to form webinars together is a creative use of it.
ConvertKit works directly with these partners and doesn't discriminate on the basis of the length of their customer list. Darrel Vesterfelt, a marketing leader at ConvertKit, participated in 150 webinars over the period of a year. Soon, Patt Flynn became an affiliate, and pulled in a revenue of $71k.
Which SaaS marketing strategy can we learn from ConvertKit?
Narrowing your niche to the most suited audience for your product or service is a very useful strategy with high success rates.
In Summary...
All SaaS businesses have their unique journeys towards success. However, there's always something to learn from the case studies of these successful SaaS businesses. Whether it's creating the right CTA, offering a freemium plan, or narrowing down your target audience, you can gain inspiration from some of these successful SaaS marketing strategies, and use them for the benefit of your SaaS business.
---
About the Author
Tom Hunt is the founder of SaaS Marketer and bCast (podcast hosting for marketers). He wrote a guide to SaaS marketing located here. He lives and works in Hackney, London with his delightful partner Rebecca and little dog called Bear.