Healthcare technology is advancing at a mind-bending pace. Companies must create unique and reliable products in order to stand out amongst the growing competition. However, while your product is the backbone of your success, you must also successfully market it to buyers. Revenue from the medical technology industry is projected to reach $644.20 billion by 2026, so take the steps to create a successful medtech marketing strategy now as the industry is still growing.
So, where do you start?
We've prepared a beginner's guide to medtech marketing that will walk you through the most critical aspects of your company's approach. In this guide, we'll explain:
How a dedicated marketing plan insulates your company from serious mishaps
Who needs to be involved and what role they play
The basic components of a well-rounded marketing plan
The tools you need to get started
Marketing: The Best Protection You've Got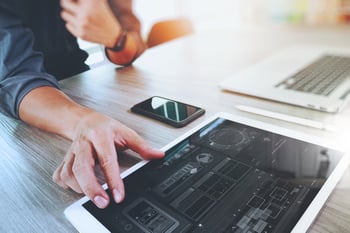 It might surprise you to hear that marketing is one of the most integral elements of your business. Why is that? There are two reasons.
Marketing:
Clarifies your company's goals, and
Defines the most effective ways to reach them
Most business owners have at least a vague idea of what success looks like to them. However, in order to achieve it, a goal needs to be clear and measurable. There's a significant distance between an idea and a goal. Consider these two examples:
"I want to increase sales this year"
"I want to achieve a lead-to-customer conversion rate of at least 3% by January."
Imagine that you were to plan the first steps needed to reach the goals in the example above. Now, do you see the problem? Unclear goals are hard to act on. When a goal is clear, you can work backward to find the most effective method of achieving it. If your marketing strategy relies on vague goals, you risk draining your company's resources with no clear objective.
Proactive and Reactive Marketing
The goals you set show a lot about how you view marketing's purpose. Does marketing serve to rescue you from unpleasant situations or to anticipate them and insulate you from mishaps? Reactive marketing describes marketing as a response to situations. It is generally composed of sudden or impulsive acts instead of structured actions that are part of a long-term plan. Proactive marketing, on the other hand, uses analytics and data to decide which actions to take and when.
The most reliable marketing strategies rarely result in instant gratification. Reactive marketing gives the illusion of instant progress but also sets you up for more unexpected mishaps in the future. Proactive marketing shows you what the landscape of your niche looks like and the best way to navigate it. Much like looking at a map while planning a road trip, your marketing plan shows you what you can expect and makes the journey easier.
What does this look like in practice? Consider the following scenario: You want to make sure that your sales department has enough leads to meet its quarterly sales goals. The first question is when to act. If you decide to take a proactive approach, the moment to act would be now. Reactive marketing would have you wait until you're already experiencing a drop in leads. Though it's easier to make the decision to invest in your company's marketing when there's already a problem, most of them can be avoided by starting to market early.
The way your company approaches its marketing shows a lot about your outlook. Do you believe that the environment is unpredictable and that you need to be on guard, or do you believe that proper planning and monitoring can help you reach your goals? If you do find yourself to be a member of the former half of the equation, don't fret. We're here to help you understand how to create a plan that insulates you against mishaps.
When's the best time to start marketing?
Medtech involves more startup costs than most other industries. Research and development, testing, and FDA approval incur steep upfront costs. Naturally, the best way to make sure these costs get reimbursed is with sales. Marketing doesn't only happen after your product is made. In fact, the best time to start is in the research phase.
When we discuss marketing here, we're not talking about paid ads or social media marketing. In the early stages of medical device marketing, think about it as establishing a baseline with analytics and ensuring that your messaging is clear and targeted to the right people. Other important steps in this stage include creating your target personas and performing an audit of your resources.
It's important to note that even in challenging times, like the early stages of your company's growth, it may be tempting to think that you don't need marketing. When this happens, don't give up, but shift your focus. Instead of finding new leads, upsell to existing customers. Recycle evergreen social media posts instead of churning out constant new content. Marketing is a cumulative effort, so build where you can when you can.
Who to include in your company's marketing
You might be surprised to know that some of the most important voices in your company's marketing strategy are not found in the marketing department. Depending on the size of your company and your product, you might find your sales department, product development team, and C-suite individuals participating in discussions.
Regardless of who is working on your marketing, there are certain roles that need to be fulfilled. Smaller teams might have one or two people performing many of these rules. Some larger teams may have a part or full-time staff member with dedicated duties. Other times, members of different departments may take on one part of the project and collaborate with others. Let's take a look at some of these roles and how they contribute to your marketing:
CMO
The CMO (Chief Marketing Officer) is responsible for overseeing all of your company's marketing efforts. This is the individual to which the rest of the department reports. A CMO will not often spend their time on the "doing" parts of your marketing and instead focus on the planning. The only exception might be if your company is very small or still in its early stages of growth. In this case, the idea is that as a company grows, the CMO will hire more staff as a company grows and eventually gravitate toward a purely strategic role.
When setting marketing goals, the CMO holds discussions with the CEO and investors to get their input and agree upon objectives. After the goals have been established, the CMO communicates them to the marketing director, who designs and implements a plan. As the campaigns progress, the marketing director reports the results to the CMO, who communicates them to the C-suite.
The CMO also manages the negotiation of the marketing budget and reports to other internal and external stakeholders. These stakeholders not only include the C-suite; they also include investors, accounting/finance, and healthcare professionals.
Marketing Manager/Marketing Director
The marketing manager or marketing director reports to the CMO. Depending on the company size, they may have one, both, or neither of these positions. The CMO sets a company's larger marketing goals, and the marketing manager oversees its implementation. Tasks like leading the marketing department and monitoring the strategy's execution fall under the marketing manager's umbrella. The role involves equal parts strategic and project management.
Often, the people in these roles worked as creatives before becoming marketing managers. They oversee the quality of the marketing department's deliverables and make sure that projects adhere to their schedules. If the company is large enough to have smaller teams within marketing, the heads of these departments report to the marketing director. In addition to managing personnel, the marketing manager has to pay careful attention to the department's budget and resources.
Marketing specialists
Under the department's manager are specialists in areas such as design, copywriting, paid ads, and SEO. These individuals handle specific elements of the marketing department's work and generally have less specific knowledge than marketing managers and the heads of marketing. People in these roles typically take more of an active role in production rather than creating overall marketing strategies. However, if the strategy concerns their specific area of expertise, then they will be the ones to present it to the higher-ups in their department.
Sales department
Though we've saved it for last, the sales department is one of the most important pieces of your company's marketing framework. The sales department is your lens into the world of your medtech clients. Your sales department can tell you what questions come up the most, what your target clients need, and what their struggles are. Their interactions and the data from their sales will show you how well your marketing materials are performing. When making wider strategic decisions, it's important to include your sales department, as they contribute knowledge gained from their hands-on experience.
The Anatomy of a Well-Rounded Marketing Plan
The quality of your marketing plan determines your overall success. In a best-case scenario, it shows your customers exactly how your product addresses one of their needs. Lack of planning can undermine even the most viable businesses, even though the medical device industry is highly resilient toward economic downturns.
The most important part of your marketing plan is consistency. Consistent colors, fonts, messaging, and visuals create a memorable experience for your customers. What comes to mind when you think of Phillips, GE, or Siemens? How do they convey feelings of innovation, authority, and trustworthiness? Do some preliminary research and look at your competitors' websites to see what they use in their branding to convey these ideas.
The Visuals
Considering that your logo will go on just about everything your clients, team, and investors see, it's important to seek out quality. Imagine that your logo is like the outfit you choose to wear to a presentation. A simple visual indicator can either set you up for success or failure.
In a similar vein, your website is like your company's resume. When a potential client looks at your website, they need to see what you do, how you do it, and why you help them solve a problem better than anybody else. The content matters as much as the presentation. If your website is difficult to use, visually cluttered, or crowded with pop-ups, their experience will reflect poorly on your brand.
Do you want to convey innovation? Think about creative ways to communicate your message on your website. Unexpected blends of images and animation or new ways of interacting with your content impress your brand's values onto the reader.
The Content
Your website isn't just there to tell customers about product specs. Your website is a dynamic tool in your company's marketing kit. In addition to providing information about your products, it should provide information to those who are just learning about the problem that your medical device solves. Offers like email newsletter sign-ups and consultation requests help website users make their decision.
When you write any content, ask yourself what you want it to do. Is the aim of a page to reduce customer support tickets about a frequently asked question? Is it to show the differences between your product and that of a competitor? Take your intention and work backward from there in order to create an effective piece of marketing copy.
Every piece of copy should inspire the reader to do something. This is called a call to action. For example, a cal to action could inspire the reader to schedule a call with your sales department or download a guide to get more information. Even if a reader is not ready to buy, your call to action will hope you learn about what they need in order to make a purchase. Call-to-action forms collect valuable information such as their names and email addresses that can help you provide them with targeted content like newsletters and new product information.
The Strategy
Every piece of your marketing plan must work together. Your strategy unifies them and drives new leads for your sales department. If your ultimate goal is to make a sale, work backward from that goal to visualize how your customer will get there. It's best to be where the customer is. Some ways you can reach them include social media, industry publications, Google ads, or comparison websites.
In order to create a winning strategy for your medical device company, it's important to understand your buyer personas and the inbound marketing flywheel.
Buyer personas
The best way to get information about your customer is by researching your buyer personas. Buyer personas are fictional representations of your ideal customer. These usually include information such as:
Age
Level of education
Level of income
Job title
Years of experience
Their needs
Their hesitations
The best source of information for your buyer personas is your sales department. They have data on your existing customers and first-hand experience working with them. When you create your buyer personas, you may find that there is more than one type of customer that you sell to. In this case, it's appropriate to make two or sometimes three different personas to encapsulate your customer base. This information does not have to be 100% accurate as long as it helps you tailor your marketing efforts to the reader.
The inbound marketing flywheel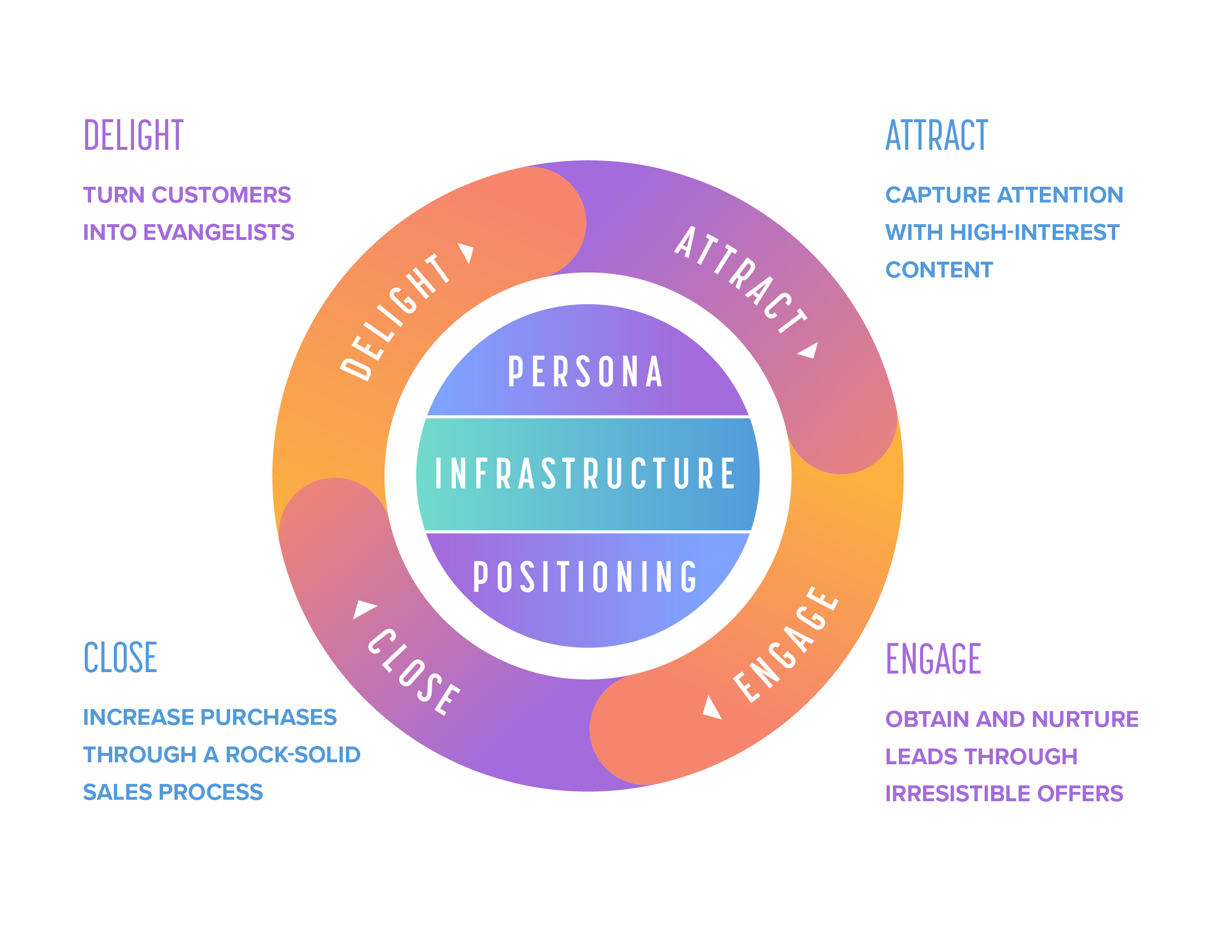 Keep in mind that everybody who visits your website may not be ready to make a purchase just yet. This is where the marketing flywheel comes in. It's important to provide resources to individuals in every part of the marketing flywheel so you can answer their questions early on and build authority as they learn more about the problem you solve.
The core part of your marketing flywheel involves your buyer personas, the way you position your brand to them, and your technology and infrastructure. This is the sort of axle that the marketing flywheel revolves around. It keeps your efforts focused so you receive predictable results. Much like a wheel off its axle, missing parts from the middle of your marketing flywheel lead to a marketing plan that has no real direction.
The next part of the marketing flywheel is the four sections revolving around the center. These are the attract, engage, close, and delight stages. Here's a quick breakdown of each of these sections:
Attract: The attract stage is where you grab the attention of an individual by providing them with valuable content. This includes your website experience, ads, social media, and blog articles.
Engage: Once you've gained the trust of your reader and shown them that you have something they need, you can engage them with a high value piece of content. They might exchange their email address to download an ebook or access an exclusive webinar. The goal here is to have them take an action that benefits both you and them.
Close: By the close stage, your prospective customer has spent quite a bit of time getting to know your company. They've gone through your website, they've read your content, and they've compared you to everyone else out there. This is the part when you connect with them directly and make the sale.
Delight: Most people assume that the buyer's journey ends with a sale. In fact, the most successful businesses continue to delight their customers after the sale to create repeat and referral business.
What You Need to Get Started
There's no hard and fast rule about what you need to get started with your company's marketing. It's better to get started earlier with fewer resources than wait until you have the funding for top of the line talent and software. However, there are certain tools you will need in order to execute your marketing plan. Here are some of the basics:
Customer Relationship Management Software (CRM)
Your CRM is where all the information about your prospective clients lives. Almost every department (including marketing, sales, and support) will need to access this information. This is one of the most important parts of your business and should be the first priority when building out your infrastructure.
Content Management System (CMS)
A CMS is the piece of software that helps you create a website without having to code it. You can give multiple people access to the website in order to upload blog articles, create new pages, or track analytics using your website.
Social Media
Even though most of your leads will not come directly from social media, it's crucial to create your company's pages on relevant platforms. Medical device manufacturers should especially be on LinkedIn and Twitter. Other sites such as Instagram and Pinterest are less relevant to the industry. These are better for B2C companies or industries that focus highly on visuals.
Blog
Your blog is your prospective customers' central information hub. As important as it is for your readers, it also plays a crucial role in having your site indexed by search engines. The topics you write about in your blog tell search engines more about what you do and help them understand what searches to show your website for. The blog content takes longer to show results for your sales, it continues creating new traffic and leads for your sales department with little intervention for years to come.
Data reporting/Analytics
Tracking analytics shows you the vital signs of your marketing efforts. Not only does it prevent you from spending excessively on marketing campaigns that don't perform well, but it also helps you tune your existing campaigns to perform better. This is your early warning signal for issues with your strategy and your measure of overall success.
Project Management Software
The symptoms of poor organization are rarely obvious early on. However, disorganized project management can undercut even the most promising efforts. Project management software reduces the time it takes to check on an assignment's status and detect slowdowns before they affect your deadlines. It also provides a clear division of responsibilities and transparency into a project's progress.
Conclusion
No matter what your level of exclusive is, you should now have an understanding of the most critical aspects of your med tech company's marketing needs. Your marketing plan keeps your company safe from unexpected drops in sales and creates an ample pipeline for your sales department to use.
Your sales department and many other individuals will contribute to your marketing strategy, and their voices provide invaluable insights into the performance of your marketing approach. Together, you will form a well-rounded marketing plan and use the tools we described to implement and measure it.
Are you ready for a deep dive into marketing for your medtech company? Continue here to read our complete medical device marketing guide.