Who you are and how you make your customers feel
We often take for granted those ubiquitous brand names that are synonymous with their products. Kleenex, Xerox, Band-Aid. But think about that for just one second.
These brand names have become synonymous with their associated product categories.
That is the power of strong branding. The right brand message can elevate your company to the next level. Poor branding decisions can cause irreparable damage.
Your brand should exude knowledge, trust, and reliability. In the world of medicine, there isn't room for failure. Every piece of marketing or messaging should consistently support your brand message, or risk confusing your customers (and sending them elsewhere).
For example, Hillrom has a clean, consistent branding. They have a great brand voice and it is clear from the get-go exactly who they are as a company.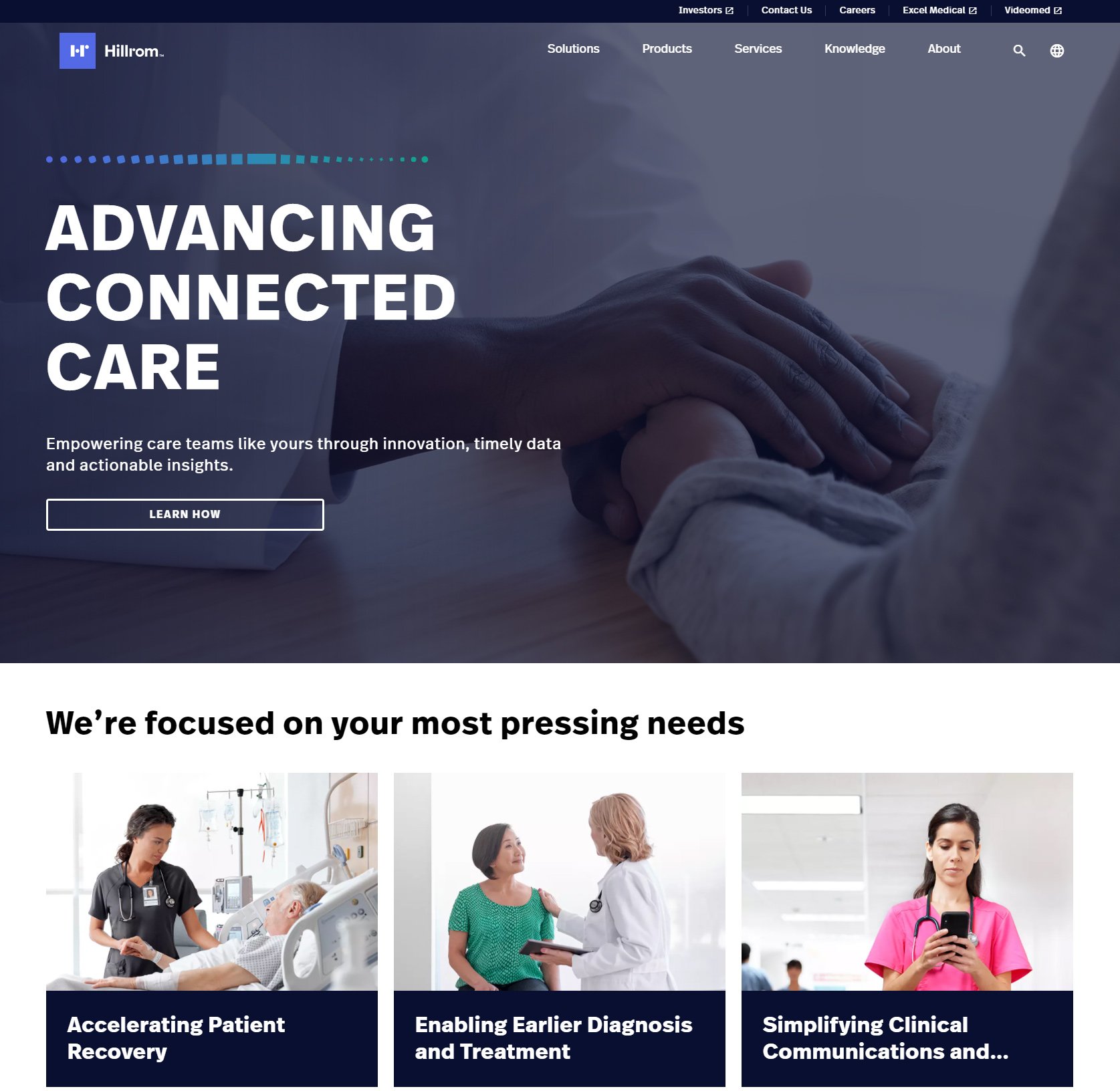 Brand Messaging
A common branding mistake in any industry is to assume or define your brand by what your own stakeholders "think" it is or should be to customers.
In many ways, your brand isn't defined by you, not in the way you might think. Instead, your brand is defined by your customers, and how you make them feel. Do you make them feel safe and secure? Protected? Inspired? Energized? How do you do that?
Why do people choose your company over your competitors? What truly makes you different? Once you've identified what makes you different, put that through the wringer to understand just how specifically you are different (and confirm that you really are, in fact, different from the competition — many companies, unfortunately, are not).
To answer these questions, consider creating brand personas that get to the heart of the situations and frustrations of your most common target customers. What makes their lives easier? What motivates them? Fully-realized brand personas can help you target your messaging and ensure your message resonates and drives action from your prospects.
When defining your brand messaging, honesty is essential (transparency is also becoming increasingly common as businesses seek to "humanize" their brands and appeal to a skeptical generation of millennials who are gradually ascending into decision-making roles).
The days of overly-formal, third person brand messaging are over. Speak to your customers. "You" [PROSPECT} are struggling with X, Y, and Z. "We" [MEDICAL DEVICE MANUFACTURER] can help.
Brand Visuals
Think about the visuals that will resonate with your audience and use those to represent your brand. If you're a large, international company, those images may include your facilities, warehouse, and the actual medical devices you produce.
For smaller medical device manufacturers or those whose brands hinge on their people, visuals that include your employees and leaders themselves, and demonstrate the care and concern they have for your customers, can also serve an emotional wallop and endear prospects to your brand.
Logos are sometimes an afterthought for organizations. They can be expensive to develop with a seasoned professional, but they are worth it. The right logo becomes synonymous with your brand, and you can use it for years and years. Many (many) logos are forgettable and generic. A designer and strategist who specializes in logo development can help get to a logo that truly personifies your brand.