Rebranding and HubSpot Development for The Rainmaker Group
When are lower numbers a good sign? When they show your HubSpot development and refreshed branding are a howling success.
The Rainmaker Group is in the business of launching their clients into higher tax brackets, by helping them find, hire and develop "sales wolves." They are highly focused. Highly successful. They are, as their name states, rainmakers in their industry.
Unfortunately, their website was unfocused. Generic. It had a large amount of content reaching out to a whole slew of different types of people. It did not zero in on their target personas — ambitious, driven sales managers and company leaders — nor did it strongly differentiate their firm from others in the marketplace.
Having previously worked with ClearPivot to conduct an SEO audit, The Rainmaker Group called again for help.
Two clear goals.
The client's branding and website needed a total overhaul. Visual rebranding was designed to create something entirely new. Not just a new logo, but also a new "visual vocabulary" of colors, textures and brand standards for all the client's marketing materials. Stock photos were replaced with bold, custom graphics and text that reflect the firm's personality and approach to their work. Custom illustrations were created for each key website page, again following the new bold, flat graphical style.
The client's ideal prospects are "Type A's." They're entrepreneurs, focused on performance and growth. To reach them in their own language, the company's messaging was rebranded, too. About three-quarters of the former website's myriad content pages were culled, leaving just ten. With only a handful of pages, ClearPivot's team carefully crafted each one, honing every detail until it was exactly right. Copy was rewritten in an "in your face" style that's clear and to-the-point.
The HubSpot website development piece of the project followed standard steps:
Page content planning.
Wireframing to define the new layout.
Visual design.
Build-out.
Launch.
Content is now presented in a large single-column format with "billboard" sections that carve away clutter and give the site a modern look. Modified navigation matches the new content. Responsive design is built in from the ground up, to ensure the site displays in a layout relevant to whatever mobile or desktop device users are viewing it in.
ClearPivot also eliminated about 60% of the site's blog articles, cutting extraneous information no longer relevant to the website's more sharply defined audience. Now, the blog serves as the website's primary entry point for visitors from email marketing, social media and other sources.
The result? New messaging, a new visual brand, and a refined content library that resonates loudly and clearly with the client's primary audience.
So now less means more.
The ClearPivot team started paring content in February, and old content was entirely gone by the time the new site launched in late March. Overall January-March traffic decreased significantly, reflecting the decrease in site content.

"What?" you might ask, "That sounds horrible! Why would you want to decrease the amount of traffic to your website?" Great question. As now-irrelevant content was weeded out, so were less-qualified visitors and prospects. Now the only people finding The Rainmaker Group's site and content are their exact target audience, rather than the varied hodgepodge types of people visiting their site previously. Consequently the site's conversion rate grew significantly, as illustrated by the black line chart in the graph above. The website lead generation rate doubled during Q2 compared to Q1. And with a huge increase in lead quality, The Rainmaker Group can now focus valuable sales and marketing time on highly-qualified leads rather than eating up their time dealing with unqualified leads who don't match their target personas.
Key stat: 86% increase in conversion rate.
But that's not the end of the story, either: a few months after the relaunch, the editors at LinkedIn chose some of of The Rainmaker Group's syndicated content to feature in their Sales Strategies channel. As a result, The Rainmaker Group got an almost literal avalanche of website visitors: more than quadruple their usual monthly traffic. And not just traffic, either — their conversion rate jumped up to more than 8%. In other words, almost 1 out of 10 of those visitors from the LinkedIn feature converted into leads for The Rainmaker Group. This came out to a total of 1,500 new leads for the Rainmaker Group in one month!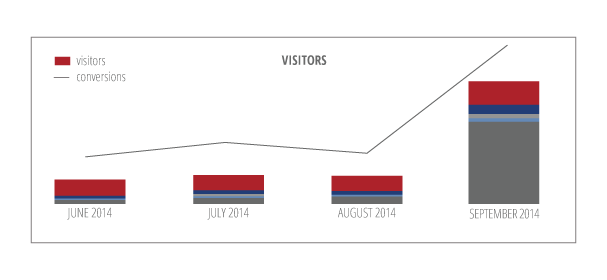 Key stat: 1,500 new leads in one month
Rainmaker founder Chris Young attributes the runaway success of this campaign and others to ClearPivot's work with them. "As a result of ClearPivot's work," he states, "people picked up on our content, saw us as experts, and reached out to us to find out more." He goes on further to say:
"ClearPivot helped me navigate a profound brand and strategy change. The result is an amazing website that is getting precisely the results I had expected to get. I went from 'shotgun blast' to 'laser-ray gun.' ClearPivot has a gifted team of sharp, talented people. They held my hand through the entire process. They got to know me. They listened to me. They knew when to push me and when to be patient. Would I bring in ClearPivot again? Hell, yes!"