As a senior living facility, you might think it's easy to identify and connect with your target audience. After all, it's right there in your business description. Seniors. The aging and elderly part of the population who require increasingly intensive and specialized care as they transition through their final phases of life.

Yet how well is your business actually prepared to engage this customer demographic? The likelihood is you're operating under some older assumptions about seniors and their needs, and are overlooking branding opportunities that could spur growth for your living facility.


What's the Research Say About Senior Living?

With the upcoming wave of baby boomers approaching retirement age, there has been a significant amount of research into what that will entail. Let's take a look at a few facts:
The senior population will soon double. By 2040, the population of those 85 years and above will triple from 5.7 million to 14.1 million.
The Population Reference Bureau reports an expected increase in the number of Americans ages 65 and older requiring nursing home care" by up to 75% – from 1.3 million (2010 estimate) to 2.3 million in the year 2030.
40% of seniors have a smartphone. This is more than double the amount owned by seniors in 2013, and only 11% of Americans do not use the internet.
Most seniors now never retire nor are involved in active advance planning for both retirement or long-term healthcare funding.
Also, seniors can choose from over 30,000 assisted living care communities in the US, with some catering to those as young as 50.
Community and home-based care is a rising trend as an alternative to more expensive long-term facility care costs, with an estimated 80% of seniors having needs met in private homes.
What does this research tell you? In short, that there's going to be a constant increase of active, engaged seniors who will require differing levels of care as they age. But that there's also a growing awareness of this demographic shift and a rush to fill in the provider gap for such. In order for your senior living facility to remain competitive in this industry, you must take steps to establish and maintain a strong and positive brand in a population sector that will be spoiled for choice.
Where Are Your Relationships With Seniors?
So how are you building relationships with the senior community in your area? Do you have outreach campaigns in place, communicating the value of your living facility to people on the threshold of needing a care home, or guiding caretakers (whether friends, family, or otherwise) who are considering their need for a senior living facility for an aging family member or loved one?
Branding requires more than just the occasional radio or newspaper ad, especially in this digital age. It takes more than a few flyers in the gym room at the local YMCA to generate sustainable interest in your facility.
First, do you have brand ambassadors in your community? A brand ambassador is simply someone who actively represents your business and engages prospects on a more direct basis, building personal relationships while directing prospects to your facility as the ultimate solution to their ongoing care and living needs. This can also take the form of online outreach via social media accounts and video testimonials.
Are you getting the power of word-of-mouth behind your brand? If you're confident in how you're already serving seniors in your assisted living facility, why not set up a resident referral program? This is one of the most trusted forms of marketing, both online and in-person, and can contribute greatly to your brand reputation (see below!).
And don't ditch traditional marketing either. Just because seniors are going increasingly online doesn't mean they're ignoring other channels. Mixing up digital and traditional marketing outreach is an excellent strategy to ensure full coverage of the baby boomer audience and other aging generations. Brochures, pamphlets, and radio and TV ads are all still effective ways to promote your assisted living facility—but these should be run in conjunction with cohesive digital campaigns.
What's Your Reputation as a Senior Living Facility?
Time to do a little brand housecleaning! Have you taken recent stock of your digital brand reputation and pinpointed areas where you're either lacking or perhaps even have negative elements that need to be addressed?
A brand can be made or broken by how people are talking about it online. Have you checked out your Yelp reviews lately? Is your senior living facility even listed on Yelp properly? Are you actively requesting reviews from your current residents to boost your reputation? Do you have an alerts system in place to notify you when your business is mentioned in an online posting somewhere?
This sort of active brand reputation monitoring is critical to keeping your positive image firmly in place and to stay in control of the conversation surrounding your business. It's also a way to increase your customer service by spotting the issues your facility can improve on for residents (by seeing what's being complained about) and proactively handling the situation. Which, of course, can inspire more positive reviews on your behalf.
Are You Being Relevant to Seniors?
As you seek to build your senior living brand, you must also consider the messages you are communicating to your target audience.
Is what you're saying what they want to hear? Or are you slipping into appealing to stereotypes or addressing assumed needs that don't really connect with the modern senior? Several major factors can shift branding focus and determine what exactly they're seeking from a senior living facility:
Altered Self-Image: For instance, today's seniors are increasingly resistant to even the concept of aging and are doing more to fight health decline. They see themselves as just as young and vital as newer generations, want to stay more active, and want their housing and care options to accommodate this.
Life Phase: With some people retiring earlier than ever, senior living facilities can see people as young as 50, while others may come into assisted care with just a few years or months left. Within the senior population, there remains a broad spectrum of needs based on exactly where in life they are. Do you know where your care facility falls along that spectrum, as far as your target clients, or is your message being diluted by trying to appeal to everyone and anyone?
Evolving Health Needs: Are the seniors coming to your facility transitioning from previously stable home lives? Or are you catering to patients who are recovering from a severe health crisis? Clearly identifying your health care capabilities and communicating these to those who need them most can distinguish you from other generic care facilities.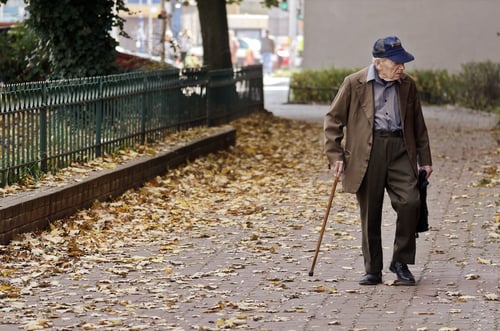 Ready to Brand Your Senior Living Facility?
Branding your senior living or assisted care facility requires a detailed and strategic approach. Keeping things bland or generic will only ensure equally stale results and slow or nonexistent growth. If you want to tap into your brand's full potential, take a look at our comprehensive Senior Living & Marketing Strategies & Tactics guide. It's free!
Then book a meeting with us to discuss your best options and next steps.