The Client
Every once in a while, you meet someone who truly strives to improve the world around them. Our client is a faith-based, non-profit senior living organization with roots deeply entrenched in the Methodist Church. The organization came to life in 1960, thanks to a generous land donation from one of these such individuals. The founder, who passed away in the 1960s, specified that she wanted the land she owned to be donated as the grounds for a faith-based senior living home. Since the founding of its first location, it has grown from a single campus into a network of nine campuses scattered across Georgia, with plans to inaugurate a tenth facility in South Georgia.
The organization's unique value proposition centers around meeting the need for affordable yet high-quality senior care. Unlike many senior living communities that charge exorbitant buy-in fees, our client offers the financial flexibility of month-to-month payments without requiring long-term leases. This approach enables them to cater to a broader demographic of seniors who seek a blend of affordability and quality in their golden years.
The Problem
When our engagement began at the end of 2018, the client was primarily using Salesforce but had not set up any effective ways to track Sales Qualified Leads (SQLs) or move-ins. Each of the organization's nine campuses had its own sales team, leading to inconsistent logging and tracking of deals. This fragmented approach severely hampered their ability to have a consolidated view of their performance metrics, essentially leaving them in the dark about how well or poorly they were doing.
On top of all that, the organization had a minimal digital footprint. They were not leveraging Google ads, had barely scratched the surface of social media marketing, and their website was one of their biggest potential liabilities. To top it off, relying on external services like "Place for Mom" were eating into their potential revenues, charging the equivalent of a month's rent for each lead converted into a move-in.
Lack of Data and Communication
The organization was plagued by data silos, making it almost impossible to create unified and actionable reports. Data from different campuses were coming in under various naming conventions, which led to skewed and unreliable insights. For example, the Salesforce data showed 20 campuses, whereas the organization only operated nine—this was due to the use of internal labelling that were not consistently reported.
Revenue and Donations
Being a non-profit, the client heavily relies on donations to sustain its operations. But their existing system was mixing donors with potential residents in Salesforce, complicating efforts to manage relationships and fundraising activities efficiently. Without a proper classification system, they were flying blind in two critical areas: resident acquisition and donor management.
Vulnerable website
Think that was it? The last and perhaps most severe issue facing our client was their website. Their WordPress site had evolved into a chaotic stew of plugins, custom code, and a theme that were increasingly at odds with each other. Their setup was not just cumbersome to manage. It was a ticking time bomb, vulnerable to the slightest changes or updates. The website was their biggest liability and would need to be fixed for both their sake and their future clients.
The Solution
Marketing and Content
Our first order of business was to initiate a robust Google ads campaign that resulted in a strikingly low cost per conversion—below $20. We then instituted a content strategy that included publishing three blog articles per month to drive organic traffic. In addition, we created pillar content pages that allowed the organization to collect leads through forms on their website.
By collaborating closely with the client's VP of Communications, we managed to overhaul their visual content strategy as well. Gone were the generic stock photos, replaced by authentic images of their campuses, residents, and staff. This not only gave their website a more genuine feel but also significantly improved their SEO, as they started incorporating text content to accompany these images.

Website Rebuild with HubSpot
The website's day of reckoning arrived when a routine WordPress upgrade triggered a domino effect of incompatibilities, causing the WordPress back-end to become completely unusable. This breakdown meant that changes to the website could not wait.
We took quick action by migrating the website to HubSpot CMS, known for its reliability and ease of use. We meticulously audited each element of the old website, identifying core functionalities and features that needed to be preserved, and then rebuilt them in a more streamlined and cohesive manner within HubSpot. This new setup eliminated the patchwork of plugins and custom code, replacing them with native solutions that are stable and easy to update. The website redesign not only restored the website's functionality but also fortified it against its former vulnerabilities.
Collaboration and Communication
Our relationship with the client went beyond service provision; we were strategic partners. We instituted regular reporting meetings with key stakeholders, including the VP of Communications and the sales teams. These meetings served as platforms for in-depth discussions on performance metrics, ultimately leading to more informed decision-making and areas for improvement.
Data Cleaning and Classification
To cut through the existing inconsistent data, we undertook a thorough cleaning of their Salesforce system. We fixed the inconsistent campus naming and implemented a new field to classify contacts as donors or potential residents. This small change had a massive impact, allowing for targeted communication and relationship management in both fundraising and resident acquisition.
Reporting and Trend Analysis
In our monthly meetings with the client's marketing team, the focus shifted from merely looking at vanity metrics to understanding actual business-impacting trends. These data-driven discussions made it possible to spot opportunities and weaknesses more systematically, enabling the organization to align their strategies more coherently with their mission.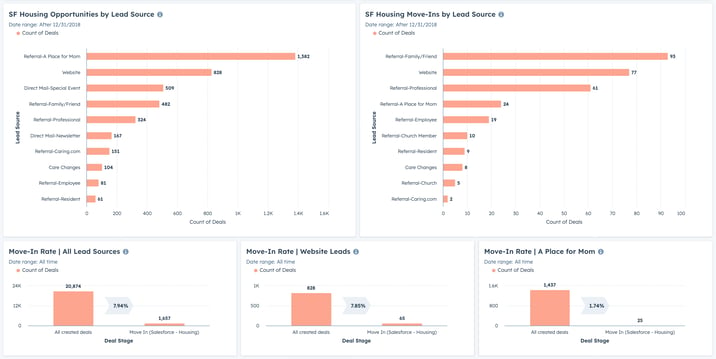 The Results
Our marketing campaigns, lead nurturing, and HubSpot implementation were game-changing moves for our client, transforming their pain into their advantage. The website not only resolved the immediate technical issues but also became a new way for them to get better data and insights about what their clients need. Over the course of our work together, the client saw a remarkable 12x increase in leads per month.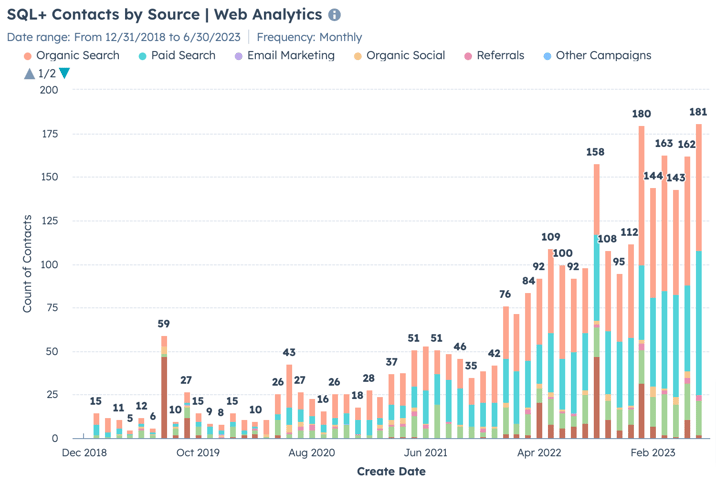 Beyond immediate lead generation, the transition has had a ripple effect on the organization's operational efficiency and strategic focus. The HubSpot platform's ease of management and advanced analytics tools have empowered the team to make better decisions based on data, optimizing their outreach and fundraising efforts. HubSpot helped the client fortify the organization against future technical setbacks and positioned them to expand their reach and impact.
Conclusion
In addition to providing a clearer, data-driven view of their operations, the organization also saw an uptick in efficiency and staff collaboration. The revamped digital presence has made the organization more visible and accessible to potential residents and donors alike. With these foundational changes in place, the organization is not just poised for growth but also more resilient to future challenges. Our partnership has shifted their focus from mere day-to-day operations to long-term sustainability and mission fulfillment. The transformation is a testament to the power of combining organizational will with targeted, data-informed strategies.

The multiple facets of our solution—from content publishing to ad campaign production to implementing data clean-up and reporting mechanisms—have transformed daily operations for the client. Today, they have a clear, data-driven view of their operations and are better equipped to make strategic decisions. With their sales teams now aligned and operating under standardized procedures, they are positioned better than ever to scale their operations and continue fulfilling their noble mission of providing quality, affordable senior care.