One of our longest standing clients and favorite growth stories is a facial plastic surgery and laser aesthetics clinic in the Rocky Mountain region. We've worked closely with their surgical, laser, office and marketing staff for over five years, to bring a multi-layered digital marketing program to life. Read this short case study for insights into how we helped this individual practice grow from minimal website traffic to over 300,000 views and improve online lead generation by over 400%. We'll share the data.
The Client
Our client came to the Rocky Mountain region as a highly sought-after facial cosmetic surgeon in 2001. Since then, their business has continued to grow to include a laser aesthetics practice under the same roof. As a pillar in the community and within the cosmetic surgery industry, it became increasingly important for the practice to be effectively integrated into their digital community as well. When this client came to ClearPivot, they were looking to improve several digital areas, including; traffic and brand awareness, leads and consultations, and ultimately, their monthly number of scheduled procedures. Now, several years into our work together, the client is nearly always at capacity for scheduled surgeries, and building a thriving book of clients in the laser and medical spa arena.
The ClearPivot Solution: A Consolidated Online Presence, Customized Inbound Marketing Retainer and E-Commerce Expansion
Website Consolidation and Development
At the outset of our work with this practice, their web presence was split between the HubSpot marketing platform and their existing two WordPress websites. We immediately set to work consolidating the facial plastic surgery part of the practice completely on the HubSpot platform, and held training sessions with the practice staff in the use of the Marketing and Sales portals within HubSpot.
During our work together, it became clear that splitting the client's two service areas between their two existing websites did not serve the goals of the practice. So, ClearPivot further streamlined, focused and simplified their online presence by absorbing the laser aesthetic WordPress website into the facial plastic surgery website.
As our work with this facial aesthetics practice has continued, we have placed an ongoing focus on the website experience, with recent updates to page templates to keep up with modern design and UX expectations.
retainer-based Digital Marketing Package
Alongside website design and development, ClearPivot works with this client on a customized inbound marketing retainer. Our primary goals have always been to increase traffic and leads. The years have brought a mix of techniques and tools, including:
Planning and production of blog content that drives organic traffic
Monthly emails for specials, company events, or newsletters.
Social media planning, production and publishing
Google search advertising campaigns
Facebook and Instagram advertising campaigns
Several downloadable eBooks, with all the associated content, like landing pages
Especially in the case of ongoing client relationships, our team believes strongly in the idea that the strategy and intent come first and foremost, and the tools used to get there are whatever they need to be to make that plan come to life as successfully as possible. With this plastic surgery and laser aesthetics client, we have shifted focus as-needed over time in order to do more of what works and less of what doesn't.
Shopify Store
As the marketing picture continued to solidify and expand, the owners of the practice decided to expand into product sales on a Shopify store. Our team helped to develop a clean, easy-to-use store for the practice's customers to access for luxury medical skincare products 24 hours a day. The practice uses the store to run fire sales on services like Botox, fillers or laser treatments, and consistently bring in thousands of dollars per day when running specials. We recently implemented an upsell process to help the practice add to the value of each order as well.
Results
Website Traffic Results
The results of building a new website, and structuring pages and content based on our years of content marketing experience and knowledge of development best practices speak for themselves. From 2015-2020, the client's annual website traffic doubled, from nearly 31,000 sessions in 2015 to over 62,000 sessions in 2020. That's a 102% increase!
The following chart shows website sessions by source for January 2015 to December 2020.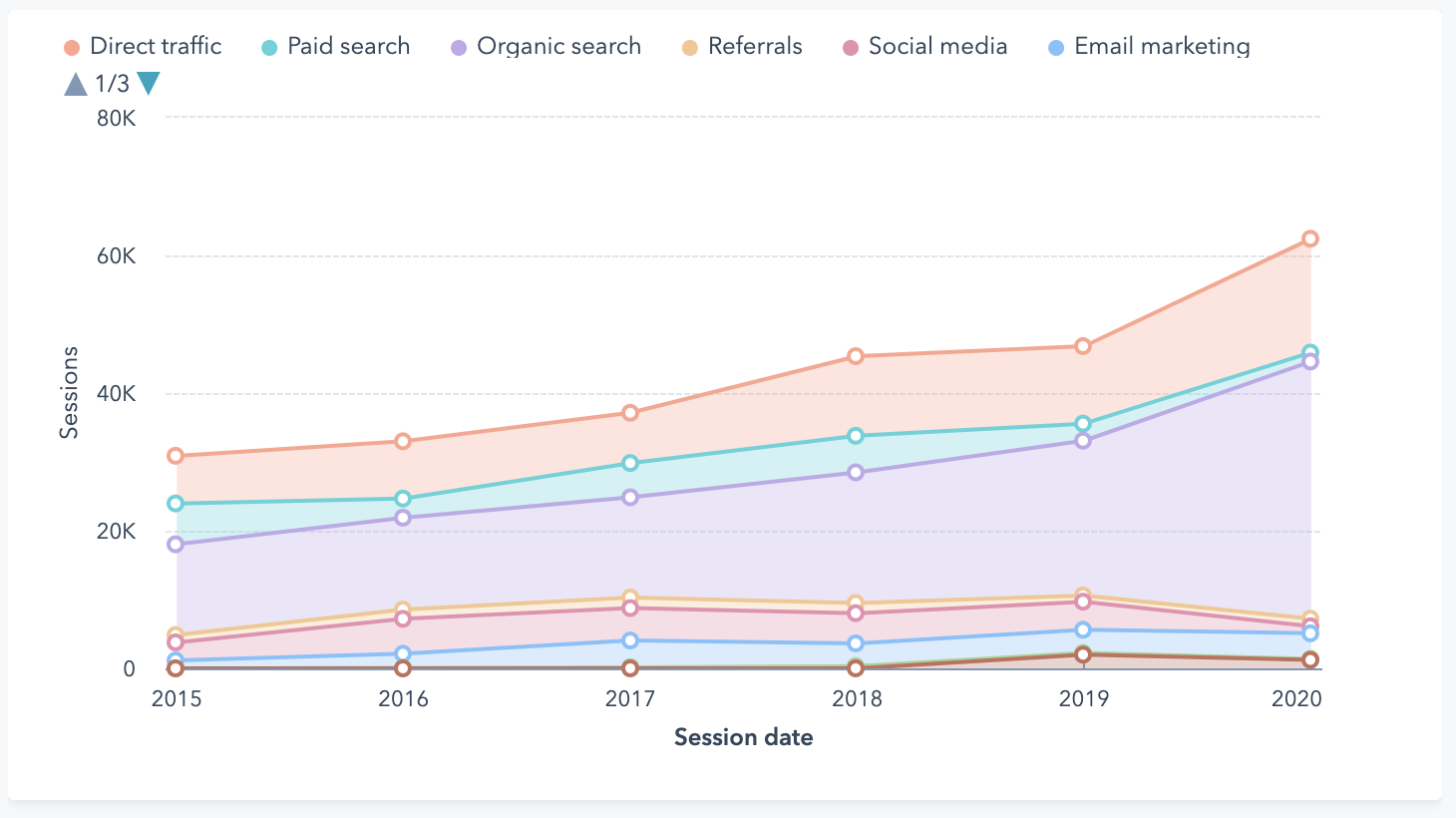 Lead generation Results
The results for new leads into the business are phenomenal. From 176 leads on their HubSpot site in 2015 to 888 in the year 2020, that's more than 400% more leads! It's clear our goals of more traffic and more leads are being met, but goes even deeper.
The following chart shows the flow of new leads into the practice's database, reflecting the combination of all the different marketing efforts, each bringing in its share of new contacts. In this example, you'll see one of the most impressive results examples coming from of our work to boost the number of leads coming from organic traffic.
Follow the curve of the green segment of contacts, which represents leads coming in from organic search. You'll see it steadily grow as a base of relevant content is created, tested and improved-upon. Between 2015 and 2020, we saw a massive 600% increase in organic search leads.
In 2020, following a big SEO-focused content consolidation initiative, new organic leads increased from 333 in 2019 to 645 in 2020. That's a 94% increase in leads from organic traffic in one year. We consider this an incredible victory for consistent, strategic content marketing.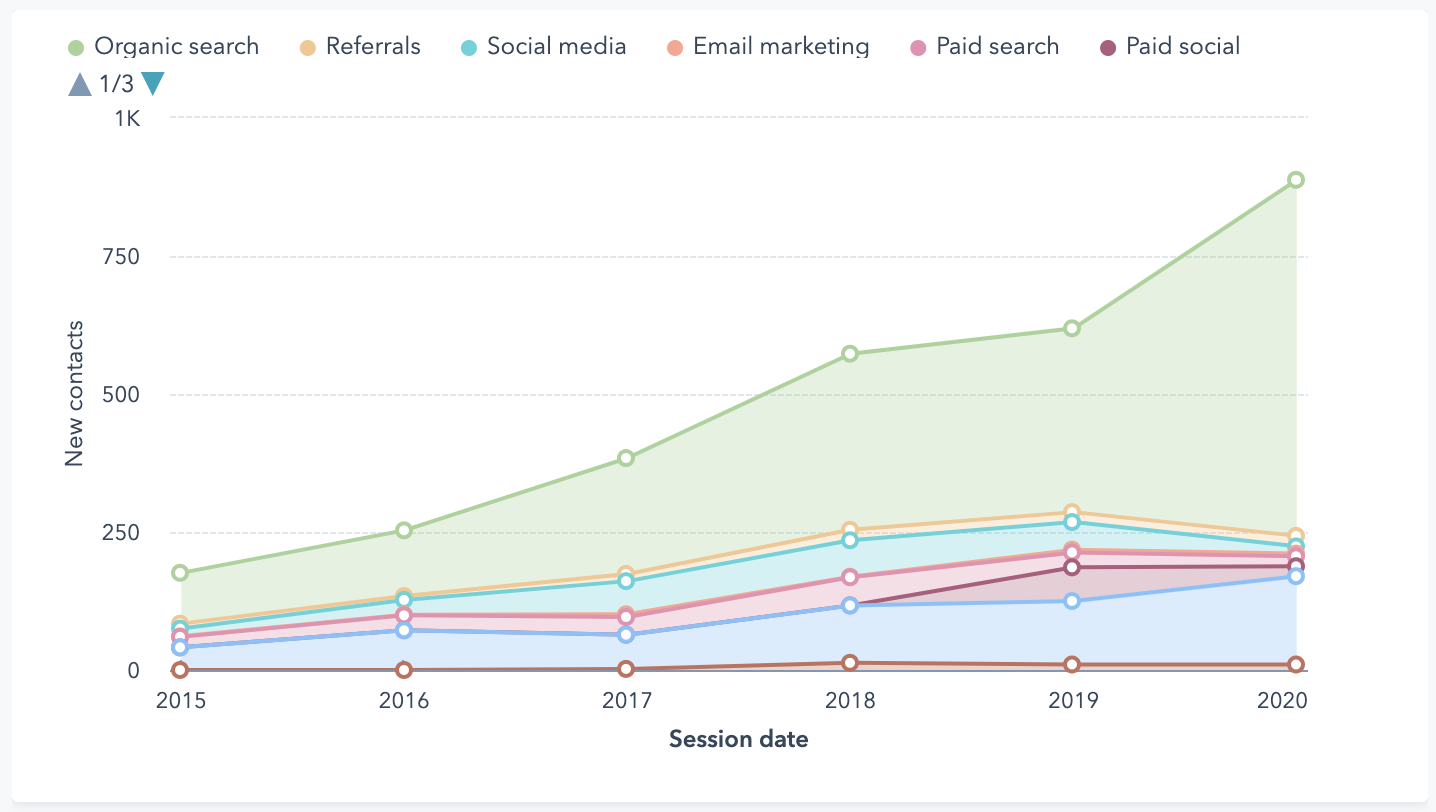 E-Commerce Results
The first year of the client's Shopify store brought in more than $64,000 in additional revenue.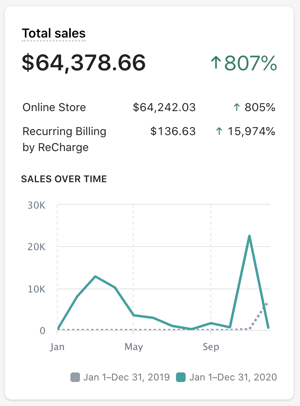 Conclusion
This case study is one of our favorite, as it is one example of what happens when a business has a long-term relationship of trust and mutual respect with its marketing agency. The results have grown steadily, and improved beyond our expectations in 2020, even despite a 6-week shutdown of the business due to the COVID-19 pandemic in that year. Our continued plan features even more focus on SEO to draw in organic leads, and more focus on the conversion side and sales process in 2021.