Medical Practice Increases Monthly Lead Generation 48%
Apr 19, 2016, 2:00 PM GMT
We've presented several case studies in the past that showcase how an effective and tailored inbound marketing retainer can impact lead generation and sales revenue for a wide variety of industries; from online high schools , to insurance agencies, to plastic surgery practices. The following is a case study from one of our clients that demonstrates the power of this approach, as well as adapting an agile process of consistent strategy evaluation and scope evolution.
The Client
This company is a holistic, integrative medical practice in the American southwest that is dedicated to using a combination of Western and Eastern medicine to mitigate and cure common ailments of the body and mind. They offer a variety of procedures, such as; acupuncture, weight loss programs, nutrition advice, and more.
When this practice came to us, they were looking for ways to implement SEO as well as pay-per-click (PPC) advertising in their marketing strategy in a way that would foster qualified leads and increase their loyal patients list.
The Challenge: Generating Quality Leads
At the beginning of their engagement with us, they already had PPC campaigns in place, but the campaigns were generating irrelevant and poor quality traffic. Their website was also not optimized for search engines and they were not executing content and email marketing in a way that was sustainable or strategized. The results were low traffic to the site and a meager influx of poorly qualified leads each month.
The ClearPivot Solution: Generate an Inbound Marketing Retainer
ClearPivot's initial plans for this practice included getting improved PPC campaigns and landing pages up and running right away. An initial SEO roadmap was also created and implemented to ensure every page of their site was correctly optimized for organic search. After that, we went to the next step: an increased marketing production program that included bi-monthly blog content, new landing pages, a strategized email marketing program, weekly social calendars, and targeted Facebook advertising. We also implemented additional new search advertising campaigns that included increased negative keywords to block irrelevant and poor quality traffic, and a refocus of budget away from low-performing keywords that were not driving meaningful conversions.
Overall, ClearPivot's retainer package for the client included, but was not limited to:
Bi-monthly Blog Article Production
Monthly Email Campaigns
Daily Social Media Publishing
Ongoing PPC Campaign Management
Facebook Advertising Campaigns
Varied As-Needed Projects

Landing Page Production
Website Redesign
Email Workflow Optimization
The Results: Increased Traffic and Leads-to-Customers Through Refocused Marketing Efforts
As a result of ClearPivot's ongoing efforts, there was significant growth across several key metrics. Comparing a baseline of January-June 2013 to its corresponding period in 2015, we saw:
A 72% increase in organic search traffic
A 55% increase in organic social media traffic
A 34% lifetime website traffic increase
A 48% increase in total lead generation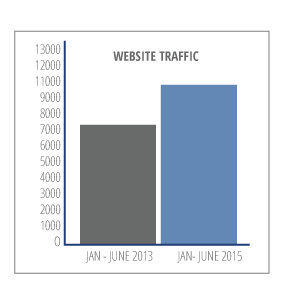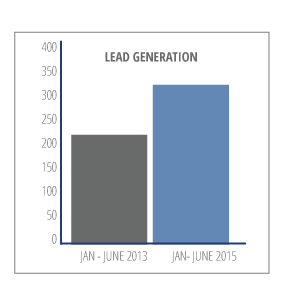 Conclusion
The results of three years of utilization of an Inbound Marketing Retainer speak for themselves. Through continued generation of quality, applicable content, implementation of SEO best practices, email nurturing of existing contacts, and an overhauled advertising strategy, ClearPivot was able to make significant and measurable increases for this integrative medicine practice. The final takeaway — an effective and adaptive inbound marketing program greatly increased, not ony the number of people visiting their site, but also the number of net new leads they were able to capture and connect with to convert to customers.