How does demand generation work?
Rather than just doing a series of isolated tactics, ClearPivot executes marketing campaigns that cover your company's entire customer generation process, using the inbound methodology. The inbound methodology is a comprehensive way of planning the whole journey of your prospects from awareness, to lead, to customer, to cheerleader for your company. It is illustrated as follows: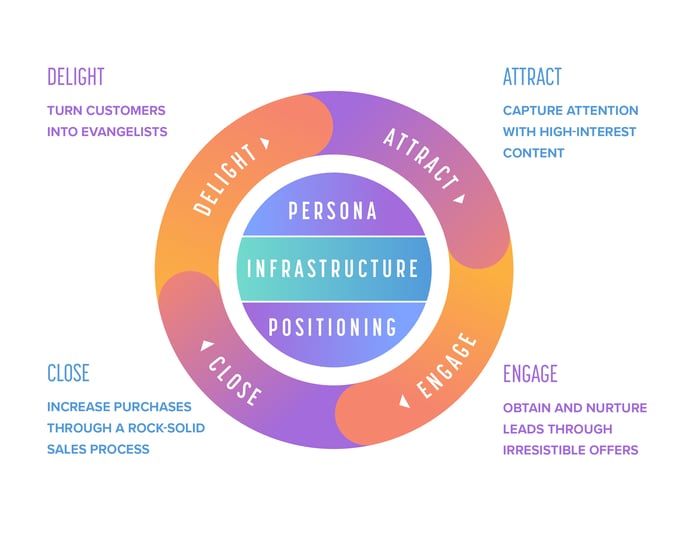 We will usually work with you on the "first half" of this process: attracting prospects, converting them to leads, and nurturing those leads until they're ready to close. And then we are predominantly reliant on you to do the second half: closing sales, and servicing your customers to turn them into delighted cheerleaders for your company. Implementing this entire process is a team effort, so it is imperative that we work collaboratively and hand-in-hand through it all!
Learn more about the inbound methodology here
---
How much does all this cost?
We typically split up the total budget into 3 areas:
Our retainer fee for planning, implementing and measuring the marketing plan
A budget for the set of software tools that we implement
An advertising budget: Google advertising, Facebook/Instagram ads, and so on
The sum total of all three areas can sometimes be as low as $1,500/month. Sometimes it can be as high as $10,000/month or more. It depends on the company size, industry, situation, growth goals, and so on.
When we talk with you, we will plan out a budget that works for your company. We will interview you, assess your situation and needs, and put together a recommended budget and plan of action specific to you. We will meet you where you're at!
---
Can you do fixed scope pricing?
We do not offer fixed scope pricing. Every client is unique, and every strategy and initiative is tailored to the particular business and situation. Because there are too many unknown variables at the start of any project, it is impossible to effectively work under fixed scope pricing.
---
Can you show results?
We have documented measurable and oftentimes significant business results for many of our clients as a result of our work together. Here are some of our favorite case studies:
---
Can you guarantee results?
Every business situation is unique, so unfortunately we cannot guarantee results. Factors that affect results include your industry, your prospects' buyers journeys, your company's current position on the business maturity curve, and so on. Additionally, when you work with us, we need you to commit to certain responsibilities on your end as well (see below), and the extent of your cooperation with us will be a significant factor in our success together. But what we can guarantee is this: by working with us, you gain a full team of professionals who bring extensive digital expertise, who are devoted to your success, and who will commit their time and energy to doing whatever it takes to helping your business succeed.
---
How long does it take to start seeing results?
It can vary a lot! Sometimes certain campaigns can get results very quickly. Others can take much more time to gain traction. It will depend a lot on the length of your target audience's buyer journeys. If your target audience usually moves from initial awareness to purchase within a few days or weeks, you will likely see results faster. If your company's offerings are a "considered purchase," where your audience might take several months to move from initial awareness to purchase, it will almost certainly take longer to see results. Therefore, while we don't require legally binding long-term contracts (see the question below), we do encourage our clients to stick with us for at least 12 months so that there's enough time to start seeing measurable traction.
---
What types of companies do you work with?
Generally we work best with companies with the following attributes:
You have $2-$10 million in annual sales revenue.
Your products/services are "considered purchases." That is, buyers perform considerable research and self-educate before they buy.
Your customer buying cycle is between two weeks and several months.
You have a dedicated Marketing Director on staff.
Read more about the types of companies that we work best with here
---
Do you make your clients sign long-term contracts?
No. We believe in openness and transparency, so we don't like the practice of trying to "trap" clients into continuing to pay us in the off chance that the relationship isn't going well. Because the process of growing a passionate and growing customer base for your company takes awhile, we do encourage our clients to go into our work with them with the expectation of working with us for 12 months or longer. Many of our clients have worked with us continuously for several years. But we never take that for granted, and always remain focused on continually earning the right to do business with our clients, every single month.
---
What do your monthly retainers typically entail?
Our retainers are always focused on digital media exclusively (ie. no print, TV, radio, or outdoor media). They are typically a combination of:
Website content production
Native social media content publishing
Email campaigns
Premium content production (e-books, infographics, downloadable guides, etc.)
Landing page production
Ad campaigns on Google, Facebook, and other places
Marketing automation management
CRM implementation and marketing-sales handoff consulting
Lead scoring
Monthly analytics reporting and analysis
We go more in-depth into what goes into our marketing retainers here: What do ClearPivot's demand generation retainers entail?
---
How does your content publishing process work?
Everything we produce follows a "produce-before-publish" process. That means that in any given month, we are usually producing marketing content that will be published the following month. That gives plenty of time for us to plan out and produce high-quality content that will bring value to your audience and give you plenty of time to review it, share feedback with us, and approve it for publishing. We can do quicker turnaround times for those instances when more real-time content is needed, but in general we have found that working out one month in advance is the best way to maintain a stable production pipeline for both us and our clients.
---
What are your expectations for your clients?
Hiring a marketing agency isn't a "set it and forget it" operation. In order to serve you best, we will need a certain amount of time and cooperation on your end. We will always have at least one recurring meeting with you every single month, to review the previous month's key metrics and discuss our recommendations for the next month's marketing production. We will also need your engagement for reviewing, giving feedback, and approving the content and campaigns that we are producing in any given month. Plan on committing at least a few hours of time each month to work with us. Additionally, during our work together, we will oftentimes find areas where we will recommend that you change your own business processes to improve results, whether that be in your sales process, your marketing strategy, your internal controls, and so on. We ask that you be open to considering and trying any business process recommendations that we recommend during the course of our work.
---
What software tools and platforms does ClearPivot use?
Our core toolset consists of the following software:
HubSpot
CallRail
Ahrefs
Databox
Shopify
Lucky Orange
Different client situations sometimes require different customized technology stacks, but in general we implement a technology stack consisting of a combination of these tools for almost all the client we work with. We use HubSpot as the foundation platform and we integrate all the other tools into HubSpot. Each of our retainer engagements includes a dedicated software subscription budget in addition to an advertising budget and our retainer fee.
---
Other Questions
Have other questions that we haven't covered here? Drop us a line and we'll answer any and all questions you have. No question is too simple or too complex for us, so ask away!
Phone: 720-515-4476
Contact us online: www.clearpivot.com/contact