Case Study: Lead Generation Increase for Facial Plastic Surgery Client
Apr 15, 2019, 4:33 PM GMT
As an inbound marketing agency and a HubSpot Partner, we advocate for the effectiveness of our methodology to the community, as well as to potential and existing clients. We have often found that the best way to share the power of our methodology is through case studies conducted on our existing clients. The following is a case study demonstrating our approach for a facial plastic surgery and laser aesthetics clinic in the Rocky Mountain region.
The Client
Our client came to the Rocky Mountain region as a highly sought after facial cosmetic surgeon in 2001. Since then, his practice has continued to grow to include a laser aesthetics practice under the same roof. As a pillar in the community and within the cosmetic surgery industry, it became increasingly important for the practice to be effectively ensconced in their digital community as well.
When this client came to ClearPivot, they were looking to improve several digital areas, including; traffic and brand awareness, leads and consultations, and ultimately, their monthly number of scheduled procedures.
The ClearPivot Solution: A Customized Inbound Marketing Retainer and Consolidated Online Presence
At the outset of our work with this practice, their web presence was split between the HubSpot marketing platform and their existing two WordPress websites. We immediately set to work consolidating the facial plastic surgery part of the practice completely on the HubSpot platform, and held training sessions with the practice staff in the use of the Marketing and Sales portals within HubSpot.
As we continued to work with this client, it became clear that splitting their service areas between their two existing websites did not serve their goals for the practice. So, ClearPivot further streamlined, focused and simplified their online presence by absorbing the laser aesthetic WordPress website into the facial plastic surgery website.
Over the last year, ClearPivot has also implemented a customized inbound marketing retainer with this practice, to achieve their primary goals of increasing web traffic and leads.
This Monthly Inbound Marketing Retainer includes:
Producing and publishing 2-4 blog articles a month
Producing and publishing 2 monthly email campaigns
Social media posts to their Facebook, Twitter, Instagram and LinkedIn followers and friends
Ongoing PPC advertising campaigns
Ongoing Facebook advertising campaigns
Quarterly premium content production, such as e-books, infographics, marketing automation workflows, and custom web page design and development
Monthly metrics review and analysis
Documenting all marketing results in monthly reports, with dedicated monthly standing meetings to discuss report results with the client
Ongoing marketing strategy and consulting
The Results
By migrating and consolidating the two original websites on an upgraded website platform, brand confusion was eliminated and an increase in the user experience for online visitors was apparent. We were also better able to track, manage and nurture leads through the consultation and sales process with this change in site development.
Through our monthly retainer, we were able to grow their digital audience, their website traffic, their inbound phone calls, and their total website leads. We were also better able to strategize with the client and optimize and promote seasonal deals, sales and company news to the community and their customers.
Looking at the chart below, we can see that monthly website lead generation increased 510% over a 41-month period from December 2015 to April 2019. For a 18+ year-old, mature practice, this is an impressive increase.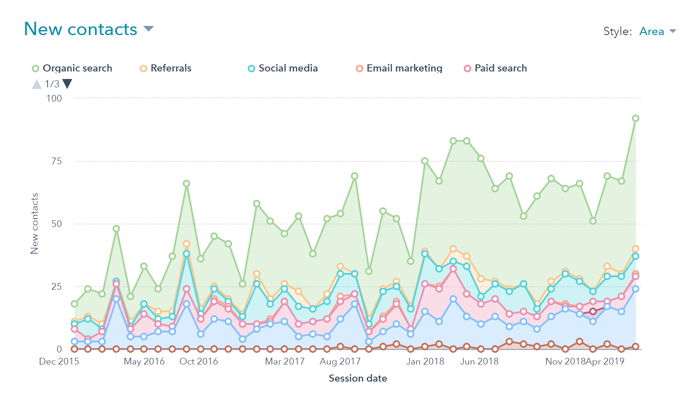 Conclusion
This case study showcases the power of our website strategies and inbound marketing retainers. If you run a plastic surgery practice and are looking to make increases in traffic, leads, scheduled consults, and ultimately, patient bookings, check to see if ClearPivot is the right choice to help you achieve these goals.