For a private high school in a popular city, it can take a lot of work to build visibility online, especially in such a saturated market. You're not only competing with other private schools, but public schools alike. So how do you differentiate yourself from your competitors? Schools need to market themselves just like companies do. They are targeting a certain audience, attracting new visitors, and turning those visitors into customers — or in this case, students. The one thing that is especially interesting about marketing for a school, is that your audiences aren't actually the ones that are reaping the benefits of being the customer. Your customers are parents, but your users are students. So creating content and structuring a website can be challenging to say the least.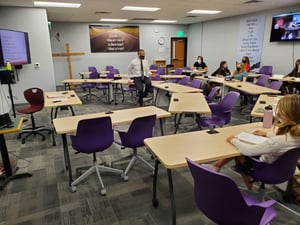 This case study is the perfect example of how content, website organization, and structure and consistency in publishing will lead to exceptional growth in organic search. Let's dive in.
The Client
Lutheran High School, located in Parker, CO, is a Christian school that nurtures academic excellence and enables growth in Christ. We've had the honor to work with such an amazing and inspiring team over at Lutheran High School for several years now. They are dedicated to their students, ensuring that they are getting the most out of their high school years. Their teachers incorporate different learning styles within the classroom to inspire their students and keep them engaged. They have a wide variety of clubs, allowing students to follow their passion, and many sports teams to stay active. They are continuously updating their facilities to give their students the best resources available. In addition, they have a great community for parents and students to help them grow into life-long Christians.
The Problem
Lack of Content Strategy
Lutheran High School has always done a really great job creating website content. They had their teachers and other faculty members write blog after blog. However, there was not a clear direction as to who they were targeting and what their goals were. They hit a roadblock, and didn't quite know where to go from where they were at.
Website Structure Issues
Navigating throughout the website was a challenge. Their navigation menu was complicated. It lacked direction and you'd spend a lot of time clicking through a lot of pages just to find what you were looking for. They had such amazing content, but it couldn't be found. They needed someone to come in to give guidance on what direction they needed to go to having a better user experience for their current students and prospective students.
Lack of Time
With most organizations, bandwidth becomes an issue for most. At Lutheran High, they knew they had a problem, but didn't have the time to sit down and figure out where to start. They were looking for an agency that could come in, build a strategy, and then help implement the strategy.
The Solution
Go-To-Market Strategy
When we first started working with Lutheran High School, we developed a Go-To-Market Strategy. Our strategy project consisted of the following:
Persona Development

This was one area that Lutheran High School knew. They already had their personas documented and written to use to create a content strategy for them.

Competitor Analysis
Keyword research

Topic Cluster and pillar content planning

to build SEO growth
Blog topic planning for each stage in the buyer's journey, plus for each persona
Planning out downloadable content offers for each persona
Lead nurturing workflow plans for each persona
Once we finished the Go-to-market strategy planning, we went to implement the strategy. Our retainer work for Lutheran High School includes:
4 blog articles a month
16x/month social media posts
1 pillar content piece per quarter
8 hours/month of flexible retained time for other types of marketing and website development needs that arise each month
Monthly meetings together to analyze all the current marketing metrics and plan out our strategy and direction going forward
In addition to implementing a content strategy, we built out their topic clusters in HubSpot. Creating pillar pages, we have been able to reorganize their content to ensure they are targeting the right keywords for their SEO growth.
Website & Automation Updates
Over the course of our time working with Lutheran High, we have worked on making updates to the website to enhance the user experience. We have redesigned the navigation menu allowing Lutheran High School to showcase their resources for prospective students as well as current students more efficiently. We have updated calendar templates and FAQ pages for parents and students to find exactly what they're looking for, which has reduced the amount of time that Lutheran High School spends manually answering questions that can be found on the website.
ClearPivot has worked with Lutheran High School to automate processes when it comes to application time and post-application tasks to ensure we are keeping track of students who still have uncompleted tasks. This has helped the LuHi team gain some time back to focus on other aspects including events, tours for new students, etc.
The Results
This case study truly shows the long-term effects content strategy has on organic growth. From August 2015 to August 2021, Lutheran High School saw the following results:
A 136% increase in website traffic (from 7,842 sessions to 18,567 sessions)
An increase from 1 new lead per month to 76 new leads per month
As a result of this enormous growth in lead generation, Lutheran High School's student body has significantly grown in size and they are now expanding their facilities to accommodate all of the new students. They also have an extensive waitlist for each grade level as a result of this higher demand.