What is a CRM and its Purpose for Medical Device Manufacturers?
You Cannot Have One Without the Other
Ah, CRM. It's one of the most common acronyms used by sales and marketing professionals these days. But are we talking about Customer Relationship Management, or Customer Relationship Marketing? The truth is, you can't have one without the other – at least, not if you want to grow your medical device manufacturing business.
You can't attract attention to your brand or your specific products, or expect to keep prospects interested, without "catchy" content. You can't track your content's performance or engage with individual leads, without the right tools. That's why we speak of CRM in two somewhat different but equally important ways.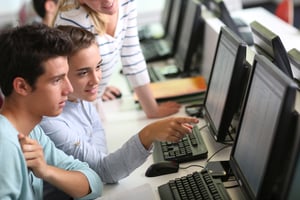 You have to establish relationships via marketing before you can manage future interactions to deepen those relationships.
Putting CRM to Work
As a medical device marketer, what you really want to know is what CRM can do for you and how to make the most of your efforts. To stay in business, you need to spread the word about your brand and your products in ways that distinguish you from competitors. To grow your business, you need not only more new customers, but more repeat business from existing and increasingly loyal customers. Repeat business is critical because it is so much more expensive to acquire new customers than to retain current ones.
CRM pulls it all together into a seamless upward spiral.
It starts with content – digital offerings that are catchy because they catch your target's attention. Great content is both relevant and timely – exactly the information a particular prospect is searching for right now. You have what they want or need, and that's the perfect meetup. It's also the perfect follow-up, because great content speaks to those who are farther along on their buying journey as well as brand new searchers.
That's where the management side of CRM comes into play. When someone visits your website and clicks to download your whitepaper or watch a webinar, they provide their email address to complete the transaction. They convert from prospect to lead, and you now have a way to communicate with them digitally. It is the start of a beautiful, long relationship -- if you manage the engagement process well.
In order to communicate effectively – that is, in the way each prospect or lead prefers -- you need to make your content available everywhere those targets are. That includes:
Your website
Landing pages
Blog
Social media
Email marketing
Online advertising
Offline advertising
Special events
Well-crafted content includes a variety of information, mostly factual but also sometimes promotional. It presents information in a variety of formats (text, audio podcasts, videos, webinars, slide share presentations, etc.), to accommodate different learning styles and because different types of content lend themselves better to one format or another.
Strategically-crafted content allows you to speak directly to each of your audience types. Although all your marketing should be consistently branded and presented in a similar voice, the content you create will be different for distributors or medical professional end-users. Or, possibly, even consumers, depending on the equipment your company makes.
Great content doesn't just happen. It is thoughtfully created to inform prospects and leads, yes. But it is also "scientifically" designed to offer maximum appeal to Google and other search engines. We call that search engine optimization, or SEO. With great SEO, your content is most likely to show up at or near the top of the page when someone searches online. That puts your brand in front of the most prospects.
CRM Supports Sales and Marketing
One reason CRM is so essential for manufacturers is that the customer-sales person relationship has changed dramatically in recent years. People don't have to rely on a sales rep to learn about or compare new devices. And they don't want to. They want to control the sales process, researching on their own until they are much farther along in their decision making.
By understanding your target audiences, crafting highly valuable and relevant content, and making it easy for your targets to find that content (or delivering it right into their hands), you are feeding their desire for self-help. Your specific content and the ongoing engagement process speak to leads as they prefer, and that builds trust and confidence in your brand and your products.
When the time is right and that lead wants to speak with a sales rep (or your distributor), the transition will be a comfortable and productive experience for both of them. Your lead will be well-informed about your brand and your devices, and your sales rep will be well-informed about that lead. CRM software not only enables you to automate and otherwise manage your marketing and ongoing communications, it captures data about each lead and their digital interactions with your company. That puts crucial details about each prospect's pain points, desires, and preferences right at the sales person's fingertips.
Your Future Depends on Customer Relationships
For your company to succeed, the medical devices you design and manufacture must offer cutting-edge benefits, including strong ROI, to those who will buy and use them. In exactly the same way, successful marketing must harness the latest, most relevant strategies and tactics to attract prospects and guide them to choose you when they're ready to buy. But like the medical field itself, the marketplace and your customers are constantly changing. It's virtually impossible to keep up without the right strategy and tools.
By effectively using CRM – the right marketing content and the right relationship management practices -- you can allocate resources where they will do their best work for you. And, as you track your marketing results and relationship management efforts, you will learn how to improve your marketing and even how to improve or expand product offerings to meet future customer needs.