HubSpot is a wonderful CRM and marketing automation tool, but it isn't the only one out there. Pardot from Salesforce is a popular alternative. How do these platforms compare to each other?
HubSpot was built from the ground up as a one stop shop to service the trifecta of teams that every company has: sales, support and marketing. Built with this mission in mind, each of HubSpot's hubs run off a single shared database. It also integrates with several other CRM tools including Salesforce. This mission has led them to build a platform with the user in mind making each feature easy to use and maintain.
Pardot was originally a standalone product and company but was later bought by Salesforce to be their premier marketing automation tool. Although Pardot and Salesforce do integrate with each other, they are still two separately-built tools passing information back and forth and giving fully separate experiences on both ends.
Because Pardot is the marketing automation tool, we will be comparing the out of the box version of it to the HubSpot Marketing Hub in features, usability and user experience.
Features
If you were to pull a features list for both HubSpot and Pardot, they would look comparable as marketing automation platforms. Each platform has similar capabilities in core marketing automation features. Where these platforms are vastly different in features is the nice little extras HubSpot gives as part of each of their staged subscriptions. In their free version HubSpot offers live chat right off the bat, while in higher subscriptions they add in features like multi-touch attribution, automated reports, and SEO tools. Although Pardot offers reporting, these reports are not automatically generated and take a great deal of time to maintain and generate. These features often require a new team member or an outside specialist to be useful.
Another great benefit to HubSpot's fully integrated platform is the ability to host blogs, forms, and landing pages on your native site from the HubSpot marketing platform. This is a feature of Pardot, but these items are hosted on a domain completely separate from your main site. This works for many companies when they start out but is not a best practice long term for SEO. They can also be quite a nuisance to maintain, causing many companies to move to other tools for this feature as they grow.
From a features perspective alone, HubSpot and Pardot are comparable in theory, but in my opinion, HubSpot's features are better in the long run.
Usability
When you compare the usability of HubSpot and Pardot, you have to consider the your daily workflow in both. HubSpot designs their user experience for ease of use and around their sales process. Pardot has been adapted to integrate with the Salesforce platform. This has led to a varied degree of usability. Because we are discussing both usability and user experience, this section will focus on the actual use of the platforms, whereas the next section will focus on the actual look and feel of the platforms.
Email is the bread and butter of both platforms. HubSpot's email builder is set up for easy use by anyone on your team. It allows you to set up templates in an easy to use drag and drop builder to customize each email or by putting together saved sections. This is a useful feature allowing you to save different sections you use regularly like a footer, header, or other content like a blog sign up. Pardot's email builder is also drag and drop, but these features do need some upgrades. The sections often overlap, making different sections inaccessible. Pardot also allows you to insert images and links, but these can be difficult to manage without basic knowledge of HTML code.
There are also some big differences between the two platforms for prospect/contact management. Pardot and HubSpot talk about prospects a bit differently. HubSpot's goal is to give a salesperson working on the sale as much information as possible about each contact. The details of each contact include the timeline of their interactions with both the sales team and marketing team, allowing both teams to see how often a prospect is contacted by both teams. Other objects such as companies and deals also display the timeline of interactions on their object records as well. In Pardot, although it syncs with Salesforce, these types of details are not synced over. This unfortunately creates a blind spot between marketing and sales which can often cause difficulties when it comes to attribution and reporting.
User Experience
One of HubSpot's main areas of focus is user experience. This has led them to create a platform that is easy to interact with from start to finish. While Pardot aims to be easy to use, their user experience can actually be rather disappointing. One example of this is that many of their pages are not mobile-responsive. This means that anything done in Pardot must be done on a computer. Email and campaign pages have to be done in full screen on many devices.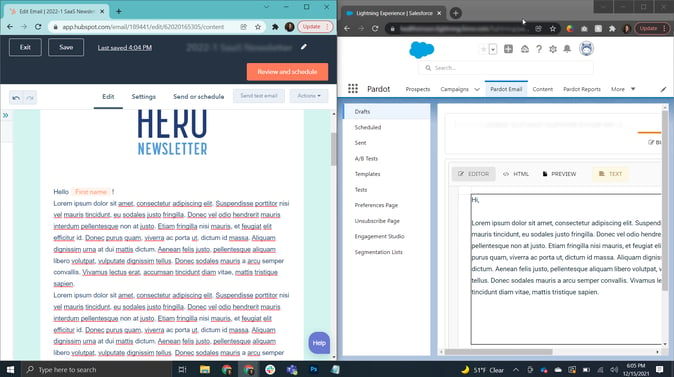 Another big difference between platforms in user experience is customer support. HubSpot offers many different avenues of customer support, live chat, calling and self service. Pardot's Customer support options are limited: you can open a ticket for a specific issue, go to their user generated support library and find the answer, or pay for premium service to talk to a service rep.
Conclusion
There are many considerations when it comes to choosing a marketing automation platform. HubSpot is a great program for big or small companies, and is definitely the choice if you are just starting out and looking for a solution that grows with you, and your organization. It is our platform of choice here at ClearPivot, for instance. Pardot can be a great solution if integrating with Salesforce is a large part of the decision. But be sure you understand the positives and negatives of both platforms before making a commitment to one over the other.
If you have any questions about HubSpot implementation or marketing automation in general, feel free to reach out to us here.