Clickthrough rates. Bounce rate. Time on site. "Viral coefficient." But when it comes to the marketing metrics that executives care about, the marketing department panics. But it doesn't need to.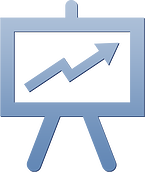 In a way, executives are easy to please: they want to see the numbers that impact the bottom line. They want to know that the marketing program they approved is garnering solid returns for the company. They want to know how it's growing sales and how cost-effectively it is doing so. And when it comes to how many times someone "shared a post on Facebook," it's likely that the executives don't care, unless it somehow directly impacted sales. In fact, sharing these soft metrics may reinforce their collective belief that 73 percent of marketers are not focused enough on results.
But there's good news: marketing results can be tracked and measured in a financially quantifiable way.
Download "The 6 Marketing Metrics Your Boss Actually Cares About" to learn what metrics need to be presented to your executive team to validate the company's marketing program. The e-book contains:
The 6 metrics executives want to see in reports
How to calculate those metrics
What these metrics mean - and why they are important
These hard metrics will convince your boss that marketing dollars are being well-spent. Download a copy today to guide the next presentation to the executive suite and ensure funding flows into the marketing department.