For a family-owned and operated retirement living community business, it can take a lot of work to build visibility online in such a saturated market. Keeping things 'small' and personalized is one of the driving forces behind any family-owned business; therefore there must be a clear differentiation between yourselves and the large corporate conglomerates you are competing with. It is not only crucial that your content and website structure clearly reflect your core values, but also that effective CRM (customer relationship management) procedures are put in place to target a certain audience, attract new visitors, and turn those visitors into customers/residents.
This is where many boutique companies come unstuck, struggling to manage their customer data and implement a marketing program that will reach and nurture contacts.
So just how critical is a well designed and full-functioning website to the success of your business? How much can really be said for a rigorous marketing plan? This case study is the perfect example of how a website restructuring, a back-end systems rebuild, and a marketing automation build-out can lead to exceptional improvements in a company's operations and performance.. Let's dive in.
The Client
This senior living community is committed to changing the perceptions about what a retirement living community can look like and we have had the honor of working alongside their amazing, family-operated team for 28 years. They are dedicated to offering the best care possible, ensuring that every client receives an unparalleled level of support, personalization and service. The difference begins with the feeling of home that their communities inspire, each designed to offer compassionate support, comfort, and privacy.
Well into their 27th year of operation, this community has owned and managed more than 60 successful locations. They operate on the basis that not one-size-fits-all, creating communities that enhance the health, wellbeing, and happiness of each resident, sustaining and enriching their lives every single day.
The Problem
Multiple Communities
Prior to working with us, our client was working with another agency that they were not happy with. In fact, they were working with more than one agency across many different areas, which was proving extremely difficult to manage. What they were looking for was one agency that could come in, build a strategy, and then help implement the strategy.
Implementing HubSpot
Although they had signed up to work through the HubSpot platform, they had 13 communities under one HubSpot portal and didn't know how to set it up or implement it correctly. This ended up creating a total lack of accountability for each community. They were unable to track and manage their different communities to understand how they were doing with net new contacts, and could not see their ROI (return on investment) on marketing.
Similarly, with their lack of expertise on how to integrate their CRM (customer relationship management) with Hubspot, the company was unable to manage and analyze their own interactions with past, current and potential customers.
Lack of Marketing Strategy
The company had not done any real marketing outreach and didn't have any marketing program in place to reach and nurture contacts. They knew this was going to be a challenge since they were marketing for 13 different communities, so organization of efforts was key. Each community was acting as their own business but there wasn't any streamlined process across all channels -- they were looking to change that.
The ClearPivot Solution
ClearPivot made the difference right from the start. Our team worked to develop a completely new business strategy; restructuring the website, optimizing the use of Hubspot for tracking and managing leads as well as automating the company's email campaigns and social media advertising to improve their customer experience. Our strategy consisted of the three following solutions.
Housing Everything in One Portal
Foremost, we worked with the company to house everything under one, comprehensive portal: HubSpot. Sales email templates were made for each of the 13 senior living communities, allowing personalized and tailored emails to be sent out from each community's sales reps. Similarly, we set up all of their social media to be able to create tailored messages and posts, accurately defined by the target market. This allowed us to plan ahead and craft future messages that would speak directly to prospective customers. We closely examined what was resonating with these prospects by moving the company's blog onto Hubspot for easy publishing and promotion, tracking views and popularity as posts went out.
Website Restructuring
As the project unfolded, we began to look more closely at restructuring the website. Having all communities under one domain, we ensured that customized HubSpot forms were created for each individual community (which were available to view via a new navigation menu and specific community contact pages). Properly built-out topic clusters were set up for each community to guarantee that they were targeting the right keywords for their SEO growth and to gain search traffic. We could then get a handle on how each community was doing independently by analyzing their search impressions and visitors.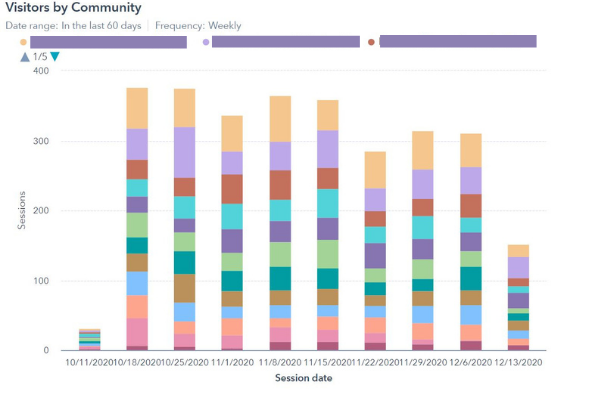 Automation
Over the course of our time working with this client, we developed their marketing automation to enhance their client experience. All of their sales reps were added into HubSpot and assigned their own meeting link, meaning prospects could easily schedule tours and consultations that worked with their calendar. The meetings link tool allowed the company to see how often people were scheduling with each rep, create customized emails for potential residents booked onto a tour, and even offer free assessments that could be pushed back to HubSpot for the sales reps to assess.
In a similar fashion, we worked directly with an engineer to integrate their CRM with HubSpot and set up complex workflows based on actions taken (i.e, scheduling a call, clicking in an email). These workflows will be properly monitored, managed and optimized moving forward, in order to make sure they are as efficient as they can be.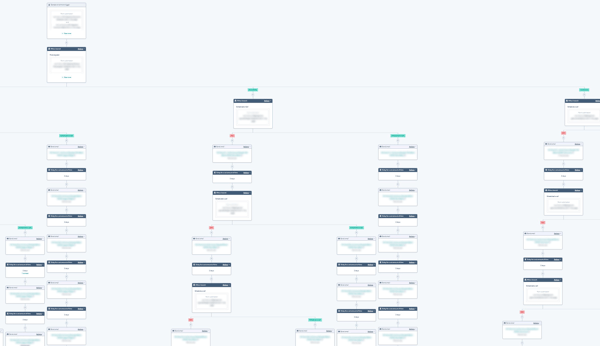 A New Foundation for Senior Living Success
All in all, the need for a foundation was desperately needed in order to have a powerful marketing automation tool. Our client is now extremely well equipped to handle and perform any marketing outreach they're looking to do in the future.