Social Media Marketing & Advertising Solutions
GIVE US THE WORK. ENJOY THE RESULTS.
Did you know...
A million new social users are established each day
2 billion users are on Facebook — and ¾ of them log in every day
Social media advertising spend in the US is expected to exceed $20 billion in 2020
50% of Gen Z and 42% of millennials think social media is the most relevant channel for ads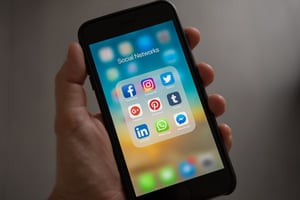 Just a quick glance at facts like these show that if your business doesn't advertise and market on social media, you're missing out on a huge customer base.
We know that many companies avoid social network marketing and advertising. Mainly because:
It seems too unproven
They think their target audience "isn't there"
The results are hard to measure
They lack the staff capacity
They lack the expertise
If any of these reasons have held you back before, don't worry. ClearPivot has the answers.
For over 10 years, our diverse team of digital marketing experts has provided proven and effective social marketing and advertising solutions for businesses just like yours.
Whether you need a stronger marketing and advertising presence on Facebook, Instagram, LinkedIn, or Twitter, ClearPivot can establish the campaigns you need to support your outreach, sales, and growth goals.
This includes:
Social campaign buildouts and tracking
Flexible weekly content calendars
Sponsored posts
Rotating ad campaigns
Event promotions
Monthly service and product promotions
Our staff also does an extensive amount of:
Social engagement consulting
Coaching on best practices
Analytics reviews and campaign optimization
---
"We had a great experience working with Chris and his team at Clear Pivot. They worked with us to create awareness for a new product in the consumer market. Their work was creative, relevant and resulted in successful engagement through social media."
Alison Cohen
Sport Shieldz
---
Contact us today to learn how your social marketing and advertising can become a cornerstone of your business growth.
Schedule a Consultation
Let's Talk.