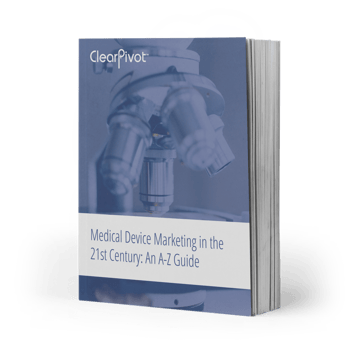 If you're like most medical device manufacturers, you're selling to a limited niche market. Doctors, hospitals and clinics need your products now more than ever, to continue providing the exceptional care that today's patients expect. Baby Boomers are aging, and more Americans are suffering from chronic diseases and lifestyle-related health challenges. Your products can improve lives.
But, while the need for your medical devices is on the rise, so is your competition. It's critical that your brand remain top-of-mind with prospects and existing customers. You cannot achieve that relying on traditional marketing techniques that are as outdated as decades-old medical equipment. To reach your target audiences and grow your medical device business, you must pivot toward the "new age" of marketing.
It takes more than a smart, savvy sales team to market
medical devices in the 21st century.
It takes a smart, savvy digital presence that sets you apart and sets you up for success by connecting you with prospects online. A comprehensive, strategic marketing plan that leaves nothing to chance. To help you create a rock-solid plan, we've created this comprehensive A-to-Z guide. It explains the essential components of successful medical device marketing, and it's filled with action steps you can take right now to start getting results.
The guide covers these vital marketing components:
Branding
Website
Landing pages
Blogging
Social Media
Email Marketing
Online Advertising
Offline Advertising
Events
Distributors
Budget Planning
Download our medical device marketing guide now.
Your competition is on the move. You can't afford to wait any longer to start implementing the 21st-century marketing methods that will attract more leads and help you connect with them in ways that convince them to choose your medical devices.