It's exceedingly useful to read case studies, because they offer real-world examples of how companies are growing and hitting their goals. As a fellow marketer, you can relate to them and see how you, too, might benefit from the same sort of solutions. In this case study, we'll look at how we worked with The Spencer James Group boosted website traffic by 44% and lead generation by a whopping 462%.
The client

The Spencer James Group is an executive search firm that works with companies and job-seekers across the country in the insurance and commercial banking industries. For years, their "bread and butter" marketing tool has been an annual compensation survey usually released in April.
The Spencer James Group has partnered with ClearPivot for some time now, initially on some small projects and more recently with a website redevelopment project and ongoing inbound marketing retainer services. Let's take a closer look at how our work together is producing results.
The challenge
The client wanted to grow their business, but they were also anxious to wean themselves from reliance on cold-calling databases to find new clients. They suspected that modern inbound marketing, with their high-level targeting capabilities, could be a key driver in this growth.
The solution
Because ClearPivot was already familiar with Spencer James Group's business model, our team was able to readily devise a multi-prong approach to reach the client's goals. We set the following three goals:
Increasing brand awareness among two distinct audiences (employers and job-seekers).
Increasing visibility.
Increasing leads generated.
We chose three tactics to achieve these goals:
Writing and publishing multiple blog articles per month, focusing on content centered around hiring practices for both audiences

—

how to find the right job, how to find the right candidates, prospect screening tips, and so on.
Daily social media updates for Facebook, Twitter and especially LinkedIn

—

company pages and also personal profiles for the company's key employees. Social media posts focus primarily on advice and industry news regarding hiring and recruiting.
Producing premium content

—

for instance, e-books and infographics for companies about how to use a recruiter, and an interactive worksheet that delineates the costs associated with hiring.
The results
The results for the client so far have been fantastic. Organic search traffic has almost doubled from Q3 2013 to Q3 2014. Total overall traffic is up 44%. Traffic generated via LinkedIn has almost tripled in the same time period. Most importantly, lead generation has increased more than five-fold.
Comparing July-December 2013 vs. same period 2014:
Overall site traffic up 44%
LinkedIn traffic alone up 170%
Lead generation (prospects converted to leads) up 462%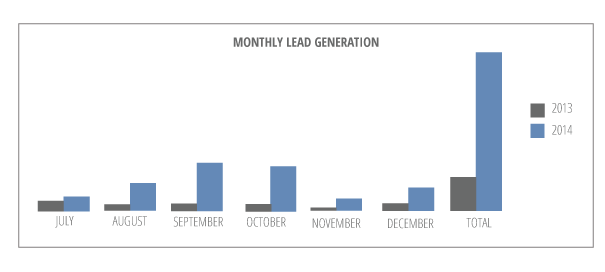 Needless to say, Spencer James Group is extremely happy with their work with ClearPivot. Yvonne Faulkner, Director of Marketing and Operations for The Spencer James Group, says that in addition to such great results, she enjoys having a consistent relationship with ClearPivot. "Pricing is structured and goals and milestones are mapped out clearly," she notes. "They offer transparency, a dedicated staff and great reporting tools. We hope to continue our relationship for many years to come!"
The Spencer James Group is currently in the middle of a gangbuster year — "too busy" closing sales. What business wouldn't want to emulate those marketing results?
Want to see more case studies from our clients? Get more case studies sent directly to your email here: