If you ask any company what their marketing goals are, the first answer will probably be more leads. This was exactly the goal of our client, Image Surgical Arts in Tennessee, when they came on board. With a smaller marketing team and an understanding that they needed more content, we went to work on a strategy that would give them a boost both in the short term, and grow their leads over time.
The Client
Image Surgical Art opened in the Nashville area in 2018, they are a cosmetic surgery center and medical spa. Dr. Brady Harris, a triple board-certified surgeon, and his team of registered nurses, nurse injectors, medical assistants, and licensed aestheticians strive to build transparent and realistic relationships with their patients. When they came to us, they had a small site built out in HubSpot and needed content to bring in more organic leads through their website.
The Solution: Retainer-Based Digital Marketing Package
Our team developed a strategy to increase organic traffic and to ultimately convert leads into clients and clients into evangelists. To accomplish these goals, we consistently publish new content through blog posts, premium content on pillar pages, and video content integrated into the website natively. We have also assisted them in strengthening their inbound marketing strategy. Our monthly retainer scope includes:
Email campaigns: monthly digest/newsletter, monthly specials, and special event communications as needed
Lead nurturing workflows: building and managing email communications that bring clients through their journey with high quality content
Publish new content to drive organic traffic: blog posts, premium content on pillar pages and eBooks
Google search advertising campaigns
Special projects such as: video player UX design & development; special event landing pages with RSVP forms; improve existing content including employee bios
By demonstrating expertise in the field of cosmetic surgery and medical spa treatments, we aimed to build a content library for potential patients as well as those already loyal to Image Surgical Arts. With long-term goals in place, we have been able to help direct focus in more manageable segments. The content creation has also assisted them in building a community on social media. Furthermore, by utilizing paid search and paid social advertising, they have been able to leverage the quality content into real, tangible, and measurable conversions.
The Results
400% Increase in Organic Traffic
This is an amazing example of how organic traffic helps a company grow. It is easy to see from these stats that adding high-quality and relevant content regularly has a powerful impact on an organic search over time. In this specific screenshot example, we started the content roll out in March 2020. The number of organic site visitors started relatively low. Over time, by regularly adding new pages and linking them to the pillar pages, these leads have increased from around 2,500 in March of 2020 to more than 10,000 in January 2022. That's an increase of 400% in just under 2 years.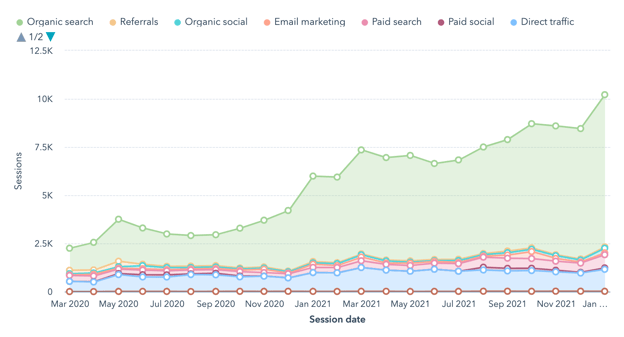 Most other traffic sources remained constant, even as this client has run paid search campaigns for the duration of the two years. They also started paid social campaigns, but that did little to increase traffic, compared to the organic efforts.
200% Increase in New Contacts
The ultimate goal of traffic, of course, is to bring in new qualified leads, and we are proud to see significant progress here as well. Starting at around 70 contacts from organic search in March of 2020, and reaching its peak at 250 in September 2021, the leads have since leveled off to around 150-200 per month. We attribute this to the sleek new design and function of several pillar pages featuring top cosmetic surgical procedures, paired with expert content surrounding the same topics.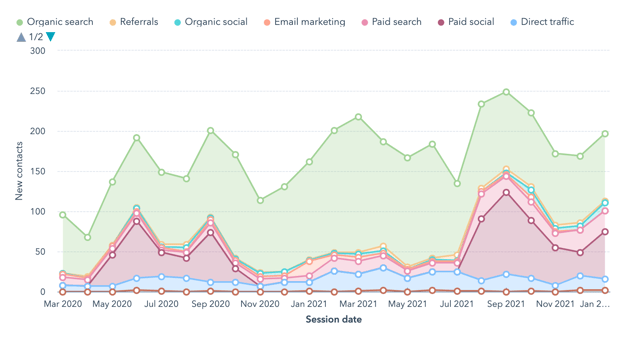 In contrast to a relatively flat pace of new sessions among sources other than organic search, you can see that the number of new contacts increased or decreased in accordance with certain marketing initiatives. For example, from April through September in 2020, this client utilized some paid social campaigns. They discontinued this until August of 2021, where you can clearly see new contacts on the rise again. Because we have been able to align each different campaign within paid social, paid search, and email marketing – and we have provided quality content for visitors once they reach the website – most of the other sources follow a similar pattern of peaks and valleys.
Conclusion
Working with this client has been a great example of how important quality content, key calls-to-action, relevant email nurturing, and focused advertising campaigns are for bringing in qualified prospects and converting them into sales leads. By always utilizing our flywheel methodology, we helped Image Surgical Arts create content to attract, engage, close, and delight leads and customers/clients. A consistent and strategic approach can produce results that are simply undeniable. Investing in a plan like the one detailed above could be the right move for any client wishing to grow their business.