Delta Health Technologies Doubles Lead Generation in 3 months
One of the best ways to learn what works in marketing is to study actual success stories. The following case study exemplifies successful lead generation for both top- and bottom-of-funnel audience segments.
The Client
Delta Health Technologies® has been in the healthcare support business for decades, proudly creating technology solutions that, in their words, "help home health, hospice and private duty agencies deliver the best possible care more efficiently and profitably." With demand for their clients' services rapidly increasing, it's critical for Delta to provide them the functionality they need and maintain their position as an industry leader.
The Challenge
The client wanted to improve lead generation — increasing top-of-funnel leads and also generating more bottom-of-the-funnel sales-qualified leads for their software products. They had worked with ClearPivot previously with excellent results, so they again requested assistance to meet this new marketing challenge.
The
ClearPivot

Solution

ClearPivot's team recommended two specific campaigns, each consisting of email marketing and pay-per-click advertising. For each campaign, a new e-book was produced, with content especially timely and valuable for the target audience:
Campaign #1 targeted decision-makers within organizations that belong to one of the industry's key professional organizations. The e-book for this group's offer focused on ideas and recommendations for improving care quality and competitive edge.
Campaign #2 was aimed at "influencers" within target companies

—

the leaders and on-site workers whose work could be enhanced if their organization adopted one of Delta Tech's technology solutions. The e-book for this group's offer focused on ways to improve population health management.
The two new e-books also served another purpose, in that the client was headed to a major industry conference as a vendor and wanted new content to offer potential customers.
The two campaigns were structured in the same way. Two emails were sent to each targeted segment, about two weeks apart. Each email included two calls-to-action with separate landing pages — one for the e-book download offer and one a thank-you page containing a secondary offer (request a free software demonstration). This approach combining top-of-funnel and bottom-of-funnel conversion opportunities is a marketing best practice, allowing a given campaign to do double duty.
PPC advertising was staggered to start shortly after the email campaigns were launched, and it continued to run for several months.
The Results
Both campaigns were a big success. Monthly total lead generation numbers doubled almost overnight and continued to hold steady at that rate. Landing pages for Campaign #1 generated a 10.2% conversion rate for the initial e-book download (top-of-the-funnel leads), and a 21% conversion rate for the request a demo offer (bottom-of-the-funnel leads). Landing pages for Campaign #2 generated conversion rates of 12.8% and 19% respectively. In total, both campaigns generated several hundred leads. The client's inside sales person was quite busy over the next several weeks!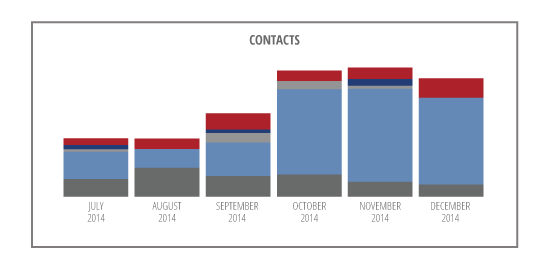 Key Stats
11.5% average e-book download conversion rate
20% average request a demo conversion rate
168 total leads
50 sales-qualified leads
What's Our Takeaway?
These are great results, achieved virtually right away. There were two key factors that ensured this level of success:
The

ClearPivot

team did a good job planning how to segment and reach the desired targets.
The content of each e-book was also well-targeted, with subject matter that resonated clearly with the intended audience.
Relevance and understanding your personas both matter when it comes to crafting a successful inbound marketing campaign that boosts lead generation, whether you're looking to fill the top of your funnel or working to identify highly-qualified leads ready for a hand-off to your sales team. Without knowing your audience and creating content that appeals directly to them, you're wasting resources and assuring lackluster results. Delta Health Technology's Director of Marketing had this to say about the experience:
I've worked with many marketing professionals in the past, but the strategy and execution - along with great results - from working with the Clear Pivot team is unsurpassed. Our business challenge was to create meaningful content to attract both organic and paid traffic to our website. The collaboration with the SEO and content teams was remarkable. We exceeded our goals for traffic, content downloads, demonstration requests and sales. Campaign success with Clear Pivot - and now they are part of our go forward strategy for new customer acquisition.