300% Lead Generation Rate Increase for a Cosmetic Surgery Practice
As with any investment, your business expects to see a good ROI within a reasonable amount of time. The definition of "reasonable amount of time" obviously varies from business to business. Would you consider total monthly leads quadrupling in just four months a reasonable amount of time? We sure would! This case study will show how ClearPivot increased web traffic, social media audience, and lead generation for our client - even during a typical slow season in their industry.
Our Client
Our client is a cosmetic surgery practice in the southern US. While the cosmetic surgery practice is new, the surgeon is not - he has been doing traditional insurance-covered surgery for many years.
Plastic and cosmetic surgery lead generation is very different from business development for a traditional surgical practice. For traditional insurance-covered surgery, patients are referred by their insurance company or family doctor to the surgeon, so minimal marketing is required. That's definitely not the case for a new cosmetic surgery practice — new practices need to implement a substantial amount of marketing to build their business. While they had some patient cross-over between the two practices, they really were starting from the ground up with their marketing needs.
After using a web design company to create their WordPress website, they turned to us to first complete the setup of their online presence in HubSpot, social media accounts, PPC ads, call tracking, their Google local business profile, and patient rating sites. Once the setup process was complete, we then implemented an ongoing inbound marketing retainer which includes:
Producing and publishing blog articles
Producing and publishing monthly email campaigns
Social media posts to their Facebook, Twitter, and LinkedIn followers and friends
Monthly metrics review and analysis
Ongoing PPC advertising
Ongoing Facebook advertising, including page likes campaigns, boosted post campaigns, and monthly rotating lead generation campaigns
Building out marketing automation workflows
Ongoing marketing strategy and consulting
The Results
We oftentimes tell our clients to expect a 6-12-month time period to start seeing meaningful results in any new engagement — however, we were pleasantly surprised in this case to start seeing results much sooner than that! We began to see significant growth across all key areas within just a couple of months. Here's the stats:
Web Traffic Increased by over 400%
Within a five month period, April through August of 2016, website visits increased by over 400%. Additionally, summer months are typically a slow period for cosmetic and plastic surgery businesses, so we consider this growth to be an extra big win!
Social Media Reach Increased by over 1,000%
Within that same five month period, their social media audience increased by over 1,000% — the majority of that being Facebook.
Lead Generation Increased by 300%
Also within that five month period, one of the most important metrics — lead generation — increased by 300%! We were surprised and pleased to see such a great increase in leads, especially during the slow season for this industry.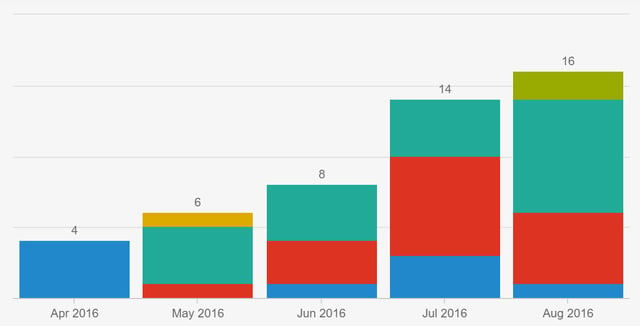 Conclusion
Our inbound marketing retainer has increased our client's web visits, broadened their social media audience and generated continuous leads in just four months. If our team can help this start up business achieve marketing success in just a matter of months, it would be great to see how we could help your business grow too.