Can an inbound marketing retainer work for B2B company? All too often, sales and marketing executives in working in non-consumer environments assume that web-based marketing isn't quite right for their enterprise. But luckily that is the case. In this article, we'll look at a case study that illustrates the kind of success companies can enjoy with strategically designed and consistently applied inbound practices.
The challenge
This company needs to keep its sales funnel consistently full month-over-month. Their marketing challenge was to generate those sales leads by connecting with corporate decision-makers, mainly directors and managers in manufacturing sector industries such as automotive and aerospace. They needed to consistently connect with new prospects, nurture and build trust with those prospects, then finally close sales with them.
ClearPivot's solution: inbound marketing retainer
The company hired ClearPivot more than five years ago to expand their digital footprint and grow their lead generation. Since that time, ClearPivot has provided a focused range of services via an inbound marketing retainer. That work typically includes:
Content publishing on the website.
Blog editing, optimization and publication – the client often writes their own text, because the subject matter is extremely technical.
Email campaigns – both standard batch campaigns and automated drip campaigns.
Publishing on social media channels such as LinkedIn.
Managing pay-per-click advertising campaigns.
Monthly analytics reporting and analysis with client.
The monthly analytics write-ups are the foundation for determining future strategy, based on what campaigns are working and what campaigns are not working so well, as seen in the marketing metrics. Some of the key metrics include:
Traffic volumes by source, to see what channels bring in the most visitors and highest-quality visitors.
Lead generation by page, to see which on-site content brings in the most prospects month-over-month.
Conversion rates of specific offers and calls-to-action, to see which marketing offers get the highest lead generation response from prospects.
The results continue to be impressive
The company's marketing investment with ClearPivot has brought sustained and measurable improvements in their lead generation rate. As an example for this case study, over a 44-month period from February 2013 to November 2016, monthly website traffic increased 330%. During that same period, monthly lead generation via the website increased 57%.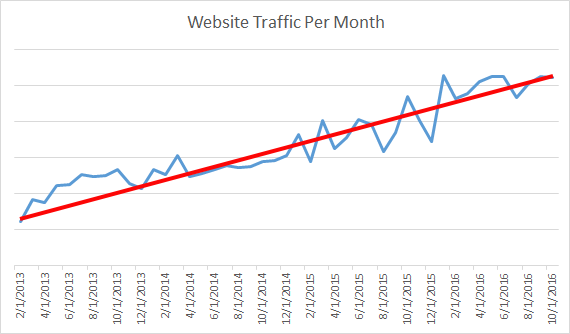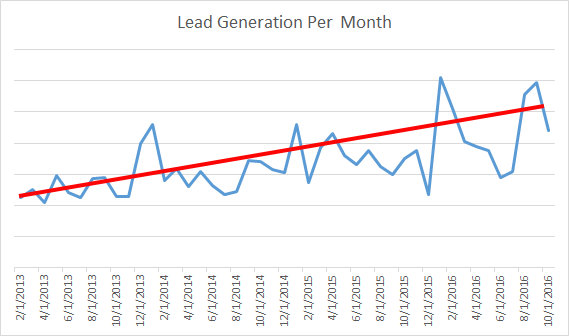 Key Stats
330% increase in

monthly website traffic

57% increase in monthly lead generation
This case study is just a sample of how an inbound marketing retainer can work for B2B companies. The retainer is a flexible tool, including a range of services individually tailored to match each client's overall marketing goals and specific marketing challenges.