It's rare to speak with the owner of a company and hear that they don't want to grow their business. This client is no exception to the rule. We have worked together for years, and their long-term goals remained steady throughout our partnership. At the beginning of the Covid-19 pandemic, they were more concerned than ever about generating new business. We decided to develop a plan that would not only generate leads now but continue to help them grow long after the pandemic was over. They knew what they needed, and we aimed to help them get it.
The problem: an unexpected change of plans
Our client performed mostly in-person services before the pandemic began. Their services usually took place at their clients' places of business. Well this worked excellently before the pandemic hit, but afterwards, new limitations on travel and in-person contact meant that they'd have to come up with a new idea. They had already increasingly been adapting internally to holding virtual meetings in place of in-person interactions, but getting that out to their clients and demonstrating their quality was a different task entirely.
ClearPivot had already implemented HubSpot for them and used it for their existing projects. Still, the broader changes happening around them meant that they needed more than just a good digital platform. Their website wasn't updated very frequently. Their email follow-ups were sparse, and some prospects usually knew what they wanted by the time they reached out to sales. But what about the ones who were still deciding?
The solution: Comprehensive Paid and Organic Marketing
Time was of the essence. The ClearPivot team quickly began to design an inbound content marketing plan. It would create ample resources for prospective clients who were still researching their problems and potential solutions. Since they were still holding training and other events, needed new ways to communicate their events to those who might be interested. This meant that they not only needed a more robust email marketing strategy but that their website would have to provide even more information to those looking for their services.
ClearPivot stepped in with a multifaceted approach. We refreshed the design of their existing eBooks and sent out emails advertising new remote options for their training and consulting services. People who opted into their email lists received fresh content every month, including blog articles, grant opportunities, eBooks, and news updates within the industry. In addition, we extended our monthly retainer's scope to include:
Updates to the website's design and content
Revised current SEO metrics and fixed technical issues
Google and Facebook ad campaigns to increase training attendance and eBook downloads
Ongoing social media posts with content from their blog, events page, and industry news sources
Updates to existing website content and new informational pages
Additional custom projects such as advertising in industry newsletters, website design updates, and webinar production
The Results: 167% increase in Leads per Month Over 2 Years
Despite the pandemic, their monthly leads steadily began to rise. A comprehensive approach to their marketing filled in the holes that had cost them potential clients. By taking charge of their online presence, they became a regular source of information in their industry. Paid ads alone would get people to their website, but who can guarantee they would have found what they needed? On the other hand, excellent website content would provide what prospective clients required, but how would they know how to get there? With a wealth of contacts in HubSpot who had already opted in to receive email updates, our client identified and leveraged its resources to create a sustainable way to generate new business.
Soon enough, results started coming in. By March 2022, their monthly leads had increased 167% over where they were before the pandemic began. While many companies were just trying to survive during this time, our client thrived.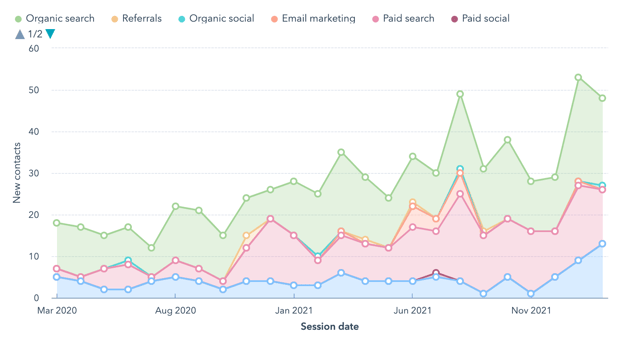 Conclusion
Our client had been sitting on a wealth of marketing resources that just needed to work together. The backbone of their updated marketing plan was already there. All that was left was to polish up the pieces and put them together. Their resources already guided readers through industry-specific topics, but providing regular, valuable content inspired readers to take action and reach out to the company.
Like many businesses, the Covid-19 pandemic posed new challenges for our client. The difference is that they rose to the occasion and embraced new plans that will not just buffer against future challenges but will help them grow. These changes have provided them with new opportunities to improve their marketing and user experience, such as updated website design and co-marketing opportunities with other businesses in the industry. By embracing the idea that challenges are meant to be overcome, ClearPivot was able to help this company increase their digital leads and expand their future opportunities.