While most every marketer can easily see the advantages to obtaining outside help for certain fixed-scope projects, the benefits of contracting for ongoing marketing production may seem more elusive. This case study illustrates how one company took the plunge, with oh-so-gratifying results.
The client: Southern Surgical Arts

A cosmetic surgery practice based in Chattanooga, Tennessee, Southern Surgical Arts helps patients achieve their aesthetic goals with natural, artistic results. The practice offers a variety of procedures for men as well as women, and consistently wins awards as the best cosmetic surgery practice in Chattanooga. Their website serves as their primary channel to generate and convert leads and educate their prospects.
Southern Surgical Arts initially came to ClearPivot because the marketing director was a one-person "team" who knew she couldn't do it all on her own. As is usual in cases like hers, she didn't have enough time, resources or across-the-board expertise. A HubSpot client, she sought their advice in finding a good HubSpot partner agency match.
The Challenge: Generate More Leads
ClearPivot completed a HubSpot website redevelopment for this client in March 2014. With their newly upgraded website in place, Southern Surgical Arts wanted to put it to work as effectively as possible. It was time to get the word out and get customers in.
The ClearPivot solution: Inbound Marketing Retainer
ClearPivot planned out and began executing a marketing retainer to attract, convert and nurture the people who were the most ideal prospects for Southern Surgical Arts. The retainer covers ongoing strategy and planning, execution and analysis, including creating offers and content and a marketing calendar reflecting the strategy. ClearPivot's retainer work includes things such as:
Lead segmentation, by gender, age and interest area (facelift or medspa treatments, for example) to sell and upsell by promoting new procedures and products.


Producing and publishing multiple email campaigns per month – general newsletter, campaigns targeted to certain audience segments using specific offers, new content regarding procedures, etc. and upcoming event announcements. Recent emails have also included "staff picks" content targeted to age-segmented audiences.


Copywriting and build-out of new web pages and landing pages.


Premium content production – usually content such as infographics, e-books, or other custom visual material.


Marketing automation workflows (ie. "drip" campaigns) focusing on major procedures such as liposuction, facelift, etc, and delivered to specific segments of the audience interested in those procedures.


Active PPC campaign management -- defining and refining keyword strategy and targeting, A/B content testing, and budget adjustments aimed at producing the most clicks for the lowest cost per conversion.


Monthly retained time dedicated to advanced marketing analytics. ClearPivot's data analytics specialist reviews HubSpot, Google Analytics and Moz data – sorting, filtering and studying everything, then distilling the aggregated information to find the story behind the data – what's working or not.


Monthly preparation of summary documents with explanations and recommendations. Specific areas of focus might include revenue performance management, conversion attribution, conversion funnel analysis, normalization of multiple marketing data points, etc.


Monthly phone meetings with client to review summary data and content planning.


Ad-hoc client consultation time as needed in addition to regularly-scheduled calls.
The Results: Wow!
The results of ClearPivot's work with Southern Surgical Arts over a three year period have been stellar, with significant growth in multiple key metrics. Some key metrics include:
84% increase in monthly visitors
674% increase in monthly lead generation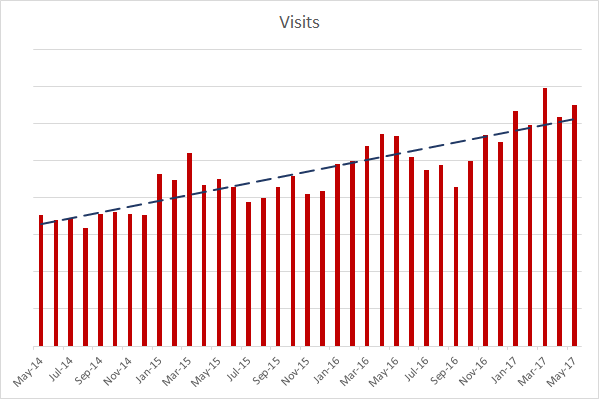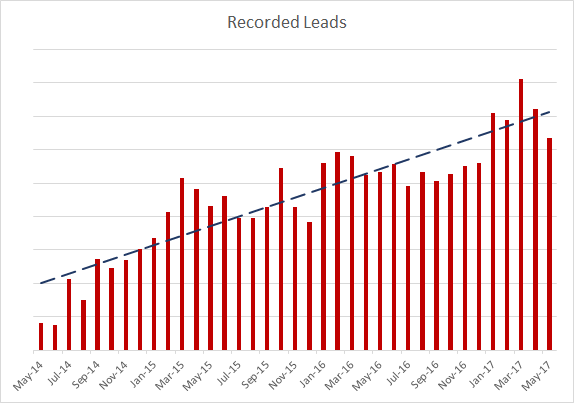 These results aren't some flash-in-the-pan aberration; they represent year-over-year growth, May 2014 through May 2017. To achieve long-term, sustainable growth requires the ability to consistently execute and constantly and analyze – the underlying philosophy of an Inbound Marketing Retainer.
Could an Inbound Marketing Retainer be right for you, too?