Our latest case study is just another example of how our inbound marketing retainers can produce fantastic results for a business. In under 12 months, we helped a plastic surgery practice more than triple their organic search traffic. Let's dive into how we achieved those impressive results.
The Client: A Plastic Surgery Practice in Orange County
Our client was a plastic surgery practice in Orange County, California. After many years of advanced surgical training, an advanced training in facial cosmetic surgery, and even television appearances, they realized that they needed to get more digitally focused in their marketing and that it was time to enlist some marketing help for their practice.
Enter ClearPivot in January 2018 to help build a successful inbound marketing strategy to grow their online presence and build up their practice through lead generation.
The Challenge: Starting from Scratch
As you can imagine, the amount of competition in the plastic surgery space in Orange County is intense. We needed to figure out how to position our client to set them apart and increase organic search and leads coming into the practice. We were challenged with the task of rebuilding their website on HubSpot and building a meaningful online presence while essentially being a needle in a needle stack.
The ClearPivot Solution: Create Content Consumers Wanted
First, we had to address the issue of rebuilding their website using HubSpot to not only make it more functional and aesthetically pleasing but also to maximize HubSpot's full toolkit to help create, implement and constantly improve a full blown marketing strategy. This allowed us to create custom forms and landing pages for their site to increase conversions and access accurate metrics for our monthly reports. It also significantly increased their page load speed (vital for both SEO and for not frustrating your site visitors), and encrypted the website connection for improved security.
Next, we needed to attract prospective customers with the content they actually wanted, to help the practice stand out in such an overly saturated market. We came up with relevant blog articles that answered the real questions people had and attracted them to their site to learn more. We also implemented several other components of our inbound marketing retainer to amplify what we had been working on:
Social media posting
Produce premium content (for prospects to download, thus converting them to a lead)
Produce bi-monthly email campaigns (Highlighting New Content & Specials)
Monthly rotating Facebook ads
PPC advertising
Monthly marketing reports (to analyze our strategy and tweak it to consistently deliver better results)
The Results: Out of this World!
Once we got everything set up and started on our inbound marketing retainer, things really took off. From Jan 2018 to November 2018, our client's monthly website traffic grew more than 300%! In less than a year the amount of people coming to their website monthly had TRIPLED.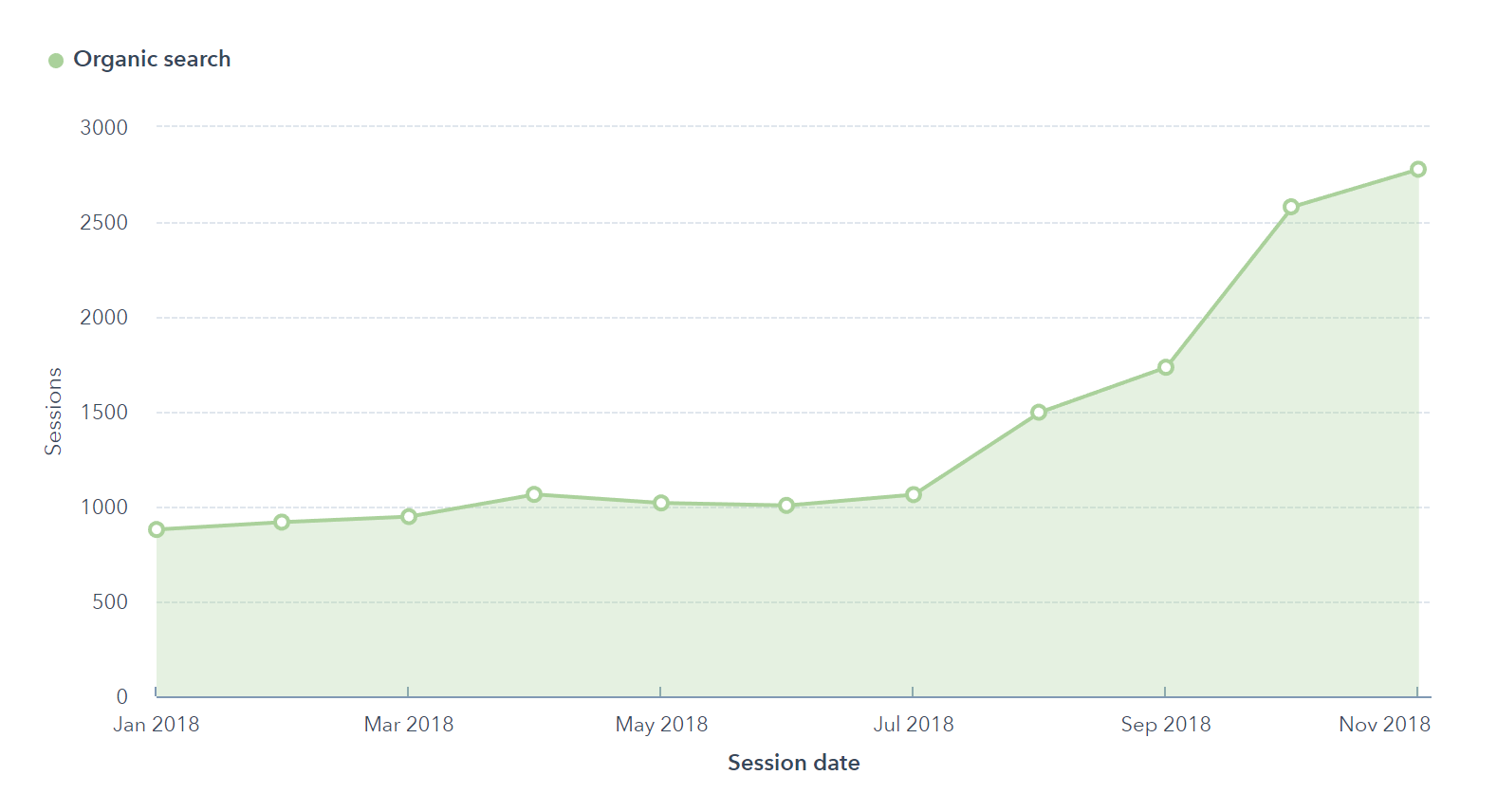 To put this in perspective, most established businesses experience single digit annual growth, if they're lucky. These results blew those out of the water. We have been extremely pleased with the incredible results we've gotten in less than a year.
Do you manage marketing for a plastic surgery practice? If you're looking to make improvements to your own practice's marketing, let's talk. It's quite possible that we could achieve similar results for your company as well.