30% Increase in Lead Generation Rate at Explorer RV
When a marketing campaign grows one key metric, such as monthly traffic, or earned audience size, it's considered a win. But when you can simultaneously increase multiple key metrics - say, monthly traffic, monthly lead generation rate, and total audience size, that's a grand slam! Our case study today will show how ClearPivot increased all three of these key metrics for our client, Explorer RV Insurance Agency.
Our Client
Insurance is an extremely competitive business and includes diverse verticals such as health, life, and property insurance. Most people can name the top U.S property casualty companies including State Farm, Allstate, Liberty Mutual, and Berkshire Hathaway (GEICO). But there are several other more specific insurance companies as well. Our client, Explorer RV, is an independent insurance agency offering property casualty insurance for vehicles and dwellings, specializing in Recreational Vehicle insurance. They have been in business since 1997 and ClearPivot first began working with Explorer RV in 2013.
The Marketing PlanExplorer RV selected ClearPivot to consolidate their comprehensive internet marketing needs with one marketing agency instead of split between multiple different agencies, each providing a piece of their marketing needs. In December of 2012, ClearPivot provided a website redesign on the HubSpot platform and created online Insurance Quote forms using the Wufoo application. Once the website was launched, we identified and removed 4,000 inactive contacts in their HubSpot system, and then began an ongoing inbound marketing retainer which includes:
Production and publication of blog articles.
Production and publication of monthly email campaigns.
Social media campaigns to their Facebook, Twitter, and LinkedIn followers and friends.
Production and publication of premium content such as downloadable e-books, checklists, and infographics.
SEO optimization.
Monthly metrics review and analysis.
Marketing automation campaigns.
Ongoing marketing strategy and consulting.
Additionally, in December of 2014, we expanded Explorer RV's paid advertising to the Facebook platform with a page likes campaign and a weekly boosted facebook post campaign. In just 2 months the facebook market reach increased 452% which prompted us to increase the monthly budget in June of 2015 to take advantage of this additional new audience growth.
The Results
The ClearPivot monthly retainer provides a continuous, strategic plan for content production and distribution along with monitoring and measurements of the effectiveness of the plan. This cycle allows us and the client to assess ongoing results, double down on what's working best, and pivot away from what's not. Strategic planning and execution has led to excellent growth in the past three years, with increased visits, lead generation, email reach, social media audience, and most importantly, more sales for Explorer RV. Over 4,000 people are opening the Explorer RV email campaigns every month. A revamped online quote system debuted in March of 2014 and by June of 2016 monthly submissions had increased by 738% which demonstrates the value of the online RV Insurance Quote process.
Visits Increased by 68%
Comparing a six month period, January through June of 2013, with the six month period, January through June of 2016, average monthly visits increased 68%.
Lead Generation Increased by 30%
Comparing a six month period, January through June of 2013, with the six month period, January through June of 2016, the average monthly lead generation rate increased 30%.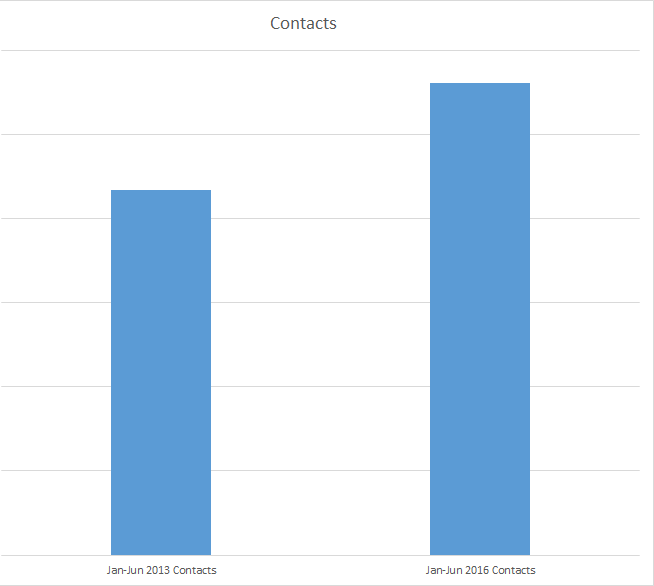 Marketing Reach Increased by 114%
Comparing October of 2013 with June of 2016, there was a 114% increase in total marketing reach, encompassing both email and social media. The average marketing reach growth has been a healthy 2.4% a month.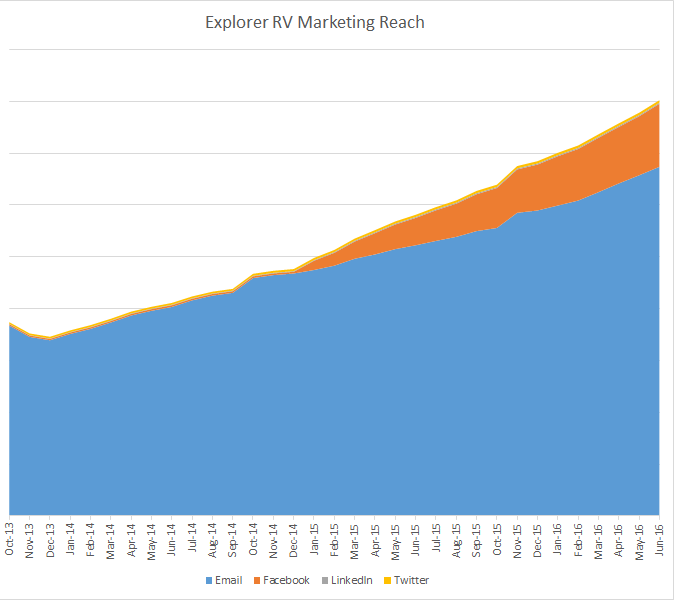 Sales Increased Year over Year
In June of 2016, our client reported that "from a sales standpoint our RV quotes for the month were up 49% compared to the same period last year; new policy count was up 33% compared to the same period last year; and there has been a healthy increase in average premium amounts."
Conclusion
The ClearPivot retainer has extended Explorer RV's marketing reach, increased their lead generation rate, and has ultimately led to more sales. Explorer RV is very pleased with the results and has received recognition others in the industry as well. Our team is proud to share our results of this successful inbound marketing retainer.
Key Stats
68% increase in monthly average traffic
30% increase in monthly average lead generation
87% increase in email distribution
114% increase in marketing reach
60% increase in total annual new premiums