Trust, like respect, is earned, not given. Successful marketing is built on careful collaboration, planning, and follow-through. Communication gaps and delayed actions spread from marketing to sales, ending with blows to a company's bottom line. That's why we rebuild trust with results. After a very disappointing relationship with a previous marketing agency that struggled to meet this client's needs, they contacted ClearPivot to see what we could do differently.
The Client
Our client operates a senior living community in the upper Midwest that gives seniors more free time to enjoy and fewer chores around the house. They provide a warm, social atmosphere while attending to their living needs. Seniors here enjoy an independent lifestyle, perfect for those who don't yet require additional health and nursing care.
Marketing for senior living communities is unique, with its consideration stage in sales lasting much longer than most other industries. Success relies heavily on the availability of information, the staff's empathy, and the accommodations' quality. Making sure all of this is converted effectively is crucial. So what happens when it's not?
The Problem
This wasn't the company's first time working with a marketing agency. That's why they came to ClearPivot. The community needed more leads, but their previous agency only delivered 3-4 leads per month. Reporting was challenging as their presentations were created in advance in a slideshow format, meaning the static data was at least a month old by the time the agency shared it with the company. Communication was challenging between the senior living community and the agency, and frequently involved emails that took days to get a response. To market better, our client would need an enthusiastic partner.
The struggles weren't entirely stemming from their agency. The community's website was hosted on WordPress, often causing struggles when plugin errors would affect the website's functionality. At one point, a plugin update caused the website's entire visual layout to break, taking over two months to fix. Thankfully, the site was small and straightforward, with only one contact form, so there was ample room to grow.
Another area that the client wanted to improve was their sales process. At the time, the client's sales team stored all of their data in Excel sheets. This kept track of contact information but deprived them of the other features they needed to improve. Searching, reporting, and updating statuses were time-consuming and awkward processes. Even their current reports were limited by their software. To build a more sustainable sales process, they would need to move all their records from these spreadsheets to a CRM as quickly as possible.
The Solution
The first and most important part of our work together was establishing trust. For a client who has been burned in the past, it's essential to set clear expectations and goals. Timelines, KPIs, and processes for communication were all decided on before the project started so the client could rest assured that the project was progressing well.
The monthly retainer would include one marketing email sent to their prospects, a piece of long-form content every quarter (like a pillar page or an ebook), 1-2 blog articles per month, Google Ads administration, and CRM administration to get their sales process off of the spreadsheets. Their website would also be moved from WordPress to HubSpot CMS to stop the problems arising from their plugins.
The Website
The first step was to get the data from their old website to transfer it to HubSpot. This involved working with their former agency to get the information needed for the migration. Once the information was prepared, the HubSpot team automatically migrated their website as it appeared in WordPress.
After the HubSpot team migrated the site, ClearPivot created additional pages and forms, such as one to schedule a tour of the facilities and another to request more info. By making these forms, their prospective residents can request the information they need and get quick responses. Also, once their website was on the same platform as the rest of their marketing, they would be able to generate better reports to understand their overall performance.
Google Ads
After their lack of performance with the previous marketing agency, the client put great focus on improving their Google Ad campaigns. They clarified their expectations about what they didn't like about the old agency's approach and how the results affected their sales. ClearPivot discussed exactly how many leads she could expect each month and established regular check-ins to ensure that ClearPivot consistently communicated the performance to her.
The first thing that ClearPivot did was research the demographics. Fascinatingly, they found that the target audience is about 15 years behind in current technology, meaning that the calls to action and information must be clear, warm, and easy to understand. ClearPivot also found that requests for information on senior living spike seasonally, with the highest peaks in inquiries happening after the holidays. Why? After sometimes months of not seeing an older family member, families get together for the holidays and may notice that their loved one needs more help than before accomplishing tasks around the house. Senior living communities must be prepared to handle more calls and requests for information by the time the holidays wind down.
After completing the research and adjusting the Google Ad campaigns, the leads generated by ClearPivot's new Google ads skyrocketed. In fact, their sales team struggled to keep up with the increase. The biggest accomplishment was when the point of contact from the senior living community began requesting fewer calls and updates from our team, showing that the results had built back their trust.
Their Content
The last major piece of the client's marketing strategy was their website's content. Providing clear, empathetic information builds trust with prospective residents, helping them understand where they want to live. For this reason, having a well-built blog helps future residents and those helping them find information.
After the most time-sensitive elements of their marketing were fixed, ClearPivot started writing regular blog articles based on the most commonly requested information for senior living clients. Because ClearPivot works with multiple other senior living communities, the team used their expertise and industry knowledge to brainstorm top-performing topics. They used keyword research and Google search engine result pages to plan out what they needed to appear in the right searches.
The Results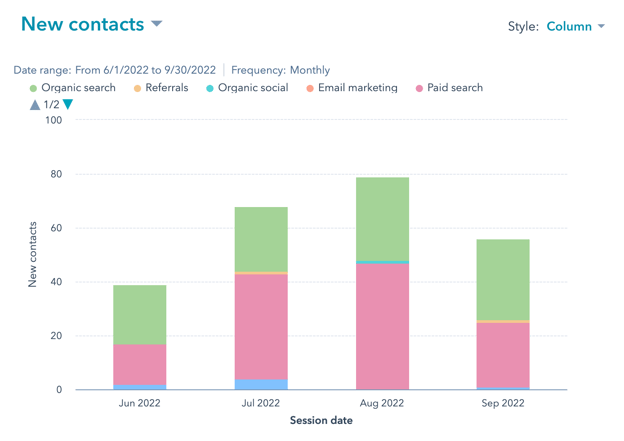 The results of our work speak for themselves. They went from getting 3-4 leads per month with their previous agency to getting 40-80 leads per month with ClearPivot. That is a 10x increase!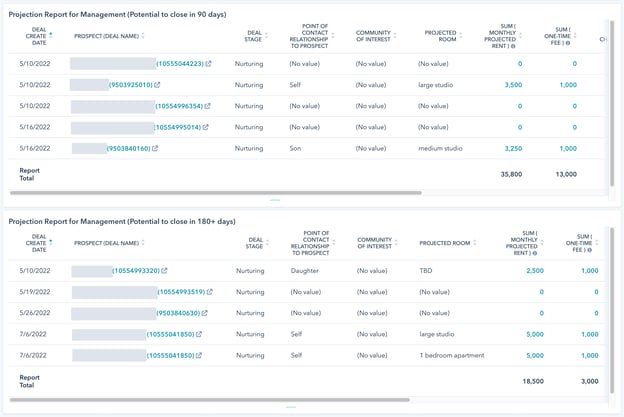 Our ClearPivot team also moved their sales team off of the manual spreadsheets they were using into HubSpot CRM instead. We built out custom pipelines, properties, views, and dashboards built around their specific sales process and their target prospects' unique attributes. This prevented leads from getting lost, systematized their sales process, and gave them significantly more accurate visibility into their sales pipeline and 180-day forecast.
Conclusion
Restoring faith after a bad experience with a marketing agency is the first step to new success. 50% of the success rides on the plan–the other 50% rides on communication. By establishing a clear strategy and remaining consistent, ClearPivot was able to reach the client's goals and re-establish their trust. Success is a team effort, and with the proper collaboration, ClearPivot was able to help this client get the results they needed.