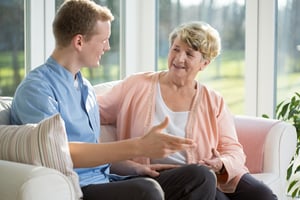 Your website is one of the most important tools you have to communicate what your senior living community is all about. And what better way to showcase that than involving your residents? Letting residents tell their stories through your company blog, email, and social media channels enriches a sense of community and helps those thinking about moving in decide if it's right for them.
Since content involving the people living in your community often tends to perform better than many other types of subject matter, it's crucial to know how to do them right. Here are the most important things you need to know.
1: Plan your topics in advance
Imagine if you were asked to participate in an interview for a local newspaper. Which question would be easier for you to answer?
"So tell me about yourself."
"What made you decide to work with seniors?"
If you're like most people, you picked the second. Specific, well-thought-out questions make for easy interviews. And well-planned topics help you develop your questions.
When creating your blog, it's best to have your topics planned out several months in advance. You can choose a topic for every quarter, every month, or however often you need based on your posting frequency. For monthly topics, you might want to write on a holiday that month, such as Mother's Day or Veteran's Day. You could also look at other recurring events like "Breast Cancer Awareness Month" in October or "Heart Month" in February.
Your residents are your inspiration
Another idea is to celebrate the stories of your residents' lives. Your residents have incredible stories to tell. They all have, literally, a lifetime of experiences. Centenarian residents, in particular, have a wealth of experiences to share. If you're lucky enough to have one or more centenarians in your community, make sure you use this opportunity to hear and transcribe their stories. Since they're a unique part of your community, take this opportunity to celebrate the richness of their lives.
Think about it like this: What experience does your resident have that makes them unique? Have they lived in your community for a very long time (10+ years)? Have they lived in other countries? Have they served in the military or achieved something incredible in their career? These are all areas that you'll want to highlight in your blog.
Involve their families
Your residents aren't your only source of inspiration. What's it like for the adult children of your residents to participate in your community? Remember that the adult children of your prospective residents often have a substantial role in choosing their community. They'll be looking for examples of how you help residents stay close to their families, the shared activities you offer, and how you ensure their loved ones are living life to its fullest.
An excellent way to showcase this is by highlighting the events in your community. Take pictures, ask the residents and their children what they thought, and show how you go the extra mile for them. Articles like these make great highlights for newsletter emails which can be sent to both current and prospective residents.
Your residents have their own stories, but they're far from the only characters. Involving their families in interviews gives you a deeper understanding of their lives and what makes them special. It's ideal to have your resident and their family together at the time of the interview, but you can interview them separately in the event that their schedules don't line up.
2: Prepare your residents for their interviews
The best interviews happen when your residents are prepared. Ideally, the writer of your article should be the one interviewing your residents. If they can meet them in person, fantastic! If not, there are steps you can take to make sure that their phone or video interview goes smoothly.
In-person interviews
Face-to-face interviews are highly preferable when involving your residents in your marketing. Since the writer will be physically present, they can handle any technical needs, leaving your residents free to relax and talk about the topic. Having a conversation face-to-face is easy and natural. Being able to see the body language of the interviewee adds an extra dimension to the interview. You'll still need to schedule the time in advance and allow the resident to prepare themself for the interview (i.e. informing them about the topic and encouraging them to think about what they'd like to say), but you can leave out several of the steps that you need to take for a smooth video or phone interview.
Video interviews
When it's not practical to interview your resident in person, your next best option is a video call. If the person that is being interviewed will benefit from extra health precautions, like limiting interactions with people face to face, this lets you capture their body language and tone of voice almost as well as an in-person interview. However, keep in mind that video calls can be challenging to arrange alone for many of your residents. If you opt to do a video interview, have a staff member on hand that can help them work out the technical details of the call, especially if they're not very computer literate.
Phone interviews
Phone interviews are the easiest kind to arrange for your residence. With some simple preparation, you can help your residents understand what to expect so they don't accidentally miss the call. Here are a few pointers:
Let them know in advance the date and time of the interview
Make sure they understand the topic they'll be interviewed on
Share the number or the area code of the phone number that they can expect the call from
Let them know how long they can expect the phone call to be. Many of the interviews last around 20 to 30 minutes, depending on the length of the article and the subject matter
It's important to emphasize that your residents should know the details of the phone number that will be calling them. It's not uncommon for people to think that calls coming from an unknown number may be spam, and with good reason. This extra step will help ensure that they pick up the call when your interviewer reaches out to them.
3: Make sure you're fully utilizing your content
The steps above will help you enjoy a smooth interviewing process. But what do you do after the article is done? This is your chance to make a big impact, both on your prospective and current residents and their families. It's not enough to just upload your blog to your website and call it a day. Be creative and tactful about sharing your new content. Here are some ideas.
Send out a monthly newsletter email sharing your residents' stories
Use snippets of your article for social media posts with pictures of the person you interviewed
If you recorded your video interview, upload clips with captions to your YouTube channel and other social media platforms
Conclusion
When prospective residents and their families are evaluating your senior living community, they picture themselves in your current residents' places. When you share the stories of the people living in your community, you demonstrate by example that you take time to see each person as an individual. Even more than attracting new residents to your senior living community, this special attention builds lasting bonds with the people that already live there and their families.
The most valuable source of information for senior living marketing is already residing in your community. Empathy, attention, and the shared celebration of each person's life brings you closer to them and your future residents.