How a Video-Based Sales Process Can Actually Improve Your Results
The big sales and prospecting change we've been hearing about through 2019 and into 2020 is how moving over to video can help improve your customer service, sales, and prospecting effectiveness. And by all arguments, it makes sense. I've moved over for about the past 3 months, and here's what I've learned in 7 key areas.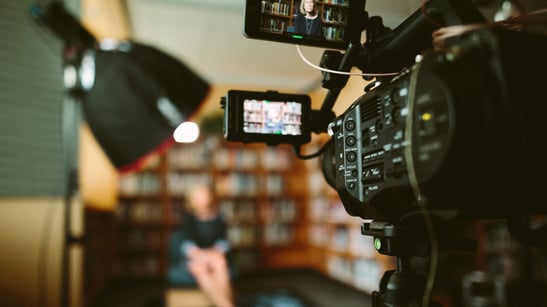 1. Following up your video email with a phone call, a day or two after you sent the video, increases both your open rate, as well as the chances of you connecting with the contact.
Provided that you're using something like Vidyard or Wistia, be sure to track the open rate of your emails. If someone opened your video and watched it, but didn't respond, consider whether giving them a phone call might help. It could be that they don't have time to respond to your video with an email. Should you send a video email introducing your business before you call? Sure. The book BombBomb taught us over 10 years ago that effective cold email prospecting has moved away from the the plain text email and over to video. But should you send a personalized video, having named them, and then not follow up with a phone call? No. Salespeople who prospect using a multi-touch method are much more effective in their overall ROI outcomes from time spent prospecting. Does it take more work? Yes. Will you reach as high of a quantity of contacts as you once did with cold-calling and plain text emails? No. Not by a long shot. But using personalized video communication can yield better results in a lot of cases.
2. Prospecting in 2020 is about personalizing, via video, your offering in a way better than it has been done before.
Being personal and specific in every single sales video can be tricky, because it is an investment of time and energy that isn't always met with thank yous and smileys. Some people consider the contact an unwelcome distraction, even if you are offering valuable help.
If you're a prospector today, even in the inbound world, you may have to endure rejection like this at times. Even if you're warm calling, you're interrupting the prospect's day if you don't have a confirmed appointment, and the last thing you want to do is dominate the conversation with a pitch about your company and the details behind your secret sauce or special processes.
---
COLD CALLING TIP: Come up with a clear statement on what your company does, be able to introduce yourself and say within 20 to 30 seconds, and then state, in the form of a question, why you are calling.
---
3. Personalized video helps you make an outstanding first impression.
Marketing agencies have a responsibility to represent their brand from the first prospecting call or video email, all the way over to every post-sale interaction on an engagement with the client. Taking this seriously means that you have to take yourself and your prospecting seriously and intelligently with an eye toward making an impact within the first 5 seconds someone sees your video message. Research, make your contact attempts, log the results, take that back to your boss or team.
---
CONTENT CREATION TIP: Watch your videos and critique yourself. Reflect on the results of your video communication, and write in a journal about your prospecting experiences. Go back every couple of weeks and read all of the entries. How is your agency's content strategy helping or hurting you? How are different approaches to video working out?
---
4. Cold calling is truly, really, absolutely dead, regardless of what fanatical prospectors and outbound 'experts' might tell you.
Cold calling is unequivocally dead, but warm calling is real, and it's where smart sales teams are headed. So, what tools do you need to get started on sending personalized video emails to warm your prospects?
Vidyard, Wistia, or Loom. I highly recommend Vidyard Pro.
Any tool that will allow you to find a list of company names for a target industry. Examples would be: a combination of Hunter.io, and LinkedIn. Another example would be Zoominfo, although the latter's pricing is not for the small business.
Once you have a list of 200, then go after those 200 or so, and see where it takes you.
Vidyard's teaching and training available for beginner users is second to none in the industry. There is currently also a glut of training videos on YouTube about it at the present time.
5. Attempt to get your prospect to talk, but don't crowbar your way into a conversation someone doesn't actually want to have.
A perfect connect call would be one where you sent an introductory video email beforehand, you did 20 to 30 minutes of research on that company or person (if a person, you'll have to have access to something like this type of database to really drill down), and you found out whether they wanted to continue to talking or book a meeting within 90 seconds of them answering the phone.
But what if you did all your prep perfectly and they still don't want to talk? Guess what, that means they perceived your attempt as a cold call, and there is nothing you can do about that. End the call, log your results, consider that a closed lead, and move on to the next. Sometimes, it takes investing hours and hours of time to get to a yes. That's what the big experts won't tell you.
6. Personalized video will get you more email opens. (Notice I didn't say 'more deals'. That's right. Once you catch a fish, you still have to sell it.)
Do personalize your videos. By personalized, I mean either take a photo with a small white board saying "Hi [Firstname], I made this video for you", or, if you don't do the photo thing, just make sure your subject line actually says "Hi [Firstname], this is Ryan with ClearPivot. I made this video follow up for you."
---
More Tips for Successful Personalized Videos:

HubSpot has enabled video tracking via its Vidyard integration, take advantage

The

Vidyard Starter subscription level

gives you the ability to put interactive CTA's into your videos
---
7. Don't be discouraged when marketing and sales don't align. Just keep marketing.
Here's a little secret you'll have to get used to, wherever you do sales in this inbound marketing environment: your marketing and sales will never be perfectly aligned.
Do you feel better? I do. Because it's reality. There's no sense in buying into a utopist philosophy that one day, in only certain organizations, if they would just work together, sales and marketing will be aligned, and that those case studies will sell the rest of the business world on that philosophy. Guess what? That's a pipe dream, and it always will be. Why? Because most c-suites and sales teams are impatient. At the end of the day, impatience is what causes good marketing efforts to go back to being crappy again. Don't get sucked into impatience. Stay the course, keep doing what you're doing.
Think Toward a Post-Coronavirus World. Business Will Go On, and So Will You
Now that the new normal of indefinite quarantine is here for April 2020 (and who knows how much longer), your decision to prospect has to be based on hope, sensitivity, and thinking forward to a post-coronavirus time. Will your sales go down during this time? Maybe, and it's ok to pause all your prospecting if you think that is the right thing to do.
However, what would happen if you gave prospecting during this time some real thought, and were creative and intelligent about how you went about it? At the very least, you'd get a few responses that were as creative and intelligent as what you put into it. And you never know, maybe a few of those closed-lost deals from last year will come back to life when you use video.