A Multi-Dimensional Approach
Successfully marketing the medical equipment your company makes requires a multi-pronged approach – using a variety of formats and channels to reach each of your key target audiences. The complexity can quickly overwhelm you. Technology is crucial, to streamline processes and ensure content is published on time, in the right place. But you need the right tool to do the job well – and as effortlessly as possible.
The HubSpot platform has long been the go-to solution for companies across virtually all sectors that want to maximize results and ROI from their digital marketing. For medical device marketing, HubSpot is ideal for reaching out to prospects, nurturing them as leads, converting them to buyers, and keeping your company top-of-mind with them in the future to encourage repeat sales.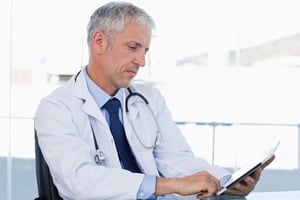 As a comprehensive platform, HubSpot incorporates specialized tools designed to assist with all key areas of digital marketing. As a medical equipment marketer, you should be using each of these tools on a regular basis.
Email
Email is ideal for communicating with a single contact or a select group of contacts. You can announce a new product you know they'll be interested in, or a short-term pricing discount, or exciting company news. Emails that are targeted, with relevant content, deliver far better results that old-style "mass-blast" emails.
Workflows
A workflow is a series of sequential emails – typically four or five – that all relate to the same topic but in slightly different ways. For example, you might create a workflow directed toward radiologists who have visited your website, if you make ultrasound equipment. Email messages could link to blog articles you've written about the subject, testimonials from hospitals or clinics that use your device, an invitation to subscribe to your blog, and so on. As soon as a contact responds to one of the emails you have accomplished your goal, so HubSpot's workflow tool automatically stops sending that person the remaining messages in the series.
Social Media
It is every bit as important for B2B brands to participate actively on social media as it is for consumer-direct marketers. LinkedIn, Facebook, YouTube, etc. are crucial to introduce your brand and products to medical professionals, distributors, etc. You can share videos about your products, links to your landing pages or blog, and survey specific audience segments. Thanks to HubSpot social media tools, you can manage all those postings and conversations without missing a beat.
Landing Pages
Landing pages are the point where website visitors convert into true leads you can then engage with. Each landing page makes just one specific offer, with one call to action (CTA). That might be "download our free whitepaper on current trends in laser skin rejuvenation," or it might be "schedule a product demo." Because the page is so concise, every detail is critical, from the content and images to the size, color, font and placement of elements, to the CTA wording. HubSpot enables you to create dynamic, inspiring landing pages and A/B test them till they are just right.
Calls to Action
Along with landing pages, other pages on your website, your blog articles, and the emails you send contacts should all carry a call to action. Your primary goal with every marketing move is to generate a response, and that works best if you literally tell them how to respond. Call, click, download, read, watch . . . action verbs are critical. Savvy medical device marketers plant CTAs everywhere they can, giving prospects and leads myriad opportunities to convert. HubSpot lets you create dynamic CTAs that resonate strongly with each visitor, greatly increasing likelihood they will take the next step in with you.
Smart Content/Personalization
In today's information-overload world, it is obviously essential to carefully target your marketing, so you reach the right prospects or leads with the right timely, tantalizing content. Do that, and you will be rewarded with higher response rates. But, as HubSpot's research has shown, personalizing your marketing motivates even more people to respond -- 42% more.
The platform's Smart Content and personalization tools allow you to go beyond addressing folks by name in emails and website greetings to individually tailoring content presentation. When prospects and existing customers feel recognized and understood, they trust your brand and products more. And trust is the foundation of every long-term purchasing relationship.
HubSpot Analytics
As an equipment manufacturer, your company tests – and tests, and re-tests – products during the design process and in trials, to be sure it's the best it can be. Even after it hits the market, you keep working to continuously refine each product. Your marketing needs continuous improvement, too, so you remain innovative and relevant to your audiences. HubSpot Analytics tools allow you to create, monitor, and analyze results of campaigns. You can zero in on target audience segments, marketing channel, and numerous other metrics to identify precisely what is working and what needs work.
Putting the tools to work effectively
HubSpot's automation simplifies, saves time, and ensures consistency in your marketing. It helps you create, target, and deliver content and collect and analyze data to continuously refine your efforts and improve results. That's all great. But it still takes planning, skill, and time to execute campaigns effectively.
Naturally, there's a learning curve associated with any complex software platform, just as your customers must learn how to use your equipment to become skilled and produce the best medical outcomes.
When you team up with ClearPivot, you not only get experts who understand medical device marketing, you get a partner dedicated to helping you build customer relationships and sales. We'll help you understand the ins and outs of HubSpot and guide you in using the platform so you can enjoy maximum marketing benefits and ROI on your HubSpot investment. We're ready to talk whenever you are.
Meanwhile, we have put together an excellent A-Z guide to medical device marketing, just for medical device manufacturers. It's filled with meaty information and actionable advice you can start to implement right away. We think it's a must-read. So here's our call to action: download it for free below.