Snapchat: the video and picture messenger that sees 158 million active daily users, offers its users a social media portal for sharing videos and images from their daily lives. In the five-plus years that Snapchat has been active, it has become not only a portal for social users, but also one for potentially effective exposure for businesses as well, and I'm not just talking Snapchat ads.
Let's Talk About Snapchat Geofilters
The filters feature on Snapchat is a big driver for the popularity of this social tool. If you have used the app before, you may have seen filters pop up on your left or right swipe that indicate what city you are in or an event happening in your area. These filters centered around your geolocation are not created by the app itself, but by its users.
Geofilters can be a visually powerful way to promote your company, location, or event to Snapchat's users in your geolocation at any given time or date. All you have to do is upload your design or use one of Snapchat's templates, pick a time you want it to broadcast, set a geofence (square area you'd like your filter to be seen by users), and submit! Your geofilter can be reviewed within 1 business day and it is relatively inexpensive to run! Make sure to click here for more information on submission guidelines.
Types of Geofilters
Community

The first type of geofilter that can be submitted to Snapchat is called the Community filter. It is available for artists, designers, or everyday users to care and submit geofilters of their area, school, or landmark, free of charge (as long as there is no brand promotion included).



On-Demand

The second type of geofilter is called the On-Demand filter. This is a great feature for businesses and individuals to purchase geofilters for an event, location or just to promote their business in general. With this type of geofilter, branding and logos are permitted (but not hashtags or URLs).

On-Demand filters are relatively underused in the advertising world right now, which can give your company a great competitive edge for reaching the apps' users. These geofilters act like a normal filter; the user snaps a photo or records a video with your design overlayed over the top. When you purchase an On-Demand geofilter, you also gain access to the analytics Snapchat records from the time your geofilter is live and active so you can assess the success of your efforts on the platform.

You can see below what I am talking about by looking at experience using On-demand Geofilters and our successes with it at Hubspot's 2016 INBOUND conference.
ClearPivot Geofilters Take on INBOUND'16
Before our Principal, Chris Strom, headed to INBOUND last fall, we decided to run an experiment with Snapchat's Geofilters. We created two filters for the conference; one that was a more generic filter with our logo and the INBOUND messaging, and one that was designed specifically for the Gary Vaynerchuk keynote talk. You can see both filter designs, side-by-side, below.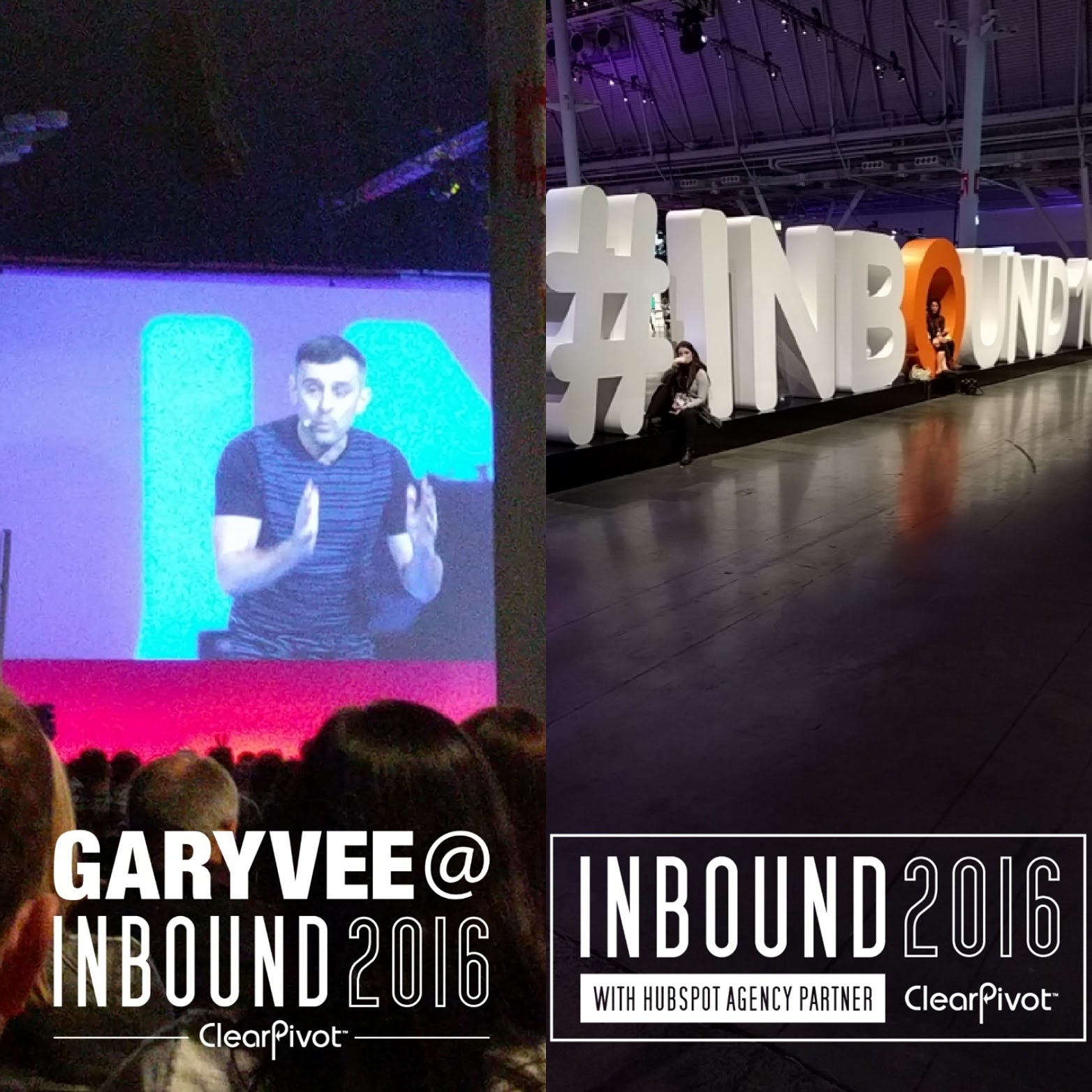 We ran the custom geofilter on the right during the regular breakout sessions on Thursday morning of INBOUND. Below, you can see the results for this filter. It was used by 48 people at INBOUND and was seen by a little over 2,000 people in an 882,348 sqft geofence.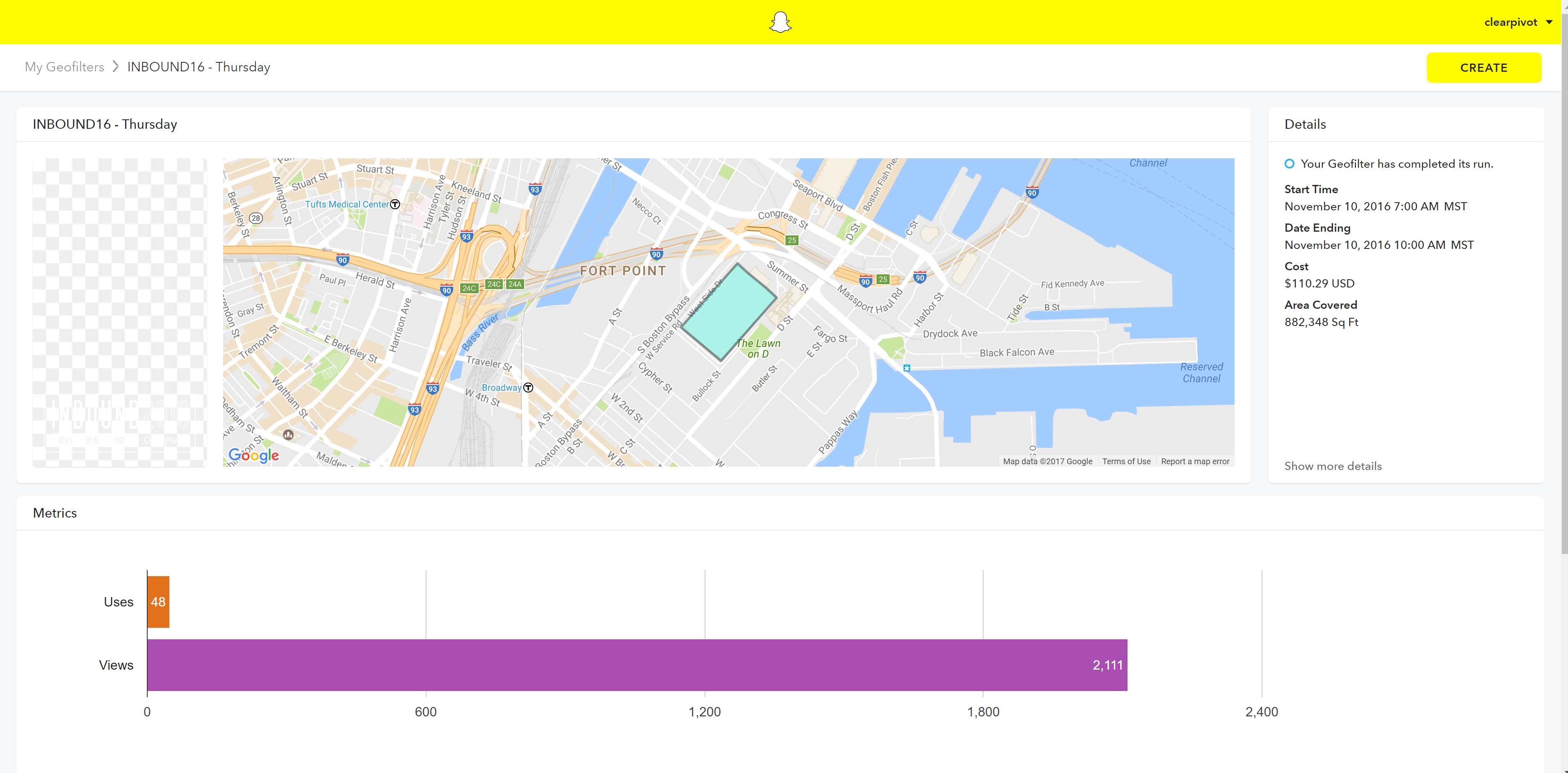 The filter on the left we ran during the Gary Vaynerchuk keynote — and the results were 20 times better! We doubled the amount of users at 102 and had nearly 49,500 views during that keynote. Based on this kind of data, it appears that big, memorable moments like keynote speakers definitely seem to be the place to focus on for events like INBOUND. That's where everybody's snapping.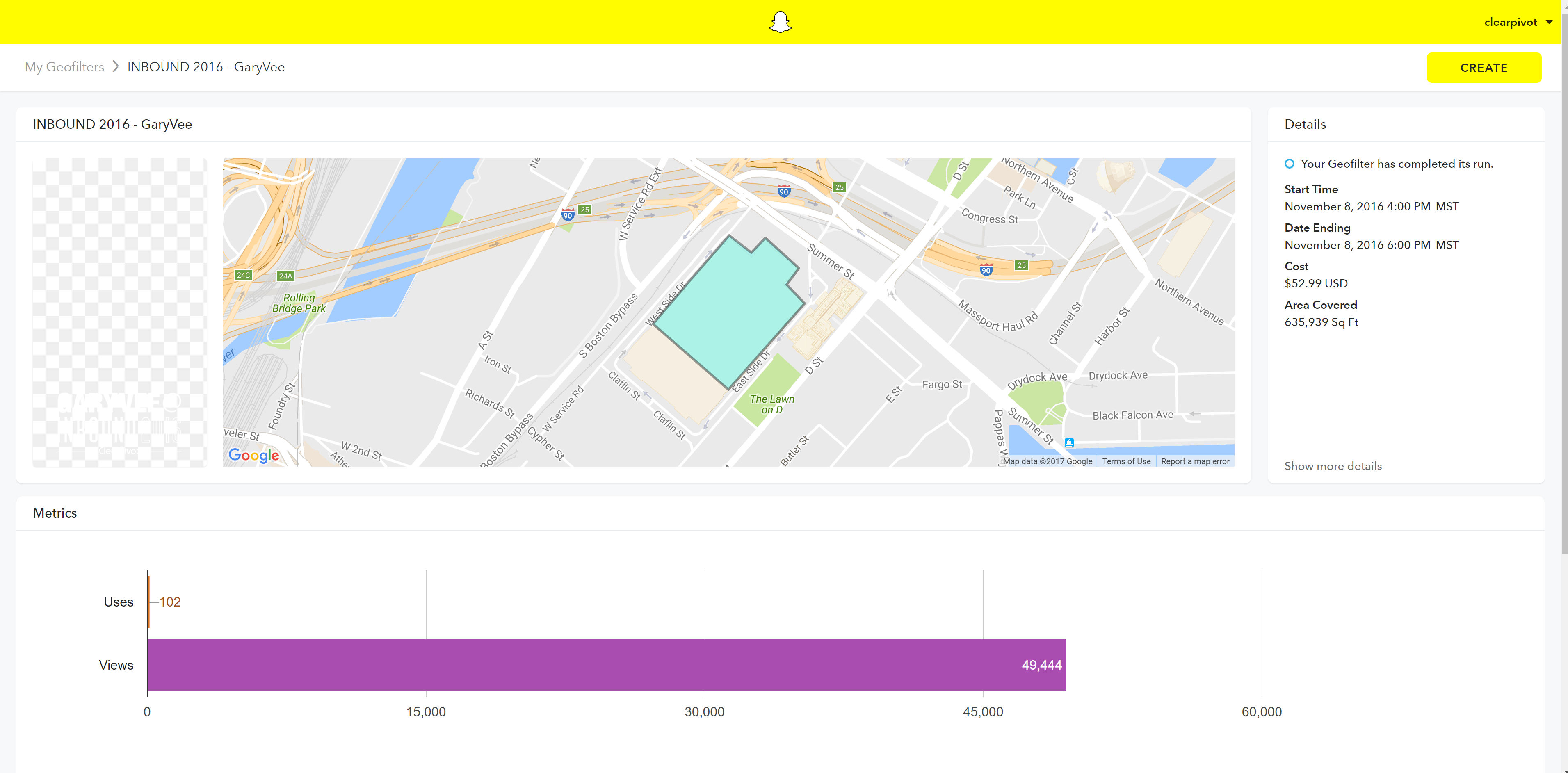 Based on these results, we certainly recommend using Geofilters to promote your business or brand! Whether in your area, or at a major event, Snapchat geofilters can be a very effective way to expand the reach and exposure of your company to Snapchat's vast user base!
Interested in discovering more ways to use Snapchat to increase your brand awareness? Take a look at our Snapchat playlist on YouTube for examples of how to implement the app into your monthly marketing plan! And while you're at it, download the e-book we've put together teaching you how to best implement many of the most popular social media channels for your business - use the button below to grab your copy: