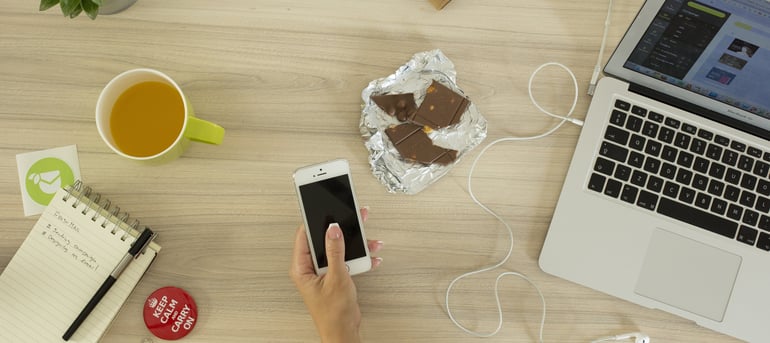 It's pretty clear that when it comes to mobile vs. desktop web use, mobile wins hands down the majority of the time since our phones are always with us. This, however, does not make desktop obsolete for marketers in any way. On the contrary, desktop is still a worthy opponent for mobile and should not be overlooked in your marketing plan. So what exactly are the pros and cons to both? Let's take a look at the challenges and opportunities for mobile vs. desktop.
Engagement
Mobile devices require users to be more "hands-on" than with desktop, so it's no surprise that mobile drives better engagement results than desktop (according to Adweek.com), especially when it comes to video ads. Mobile video such as Snapchat is oftentimes delivered full-screen without all the distractions you get on desktop. Since the ad appears more prominent on a smaller screen, it allows for better viewability, completion rates, and overall interaction.
Shareability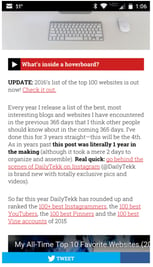 Social sharing can provide a huge acceleration of your online branding potential. As discovered in a recent study by ShareThis, website users are almost twice as likely to share content from their mobile devices as they are from their desktops. Many sites use social sharing plugins originally designed for desktop that don't work properly on the mobile version of the site. If you decide to use a plug-in for your social sharing buttons,make sure that you have considered all the ways that they'll be used by your visitors.
As seen in this mobile screenshot, the social sharing buttons do not fit properly across the bottom of the screen. I have a larger Android device with a larger screen, so I can see part of the Facebook sharing button at the bottom of the screen. If I had a small iPhone device, I would only be able to see the Twitter sharing button.
Buyer's Journey
The buyer's journey is expedited on mobile leading to a conversion percentage nearly three times higher than the same search done on a desktop or laptop. As stated by Marketing Pilgrim, an astounding 70% of mobile searches lead to online action within an hour. Mobile searchers are buyers, assuming you can meet their needs. When a user grabs their mobile device to search, it's typically because they have a specific and immediate need to fill. Whereas a desktop or laptop user is more likely to be just browsing, researching, or satisfying curiosity about a specific product or service.
You Need Both!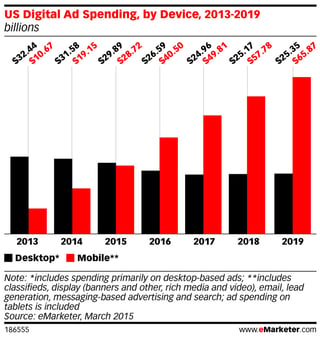 As businesses begin to focus and spend more on mobile ads, it's vital to remember not to discount the value of desktop marketing. The eMarketer graph above shows a significant increase in mobile ad spending over the next four years. However, notice that the desktop ad spending is not expected to decrease significantly to account for this increase in mobile spending. In fact, desktop spending is extremely stable for the entire seven year period displayed. As long as desktops continue to exist, so should desktop ads. Mobile ad spending primarily is growing in addition to desktop ad spending as total digital marketing budgets continue to increase (in contrast to the flat or decreasing ad budgets being allocated to traditional channels like print and broadcast radio). As internet-based media increasingly becomes the primary focus of peoples' attention, marketing on both mobile and desktop devices continues to be the biggest business opportunity for most companies.