11 Key Components of a High-Impact Medical Device Marketing Strategy
Perhaps your medical devices are so unique and miraculous that they sell themselves.
That would be nice, but it's far more likely that you need to introduce your equipment to potential purchasers and users and give them solid reasons to buy from you instead of a competitor. Effective medical device marketing takes time and costs money. To be successful, you cannot afford to leave anything to chance.
Your fundamental marketing goal is lead generation. When you attract truly interested prospects and keep them interested as they learn more about your company and the medical devices you offer, you pave the way for more sales. It's as simple as that. But, of course, it's not simple at all.
Your Medical Device Marketing Toolkit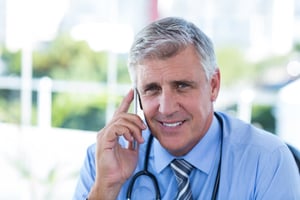 Medical device marketing that sells starts with a carefully-thought-out, comprehensive strategy. It has to address every opportunity to reach prospects and leads at every buying stage with messaging that resonates with them, right then. If you think of your marketing strategy as a toolbox, you will need to fill it with 11 tools of implementation to assure optimal sales outcomes.
1. Your Brand
Branding is amorphous because it's all about perception. While the expression "perception is everything" isn't quite true for medical devices (science and functional performance are also crucial), your company's brand has immense power to open doors with prospects and secure lasting customer loyalty.
2. Your Website
Forget the platitudes. Medical professionals, CFOs, and your prospects want as much information as they can get about your devices – how they work and how they will benefit their practice/hospital and patients. More than half of all website traffic now comes from mobile devices. Busy medical professionals have embraced mobile in a big way, so responsive website design – its ability to detect and adjust to display optimally for any type of device – is critical. And, by the way, just short of half of all emails are read on a mobile device, so a mobile-friendly design is essential throughout all your marketing.
3. Landing Pages
Special offers, downloadable premium content such as whitepapers and e-books – when website visitors see something they want, they click through to get it. And, with that conversion, the engagement process begins.
4. Your Blog
Where your website is a relatively constant source of essential information about your company, medical devices, and services, your blog is a constantly refreshed source of inspiration as well as information. You can post case studies, industry trends, company news, how medical professionals are using your devices to boost patient outcomes, introductions to premium content, links to product or testimonial videos, even articles, and videos aimed at patients themselves.
You're establishing your brand as "that company" that is the go-to resource for useful, interesting, current information.
5. Social Media
From LinkedIn to Facebook and Twitter, medical device marketing depends on social media. It links you with top target groups as well as individual prospects, leads, and existing device users. Social media interactions reinforce your brand's reputation and spread the word about your products, engaging patients as well as your targeted sales audiences.
6. Email Marketing
We mentioned lead generation at the beginning, and email remains a proven winner when it comes to converting prospects and staying in touch with them as they move closer to a buying decision. Email can be targeted to specific segments of your audience, or to individuals.
7. Online Advertising
Sometimes you can't get the reach you want organically. For example, while Facebook is an important part of your social media mix, you'll likely only reach 5% to 10% of your desired audience. Paid advertising enables you to zero in much more effectively, so it can be a highly cost-effective approach for certain marketing campaigns.
8. Offline Advertising
Old favorites such as print advertising, trade shows, and public relations effort still play an important role.
9. Events
This is a good way to outshine competitors because many marketers have yet to discover how effective events can be. Yes, you do key trade shows, but if you have "patient-facing" devices such as laser skin rejuvenation tools, you should be taking advantage of consumer events such as health fairs. Even better, you can team up with your customers to do in-clinic events that introduce patients to the benefits your products have to offer. Sponsorships are another way to broaden and reinforce your branding.
10. Distributors
Whether you have an in-house cadre of sales professionals or you rely solely on a network of distributors (or you use both), these are the people who are out there closing deals. In many ways, they are your #1 marketing audience. They can't do a bang-up job unless they have all the information, materials, etc. they need, right at their fingertips. When you understand their greatest challenges and what they require to do their jobs successfully, you'll be in the best position to give them exactly what they need and want. Do that, and they'll make you their #1 priority, too.
11. Budget Planning
Yes, marketing takes money. Thankfully, online marketing techniques are not only wildly successful (when done right), they are highly cost-effective. Nonetheless, you want to devote a sufficient budget to marketing your products to ensure you can do an effective job. You don't need to over-spend, but skimping begets skimpy results. How much is the right amount? That depends on your company, specific type(s) of products, and other factors as well as your ultimate goals and strategy.
This is just one area in which working with medical device marketing experts like our ClearPivot team ensures you get sound advice you can take to the bank.
What's Next?
Following the above outline, you've assembled the implements necessary for successful medical device marketing. They're all integrated -- each designed to fill an important niche within your overarching marketing strategy -- so that, all told, you can achieve the broadest, deepest outreach to your most valuable audiences. Good job! Now it's time to fill in the tactical details so you can put that strategy to work.