Lead Generation Methods for Cosmetic Surgeons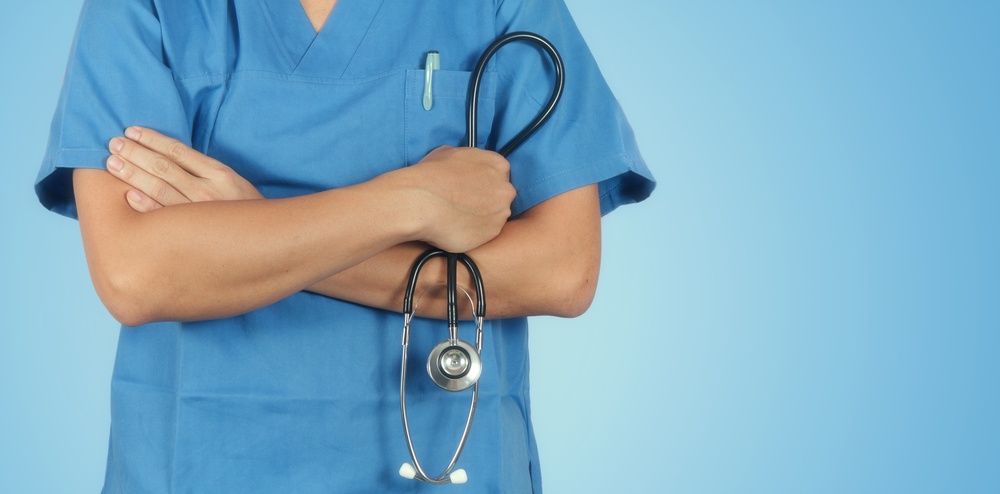 What is the most effective way to attract patients to your practice? While aesthetic enhancements such as cosmetic surgery are in high demand, there are many options available. Transitioning a prospect from a complete stranger to a loyal, rejuvenated referral source takes several stages and many weeks or even months. What are the stages involved in this transformation?
Stage 1: Awareness
We begin by reaching out to people who may be interested in aesthetic enhancements to make them aware of the services you offer. Attracting and interacting with people who show interest in your practice is referred to as lead generation.
Stage 2: Consideration
Once a person knows about your practice, you will have the opportunity to learn about their desires, budget, and timeline. Using this this information to cultivate relationships with leads as they consider their options is known as lead nurturing.
Stage 3: Decision
As leads are provided with general and specific information about your practice, your surgeons, and desired aesthetic enhancements, they appreciate the information you provide, and they begin to trust the skill and experience of your surgeons. After meeting a surgeon face-to-face, they are likely to schedule a procedure. This part of the process is referred to as closing.
How does Lead Generation Work?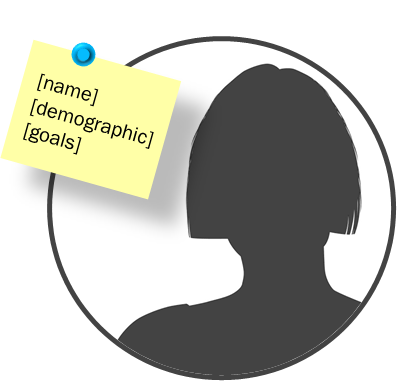 The main objective in lead generation is creating interest. What is the best way for cosmetic surgery practices to create interest? Let's look at how lead generation tools can be used to help cosmetic surgery practices achieve significant growth. Here are the steps:
Clearly Define Your Audience
Refine Your Public Image
Optimize Your Website
Publish Engaging Resources
Launch Highly-Targeted Advertising Campaigns
Clearly Define Your Audience
Who are your typical patients? Your handful of unique descriptions will likely vary by age range, gender, and chief concerns. Imagine that each of these characters is an actor in a sitcom. The way these characters interact demonstrates their ideals, their life experiences, and their needs and desires. They each have different perspectives and will be motivated by different factors.
To focus on lead generation, we need to identify the distinguishing characteristics of these sitcom actors, who we will refer to as personas. Once we have clearly identified each of our ideal patient personas, all of our communications will be crafted to appeal to their interests and desires.
For example, Brooke is a happily-married 37-year-old bank manager who lives in a suburb north of Chicago. Now that her children are in elementary school, Brooke would like to get away with her husband and wear a bikini at the beach. Unfortunately, she doesn't really feel comfortable doing that right now. She may be a good candidate for a tummy tuck.
How can we begin a conversation with Brooke and other women like her? By understanding the likes, dislikes, and habits of these women, we can craft advertisements, blog posts, videos, and social media messages that address them at a personal level, appealing to their challenges and desires.
Developing personas is very important to the success of a digital marketing strategy and, it is crucial for successfully attracting qualified leads to your cosmetic surgery practice.
Need some help building personas?
Download our free persona and buyer's journey templates here.
Refine Your Public Image
Once you have sparked an interest, you can count on people seeking out more information about you. Putting forth a consistent brand image in every outlet communicates a sense of stability and trustworthiness to the public and prospective patients.
The most apparent brand elements are visual. It is very important that every element that has the name of your practice on it – signage, letterhead, business cards, invoices, website, social media pages, advertisements, and publications – has one unified look and feel.
Equally important is consistent messaging. If you publish a blog touting the benefits of liposuction, it would be counterproductive to have a page on your website that warns about its potential shortfalls. And, the tone and style of your communications should be very similar from one piece to another.
While the look and feel of your brand visuals and communication are important, there are many other aspects that contribute to lead generation such as:
Bios – Whether on your website, in your resources, or announced at public appearances, all practice bios should be uniform in content and tone.
Press Releases – Expand your exposure by publishing press releases about news and events that impact your practice.
Awards – If you or your practice is recognized by a local, regional, national, or professional organization, announce it to the world.
Public Speaking – Taking the opportunity to speak at a chamber of commerce or health and wellness event demonstrates your knowledge and appreciation for your community.
Publishing – Have you been asked to contribute a chapter for a textbook, an article for a journal, or give a magazine an interview? Having your name in print tells prospects that your knowledge, skill, and experience is widely valued.
Community Participation – Giving a donation, working as a volunteer, or sponsoring an event creates goodwill throughout your community.
Optimize Your Website
It used to be that you could launch your website and move on to the next item on your to-do list. Not anymore. Your website is a vital communication tool and it requires regular evaluation to be effective. Let's talk about the role of your website in lead generation one element at a time.
SEO
If your website content never appears in Google search results, you're in trouble. While it is very difficult to appear on the first page in every relevant search, it is quite possible for specialized topics. The most important aspect of SEO optimization is that your digital marketing team develops a strategy that includes keyword selection. These keywords should be used throughout your website to ensure that your pages are referenced in relevant online searches.
Web Design
When most website visitors spend only a few seconds scanning a page, it is essential that they are pleased with what they see in those initial moments. Making that happen is an art and a science. A professional web designer with inbound marketing expertise can help you select the theme and plan a layout that will help you engage visitors and motivate them to become leads.
Landing Pages
Transitioning from a website visitor to a satisfied patient involves many steps. Using our personas to predict what would appeal to a prospective patient, we create a series of offers. Each offer begins with a call-to-action (CTA) which usually appears in the form of a graphic button. When the button is clicked, the person is taken to a separate page that describes the offer in more detail and asks for information in exchange for access to the resource. Because CTAs and landing pages are the catalysts that transform a visitor into a lead, they must be extremely effective.
Find out how to optimize your landing pages for conversion here.
Publish Engaging Resources
It takes an average of 6 months for a person to consider, evaluate, make a decision, and schedule a cosmetic surgical procedure. If this person is to become our patient, we will need to keep his or her attention for 6 months. That's not an easy goal to accomplish. It requires big-picture thinking, strategic planning, and impeccable, consistent execution. Let's look at an example of what that may look like.
Remember Brooke, our happily-married 37-year-old mother who is a bank manager in Chicago? She was hoping to enhance her appearance so she could feel confident wear a bikini at the beach once again.
Brooke sees a Facebook post in her stream that talks about bikinis on the beach. She glances at it and thinks about how nice that would be.
Later in the week Brooke searches Google for tummy tuck. Because Dr. Right's practice is near her home, our blog post, "What to Expect from a Tummy Tuck" is in her search results. She clicks on it and scans through the headings. She thinks it will be valuable but she doesn't have time to read the whole thing right now.
While having drinks with her friends after work, Brooke asks them if they are shy to wear bikinis? They talk about tummy tucks and mommy makeovers, the costs, downtime, and feasibility of having one. Christine has one friend in Seattle who had a tummy tuck and was very happy with the results.
Brooke finds time over the weekend to go back and read that blog. She finds it very informative and she now understands what's involved. At the bottom of the blog, there is a button that goes to a video about tummy tucks.
When she clicks the button, a woman who seems close to her age talks about how Dr. Right evaluated her case, explained the procedure, and produced amazing results. The before-and-after shots were remarkable. Brooke feels like she really has to look into this some more.
Brooke goes back to the website and easily finds more information on tummy tucks, Dr. Right's credentials, a before-and-after gallery, and other information. It's not long before she gets interrupted by the kids.
Next Brooke calls Dr. Right's office and asks how much a tummy tuck would cost. While the person is hesitant to provide that information right away, after she gives her name, phone number, and email address, they provide her with a broad range of the average cost, explaining that after a consultation with the doctor, they would be able to give her a better cost estimate.
Now she is really thinking about it. How could she manage the cost of this procedure? She has a conversation with her husband and is pleased to find that he is okay with it.
Brooke goes back to Google and finds 4 other cosmetic surgery practices nearby. Over the next couple of weeks, she looks at each of them and evaluates their years of experience, results, and costs. She narrows it down to Dr. Right and Dr. Brown.
She makes consultation appointments with both doctors. After her appointments, she is sure that Dr. Right is the better choice. He was very professional and his staff was so friendly. They even sent her a handwritten thank you card. She checks her calendar and schedules the procedure.
Now this is an example of the many 'touches' that Brooke had before she finally made her decision. In addition to the contacts mentioned above, Dr. Right's practice continued to advertise through Facebook, ran radio spots with a popular radio station, added Brooke to an email nurturing campaign, and many other channels of communication.
Launch Highly-Targeted Advertising Campaigns
Successful lead generation employs a wide array of tactics. Each campaign should be designed to reach one or more of your personas at a certain point in the sales process. Here is a worksheet that illustrates the process.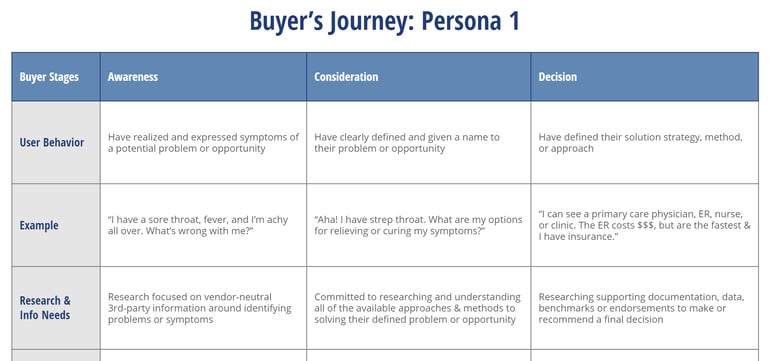 Download the entire workbook here
Ready. Set. Go.
Now that you have a better understanding of the role of personas, projecting a consistent brand image, maintaining a dynamic website, and developing highly-engaging resources for prospects at every stage in the sales cycle, you can see that lead generation is complex. It is in your best interest to partner with an experienced digital marketing agency that has experience with cosmetic surgery practices. Don't waste your time evaluating the cost and potential ROI of social media, PPC, direct mail, email list purchases, video production, and other media. Learn more about how ClearPivot has applied their knowledge and expertise for the benefit of many practices that provide aesthetic enhancements.
---
You can find an expanded explanation of these marketing components in our guide: "Plastic Surgery Marketing in the 21st Century: An A-Z Guide." You can grab your free copy here: