Marketing senior living can feel overwhelming for those not prepared for the challenge of juggling numerous campaign roles, such as analytics guru, SEO expert, sales vendor, and marketing calendar manager. On top of all that, you have to figure out the best way to allocate your marketing and advertising budget to reach the optimal audience spread and keep your leads and occupancy at a desired level for your facility.

There are several trends that you should take into account when evaluating your senior living outreach budget:

Seniors are more digitally savvy - Most searches for senior living begin online these days, and so having a web presence and active digital brand is essential for any impactful marketing and advertising initiative. In fact, 6,000 online searches concerning senior care and senior living are made every hour in the US.

Seniors are increasingly mobile - Investing in mobile marketing and click-to-call advertising has been shown to convert 30% more than just web-based outreach. Fortunately, seniors and their caretakers are on their phones more than ever, so investing advertising with "Call now" CTAs can help accelerate sales and drive more leads.

Senior living has become highly competitive - A rise in senior living facilities has now combined with in-home care options and other alternative care methods, cluttering the ad space. At the same time, 60% of senior living marketers and advertisers have seen a stagnation of their budget in the past year.

With those in mind, here's a main process way to break down your senior living marketing budget. It just takes a little math on your end.
4 Steps to Setting Your Marketing Budget
Step 1: First, determine the target occupancy rate for your facility, factoring in attrition. How many move-ins will you need by year's end to meet your occupancy goals?

Step 2: Got that move-in number? Now look at all your leads from last year and the resulting move-ins from that. That's your lead-to-customer ratio. Based on that ratio, how many leads will you need to drum up via advertising and marketing to meet your new target movie-in goal? That's your lead goal.

Step 3: The next step is determining your past cost-per-lead. This is done by taking your marketing and advertising expenditure for the past year and dividing this by your number of leads. Take this lead cost and multiply it by the number of leads you have set as your goal for this year. That will give you a ballpark budget that you can now start refining based on advertising channels available to you and any analytics you have that can help guide you into the best ROI activities.

Step 4: Now comes the time to allocate that budget, divvying it up into campaigns that must be tracked to ensure they maintain that lead-cost ratio.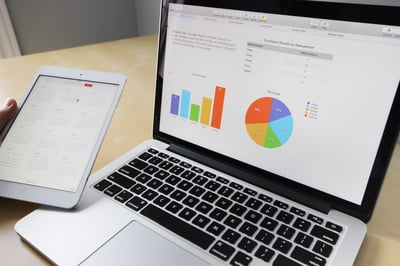 Top areas to invest in include:

Search Engine Optimization - Since 75% of people searching online for senior living options won't go past the first page of results, having your facility ranking high on the search engines is critical to generating leads. Investing your budget in keyword analysis, optimization, SEO content, and link-building is a worthy focus.

Content Marketing - Offering true value to potential senior living clients through content such as blog posts, eBooks, infographics, videos, and similar is a fantastic way to invest your budget, providing relevant content that helps people learn more about your facility and how it can benefit them. Content keeps your facility at the forefront of your audience's mind for when it comes time to choose the senior living options they've been researching.

Pay-Per-Click Advertising (PPC) - This shares the same goal as SEO, putting your senior care facility at the top of Google search results thanks to targeted keywords. When people are close to making a decision they're researching online (a "high-intent search"), 65% of those searches end in a click on a PPC ad. And one big advantage of PPC is that you can start getting results quickly, rather than having to put in months or years of work like you need to do for SEO. Putting budget dollars into proper and exhaustive keyword targeting and bid optimization is an excellent way to bring in qualified leads even before they look at organic search results.

Want to learn more about senior living ad budgeting or how to best implement the advertising strategies discussed how while not breaking your budget? We're here to help!