Differentiation Among the Masses
To sell your medical devices, you have to introduce them – and your company – to prospective buyers. Sounds simple, but selling successfully in your highly competitive marketplace requires well-honed, strategic effort.
Thanks to an aging population and advances in medical science and technology, there is greater need for a wider array of medical devices than ever. That's good news, but it also means you face ever-tougher completion. Standing out in today's cluttered marketplace is critical. To do that you must pivot from relying on traditional, old-style marketing strategies to focusing on newer, more effective medical device marketing strategies.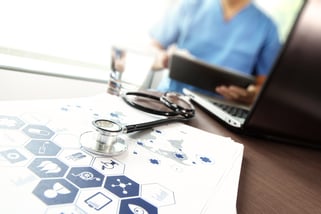 Lead generation is the conversation-starter. The process helps you meet prospects by using multiple sources, or channels. But it makes no sense to reach out to everyone. It's far more effective to zero in on those who are most likely to purchase your medical devices. You might manufacture anything from tongue depressors or portable oxygen equipment to pacemakers or diagnostic machines. Regardless, your lead generation goal is to reach the right prospects with the right message so you can get that conversation going.
Prospective leads may be someone who has heard about one of your products from a colleague, but prospects are often complete strangers. Your marketing goal is to transform that individual into a buyer. In general, there are three stages to that purchasing journey:
1. Initial awareness
2. Consideration and narrowing of options
3. Decision
Once you secure a lead, the door is open. You can begin to cultivate a relationship and get to know the lead better. We call this lead nurturing. It may take weeks or even months, as you provide general and specific information about your devices, your training, and other follow-up support. The process builds trust and, done right, ends by closing a sale. First, though, you have to attract that lead.
Who are you marketing to?
It would be easy to say your target audience is "medical providers." But you have to zoom in to define who really buys your products – individual doctors or group practices, hospitals or specialty clinics, med spas? For most medical device manufacturers, that target audience is a small niche with specific needs.
Don't overlook distributors. Powerful customers in their own right, your distributors are the ultimate, direct connection to your end-users. Marketing to them, and helping them market your products, will enable you to reach more potential leads.
Successful lead generation depends on reaching your niche(s) in new and engaging ways. To do that, you have to know them well – not only where they work and their role, but their professional and personal needs, preferences, and motivations. The better you understand your targets, the more effectively you can show them how your device will improve patient outcomes and help grow their business.
The best way to understand each of your key targets is to create a persona for them. Essentially, you're creating a fictional person who embodies your target's attributes. Dr. Delores. Clinic Manager Carla. Distributor Dan. It sounds complex, but it doesn't have to be, and your effort will be well-rewarded with far smarter marketing tactics and far greater lead generation results. You can download our free template for creating personas here.
How do you get their attention?
Branding ensures everyone knows who you are as a company – knowledgeable, cutting-edge, trustworthy, reliable. It works only if you are consistent, across every means of communication. While many people think your "brand" is your logo, that's just a visual representation. Yes, you want to use it everywhere, from your business cards to your website to your products themselves. But what really matters is what comes to mind when someone sees that visual.
Your brand sets you apart from competitors. It tells potential customers about the quality, versatility, and potential profitability of your devices. It tells them about the customer service you provide after the sale.
The lead generation process helps to consistently reflect and reinforce your brand in two ways:
1. Increases your company's name familiarity, if your name is not already a "household word" within the medical community. Familiarity is critical because it fosters trust.
2. Increases awareness of and knowledge about the medical devices you make.
Where do you find leads?
This can feel overwhelmingly daunting, especially when you know that lead generation is critical to sell your products and grow your company. Teaming up with marketing professionals such as our team here at ClearPivot lifts that weight off your shoulders and ensures you can make the most of every opportunity to introduce yourself to more prospects. An effective lead generation strategy includes:
Optimizing your website
Online searchers have to find you quickly, and that requires skilled search engine optimization (SEO). Your website itself must impress visitors with a professional look and easy access to the information they seek.
Landing pages
This is where website visitors convert to leads. They see an interesting offer on your website (a free e-book, for example). They click on the call to action (CTA), and in return for providing their email address, they get the resource. Now that you have their email, you can stay in touch with them.
Your blog
Blogging generates traffic, builds trust, and demonstrates your thought leadership in areas that are relevant and important to your prospects.
Social media
Social sites make your brand accessible to prospects where they spend their time.
Online advertising
Well-targeted ads put your brand front and center and showcases your products
Offline marketing
Digital may be key these days, but certain tried-and-true PR and paid media advertising strategies are still valuable.
Events
Hosting and participating in live events expands your reach to prospective leads.
Once you generate a new lead, the rest of your marketing strategy kicks in, allowing you to keep lines of communication open, engage further with leads to deepen their interest in your products, and keep those products top of mind as they work their way closer to a buying decision.