As a marketing agency, we like to review new marketing tools as they are released. Here we use the HubSpot social tool as a benchmark to compare the new Salesforce Social Studio. By conducting a side-by-side comparison, we are able to show the benefits of both platforms. This comparison will delve beyond the functionality of the marketing tool, to also include integrations and costs. We will start first with integration capabilities.
Integration
Currently the new Salesforce Social Studio is separated from the rest of the Salesforce platform. It functions as its own standalone platform with the ability to be integrated into the Salesforce system. From what we understand, the integration comes after an organization purchases the Social Studio platform (for the comparison we only used the free version of the Social Studio).
In the HubSpot platform, by comparison, the social tool comes already connected with the rest of the platform, regardless of subscription level. Their social tool is integrated across the entire platform, keeping track of social sources and featuring a social inbox. Their social inbox allows for email notifications to be setup so that people can receive notifications based on preset parameters. The HubSpot social integration is cohesive and ties closely to the functionality of the tool within the platform.
Functionality
This is the big section, so bear with us as we walk through each part of the functionality and compare between the two platforms.
The Salesforce Social Studio has three main operating sections: Publish, Engage and Analyze.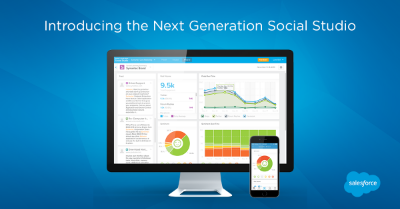 The Publish section shows all scheduled posts on a calendar view. This allows marketers to view the social schedule on a weekly basis. In the Publish tool, marketers are able to include an ad campaign and complete all of the scheduling for the campaign without going to the social platform on which they are scheduling. The Publish tool is also equipped with a place to connect shared marketing files and even a photo editor built into the platform. Finally, when scheduling posts, users are able to set campaigns and even assign others on their marketing team to follow the post.
The Engage section is very similar to platforms such as HootSuite or TweetDeck which aggregate social engagement (both published posts and interactions of consumers) in one area. The Engage section is set up based on user preference. A user can add a laundry list of viewpoints for each social platform connected to the Social Studio. The Engage tool is one of two sections of the Social Studio which implements workflows. Workflows function in two ways in the Social Studio: for internal agency post approval, and for consumer interaction. The agency post approval takes place before a post reaches the publish tool. Workflows for consumer interactions are used inside the Engage tool. Workflows within the Engage tool can range from auto-replies based on common terms or emails sent to team members assigning the response to them. The Engage tool allows for an agency to view and respond to interactions on any connected platform without logging into the physical social media site.
Finally, the Analyze tool provides insights which have previously not been recognized in other platforms. The Analyze tool goes beyond just monitoring keywords or tracking a businesses brand. On top of doing both of those, it will also generate an on-the-spot report of how many times the term or organization is being mentioned, what the sentiment is, media type (and the popularity of it), as well as the keywords being used. Each of these analytics options opens the door for additional insights for a marketer that would previously only be seen in Facebook or Google Trends. The Social Studio provides this information for all social platforms connected. Social Studio tracks sentiment based on words used regarding the brand. While the tracking of sentiment is still being worked out, it does provide a good cursory view of what consumers are saying about a brand. Reports can be generated based on the information pulled from social media platforms into the Analyze tool. The reports can be based on user preferences for what needs to be included in the report and also can include graphs and other display details as well, including branding.
The Salesforce Social Studio has sought to include everything a social media marketing team could want in a platform. Next we cover the functionality of the HubSpot social tool, and after that we will compare the costs of both platforms.
The HubSpot social tool is split into five sections: Inbox, Monitoring, Publishing, Reports and Social Settings.

The Social Inbox is where HubSpot tracks interactions on all connected social media accounts. The name 'inbox' is very fitting because it functions very similar to an email inbox by letting the user know how many new "messages" (ie. posts) have occurred since the last viewing. The inbox can be sorted by social account or viewed with all social accounts in one location. It operates in a stream format with the most recent interaction located at the top. The social inbox allows for email notifications, and those notifications can be tailored to specific team members and specific interaction types.
The Monitoring tool is where you can view the engagement which occurs through the HubSpot social tool. This is also a stream view with the most recent engagements appearing at the top of the dashboard. This stream can also be narrowed down to individual social accounts or setup to be viewed as one large digest. The monitoring tool allows for individual interactions to be emailed to other team members for follow-up or documentation purposes.
The Publishing tool is where all posts scheduled to be published are housed. It is also a stream view which can be filtered based on social account, publish date and campaign.
The Reports tool is a customizable reporting section which displays all of the available social reports on the dashboard. The customizable reports can be defined and then downloaded for use outside of HubSpot. Items included in the reports include: amount of posts published, amount of interactions, top interaction, impact to business, amount of traffic and amount of leads to name a few. You can also compare time frames, social platforms, social channels and reach.
Finally, the Social Settings section is where you can manage how all of the connected social accounts function within HubSpot. Here you connect and manage all social accounts for which you wish to publish to through HubSpot. The HubSpot tool also allows for auto-publishing of social posts. Social Settings is where you set which platforms will auto-post articles. Accounts can be turned on and off here which means users do not have to disconnect an account if they do not want to use it for a temporary short time.
Costs
The HubSpot social tool comes with the overall HubSpot platform. If you subscribe to HubSpot Basic ($200 a month), Professional ($800 a month) or Enterprise ($2400 a month), the social platform tool is included. There is no extra costs for the amount of social media accounts connected or the amount of posts tracked through the system. With the Salesforce Social Studio, you pay based off amount of social accounts attached and the amount of content gathered through the tool. This is an additional cost on top of the Salesforce subscription. The Sales Cloud alone is $75 per user per month, while the Social Studio does not have a released price point, if we extrapolate from there it can be assumed that many companies can expect to pay several thousand dollars per month.
When comparing the two tools there are definitely benefits to both. If you are an organization using Salesforce or an organization using HubSpot it makes sense to use the tools which integrate with the rest of your platform. Salesforce's monitoring tool is more in-depth and really opens the door for cohesive market research. Salesforce's reporting tool in Social Studio is also more cohesive and customizable than the HubSpot tool. The drawbacks to the Salesforce tool is that it is physically separate from Salesforce; while it can be integrated there is still nothing easier than using a tool that is already in the platform you use. Additionally, the cost of extra monitoring traffic hinders the Salesforce studio, especially when even the free platforms do this without charging extra. The HubSpot tool allows for as many social accounts to be connected to the account as possible. This is a great benefit for an organization that uses a lot of social platforms (or wants to connect everyone from their team). Additionally, the ability to connect content directly to the platform from HubSpot is great too.
Ultimately, both platforms are built for very different use cases. Salesforce Social Studio is built primarily for large companies with very big social followings, who are most concerned with brand sentiment and social monitoring and engagement at a very large scale. Companies like these also typically have larger staff with a full-time team dedicated exclusively to social media, so out-of-the-box integration with other sales and marketing tools isn't crucial for them. Therefore, Salesforce Social Studio is built around large-scale monitoring, multi-person internal approval workflows, and high-volume social engagement.
HubSpot, in contrast, is focused on mid-size companies with smaller teams. The people on these smaller teams usually need to split their time between social media, website content, ad campaigns, and so on, so they need a tool where everything is integrated out-of-the-box. They usually don't have a strong need for large-scale brand sentiment monitoring and are more focused on more nitty-gritty things such as generating leads for the sales team every month. Therefore, HubSpot is built less around brand sentiment measurement and internal approval workflows, and built more around one-on-one lead nurturing, and integration with HubSpot's other lead-generation-focused tools.
In all, both tools have their benefits and their downsides depending on your situation and specific needs. If you're evaluating tools for your own situation and would like a second opinion, please feel free to tweet us and we'd be happy to give you our opinion based on your situation. Happy social marketing!