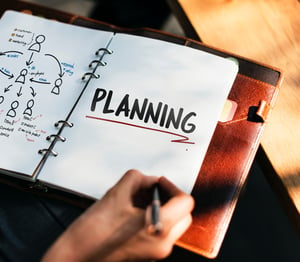 Demand for assisted living communities has soared in recent years. And so has the competition. In order to stand out and attract new residents, it is imperative that your community have a well-defined marketing plan which clearly identifies your objectives and addresses each of them in ways that deliver exceptional ROI.
That's equally true whether your assisted living community is a stand-alone facility or part of a regional or nationwide group. Your competitors are actively working to attract many of the same people as you are. To draw attention your way, you must have a comprehensive, fully-integrated marketing plan that increases brand awareness, brings qualified leads to your website, and engages those visitors in further conversation.
But there's more. To be successful, your marketing plan must invite and support conversations across multiple channels, not just your website. It must appeal to your target audiences – and their influencers. This last point is crucial, because research by Care.com showed that family members, especially adult daughters, are frequently responsible for or heavily influence decisions when it comes to choosing an assisted living community for Mom and/or Dad.
A well-crafted marketing plan is highly strategic. Here are some tips we have found to be indispensable for successful assisted living community marketing:
1. Focus on Potential ROI Rather Than Just Budget Alone
Marketing costs money, so of course it is a budgetary concern. Yet, you cannot grow your business without marketing. Scrimping or cutting corners will cost you dearly. You must invest in a plan that will reach seniors and families just starting to consider assisted living as an option, those who are comparing potential communities, and those ready to make a move (literally). You also want to stay in touch with families of residents once they've chosen you.
In our experience, most communities spend between $20,000 and $30,000 to initiate their marketing program, then budget 6-10% of annual revenue for ongoing marketing. Naturally, the exact amount depends on whether your community is new or established, your range of services, regional characteristics, number of competitors, and your business growth objectives.
Developing and implementing a successful marketing plan is complex. Because your expertise is serving seniors, you can stay focused and achieve a significantly greater return on your marketing investment by partnering with an experienced digital marketing agency.
2. Create Superior Marketing Assets
It takes outstanding marketing content to make your assisted living community stand out from your competition. All of your marketing communications must be consistently branded, eye-catching, informative, and inspiring enough to compel recipients to act. That doesn't mean every blog article or social media post will directly result in a personal visit. But, with every "touch," your marketing assets work together as a team to build toward that goal. How?
Successful marketing plans are based on personas – fictitious but realistic individuals who represent each of your key targets. The more you "flesh out" personas by age, gender, income, and other factors that represent your ideal demographic, the easier it is to create marketing content that is specifically relevant and timely for each of them. Your key personas are likely:
Seniors who could become residents
Adult children of seniors who are starting to need help with daily living or medications
Physicians or institutions that are a potential source of referrals
We noted earlier that adult daughters are the most common decision makers/influencers when it comes to choosing an assisted living facility. Yet studies show that most communities still assume their only target is seniors themselves. Knowing the truth gives you a distinct advantage in crafting and executing your marketing plan.
Once you've identified your personas, you're ready to create and deliver content that will bring them to your door. Using a marketing calendar keeps you on track with topics, formats, delivery channels – all based on your personas' needs, interests, and where they are in their decision-making journey.
3. Include a Broad Range of Distribution Channels
No single marketing channel will bring your community the attention and new residents you want. These days, seniors and their adult children are using a wide range of web-based channels, just like younger generations. An effective marketing plan delivers your message when, where, and how your target audiences will be most receptive. What matters most?
Website
Your website is your front door. Like your campus, it needs "curb appeal," a welcoming ambiance, and a full complement of helpful information, delivered in a professional-but-friendly voice. It must be easy to navigate, and it must display as well on a mobile device as it does on a larger screen. With a growing library of quality content, your website can attain and retain top search display positions.
Blog
Next to your website, this is your most vital marketing asset. It should be informative, but entertaining, too, reflecting the unique personality and culture of your community. Relevant topics and top quality writing are important, as is a consistent and disciplined publishing schedule. You can talk about your facility and services, but focus on topics that answer common questions, or help prospects make informed choices.
Social Media
Your top prospects are using Facebook, YouTube, and other social platforms, so you need to be there with them to join in the conversation. Pick the platforms most common to your audiences. Vary content, tone, and style to match each of them. And be social, not just promotional. Show your community's human side – resident stories, on-site happenings, community outreach efforts that keep you and your residents connected to the surrounding community. This helps prospects know if your community will feel comfortable for them.
Email
Email has become a communications staple, for all ages. Automated email marketing allows you to deliver timely, relevant, personalized messages that nurture leads. You can tailor emails for each of your personas or specific areas of interest. The best emails are short and to-the-point, always with a "call to action" that invites (and inspires) readers to take that next step. Tracking results tells you which messages work best to drive greater interest.
Paid advertising
Many assisted living communities augment other elements of their marketing plan with paid advertising that increases exposure. You can advertise on Facebook or Google, with search ads, banner ads, video ads, and so on. Target your ads using keywords and audience demographics to zero in on the most qualified leads. But don't forget traditional paid advertising channels, too – offline options such as direct mail, billboards, print, radio, or even TV ads still have value for communities like yours.
4. Protect Your Reputation
Consumers are happy to comment on their experiences these days. And anyone considering your community will read those comments. It's gratifying to see positive reviews and read happy stories about your community on social media. But to be an effective marketer, you have to regularly monitor and listen to these sources. Make a point of thanking reviewers for saying nice things.
Understand that negatives can happen, too. Always respond to negative comments quickly, thanking the person for bringing the problem to your attention. Solve the problem, if you can. Then invite them to post again about the "fix," or post yourself thanking them for the opportunity to resolve their issue. This process shows you're a good listener and you act on what you hear. That reinforces your reputation as a trustworthy business.
5. Stay in Touch
Once someone moves into your community, it's easy to communicate with them. But they can help you communicate with the "outside world," too, as an "insider advocate." Invite them to post testimonials or post on social media about their experiences. Keep the good vibe going with families, too, with your email newsletter and special invitations to visit and share their experiences. Friends and family can be some of your most powerful marketing assets.
6. Host Events
Prospective residents wants to know there will be plenty of action to keep them busy and engaged. Hosting events at your community is not only fun and informative for your residents, it brings in extended families and folks from the greater community, putting your name and ambiance in front of a broader audience. Events reinforce your reputation as a positive, upbeat living environment. And they highlight your community as a resource as well as a residence. You never know where referrals will come from.
7. Choose a Marketing Agency that Understands Who You Are
All buying decisions are emotional, to some degree. But your assisted living community is not a product like a toaster, nor a service like pool cleaning. Your prospects will make a life decision with far greater personal and economic import. Their search for the right residence will be highly emotional. But facts matter, too.
It takes skill and specialized insight to create and execute a marketing plan that will attract, convert, and land new residents, advance your brand, and grow your business. You want proven success on your side. ClearPivot is a HubSpot-Certified Inbound Marketing agency. Since 2008, our team has been helping assisted living communities and other clients use digital marketing to achieve significant growth and greater ROI.